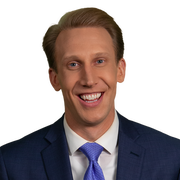 Carl Deffenbaugh
Anchor, Reporter
I am thrilled to be one of the anchors for FOX6 WakeUp, Milwaukee's No. 1 morning newscast. It's a special show and promises to be the most entertaining and informative way to get your morning started.
Since moving to Milwaukee in 2016, my wife, daughter and I have fallen in love with the city and all southeast Wisconsin has to offer.
I joined FOX6 as the Roving Reporter for WakeUp, before moving to the anchor desk two years later. I've covered the Packers and Brewers in the playoffs, performed on stage with Milwaukee's wonderful arts organizations, flown with the U.S. Air Force Thunderbirds, made a fool of myself on live TV and eaten all manner of food (even bugs...) while most viewers are still sitting down to their breakfast.
Sharing powerful, compelling stories with our audience is what I enjoy most. And I'm honored to say I've won multiple Emmy Awards for my feature reporting — including for a series on what life is like for Wisconsin sailors aboard the USS Dwight D. Eisenhower.
I took a circuitous route to Milwaukee. After growing up in suburban Maryland, I first landed in the Midwest as an undergrad at Northwestern — majoring in journalism but specializing in Ultimate Frisbee (and meeting my wonderful wife, Kim, along the way).
From there, it was off on a six-year journey as a sports anchor and reporter. From Blue Ridge Cable-11 (deep in the heart of Pennsylvania's Amish country), I then immersed myself in the ACC with the great team at WDBJ7 in Roanoke, Virginia (with a healthy dose of NASCAR on the side). And finally, I spent three years under the shadow of the Golden Dome, reporting on all things Notre Dame as the weekend sports anchor at WSBT.
And despite some solid work at those various stops, it was the one time I dressed up as the Cat in the Hat to read to kids (okay, second time — the first was a starring role in Seussical the Musical back in high school) that caught the eye of the folks here at FOX6.
All of which is to say: I'm up for whatever this area has to offer. With interests in the arts, athletics the great outdoors and food — definitely food — let me know what I should check out around town. If you know of a cool event, a fun activity or a great story, I'm all ears!
The latest from Carl Deffenbaugh