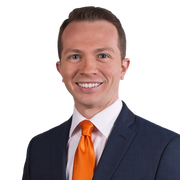 Prior to joining the FOX6 News team, Bret Lemoine reported for the CBS affiliate in Green Bay (WFRV). Wisconsin is home: Bret grew up in Waukesha and interned in the Milwaukee TV market while attending the University of Wisconsin–Stevens Point (UWSP).
During his time at WFRV, Bret covered some of the biggest stories in our state. He was in Madison for daily updates during the collective bargaining debate in 2011. He also covered the Kaukauna tornadoes, the Marinette High School shooting and was stationed in Dallas as the Packers won Super Bowl XLV.
Bret previously worked at WMBD in Peoria, Illinois as a Weekday Reporter and Weekend Anchor/Producer. His reports were recognized twice by the Illinois Broadcasters Association – once in the category of Best Hard News story in 2007, and again in 2008 for his weekly franchise series, "Streets of Speed." In 2011, he was recognized by the Wisconsin Broadcasters Association for his work covering the Chestnut St. fire.
Bret enjoys traveling. Some of the places he's visited include Turkey, Germany, Jamaica, England, Finland, Estonia and many others! In his spare time, Bret enjoys working out, watching TV and talking with people. He is also a big Superman fan.
The latest from Bret Lemoine