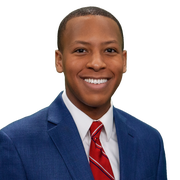 Aaron Maybin is a proud Milwaukee County native who joined the FOX6 News team in January 2018 covering breaking, feature and general assignment stories.
Aaron was born in Racine and grew up in Oak Creek. He graduated from Oak Creek High School before earning a B.A. in journalism from Marquette University.
Aaron comes to FOX6 News from WCSC-TV in Charleston, South Carolina. While in the Lowcountry, he followed major stories, including the federal trial of Emanuel AME Church shooter Dylann Roof, Hurricanes Irma and Matthew and South Carolina's "1000-year" flood.
In 2017, he was nominated for an EMMY award for his breaking news coverage after a deputy was shot in the line of duty.
Aaron is a member of Big Brothers Big Sisters and the National Association of Black Journalists.