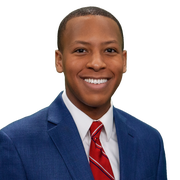 Aaron Maybin is a proud Milwaukee County native who covers breaking, feature and general assignment stories.
Aaron was born in Racine and grew up in Oak Creek. He graduated from Oak Creek High School before earning a B.A. in journalism from Marquette University.
Aaron is a four-time Emmy nominated journalist, who has covered the COVID-19 pandemic, vaccine rollout and the protests in Southeast Wisconsin following the death of George Floyd.
He previously worked as a reporter and fill-in anchor at WCSC-TV "Live 5 News" in Charleston, South Carolina. While in the Lowcountry, he followed major stories, including the federal trial of Emanuel AME Church shooter Dylann Roof, Hurricanes Irma and Matthew and South Carolina's "1000-year" flood. He also interviewed first lady Jill Biden.
Aaron is a member of the National Association of Black Journalists and served as secretary for the Wisconsin Black Media Association. He is involved in Marquette University's mentor program and the Leukemia and Lymphoma society.
The latest from Aaron Maybin