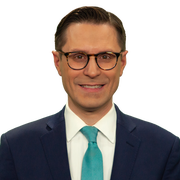 Jason Calvi
Political Reporter
Jason Calvi is honored to serve as FOX6 News' political reporter, covering battleground Wisconsin, one of the country's true swing states.
He brings 15 years of experience to the job, previously working in Indiana, Connecticut, and Washington, D.C. During his career, he broke national stories, including during Amy Coney Barret's appellate court confirmation. He also questioned candidates Donald Trump, Joe Biden, Mike Pence and Kamala Harris. Besides his clips that have been seen on TVs across the country, he's captured millions of impressions on social media.
At FOX6, he contributed to the national Murrow-winning podcast "Open Record," reported for Emmy-nominated newscasts, and joined the team that won the Milwaukee Press Club's award for "You Decide: Spring Election Special."
Jason grew up in Chicago's southwest suburbs and graduated from Loras College in Dubuque, Iowa. As a reporter and anchor of the campus' television station, he covered the Iowa caucuses, where he first caught the bug for political reporting.
When not at FOX6, you'll find him with his family exploring parks and museums, checking out stacks of books from the library, working out, drinking coffee and going to church.
The latest from Jason Calvi