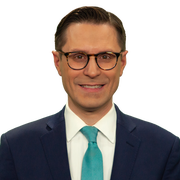 Jason Calvi
Political Reporter
Politics is about our lives and things we hold dear: our families, our schools, our communities, our state, our world; it's also about our worries, hopes and dreams. I will be looking for you to help me tell these stories, from city hall deciding how to pay for fixing our roads, to the statehouse debating how best to keep our drinking water safe, to you choosing who should lead the country. I want to show the personal stories of how political debates impact real lives. I also feel honored to ask lawmakers your questions. Politics is about you, so, please shoot me an e-mail and let me know what's happening in your town: Jason.Calvi@fox.com.
My journey to FOX6 is a homecoming, of sorts, back to the Midwest. I grew up on Lake Michigan's southern border. OK, way south of it, in Chicago's southwest suburbs. My wonderful wife grew up in Michigan. I graduated from Loras College in Dubuque, Iowa (go Duhawks!), where I anchored and reported for the campus television station. I also interned at Chicago's former 24/7 cable channel.
My twelve years serving as a broadcast journalist includes stops in Northwest Indiana, Connecticut, and most recently Washington, D.C., where I worked as Capitol Hill Correspondent. Some highlights of my reporting include covering the 2015 visit of Pope Francis, as well as the 2016 Presidential race, debates, election and the following confirmation battle of Justice Brett Kavanaugh, and the impeachment of President Trump.
My family and I are excited to explore our new state. Please say "hi" when you see us chasing our kids at the park, checking out books from the library, or enjoying local food and brews.