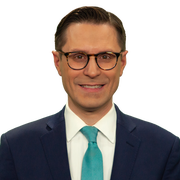 Jason Calvi
Political Reporter
My journey to FOX6 is a sort of homecoming, back to the Midwest. I grew up on Lake Michigan's southern border. OK, way south of it, in Chicago's southwest suburbs. My wonderful wife grew up in Michigan. I graduated from Loras College in Dubuque, Iowa, where I anchored and reported for the campus television station. I also interned at Chicago's former 24/7 cable news channel.
I have been honored to serve as a broadcast journalist for thirteen years, working in Indiana, Connecticut, Washington, DC, and now Milwaukee. Some of the highlights include interviewing 2020 candidates Mike Pence, Kamala Harris and Joe Biden; covering that whirlwind year, the confirmation of Supreme Court Justice Brett Kavanaugh and the 2015 visit of Pope Francis. My favorite days are getting the chance to tell stories like yours.
Politics touches what we hold dear: our families, schools, communities, state and world; it's also about our worries, hopes and dreams. Please help me tell these stories. I also feel honored to ask lawmakers your questions. Politics is about you, so, please shoot me an e-mail and let me know what's happening in your town and what questions are on your mind: Jason.Calvi@fox.com.
When not reporting for FOX6, you'll find my family and I exploring our excellent parks, checking out books from the library, visiting church, and tasting new local food and brews.
The latest from Jason Calvi