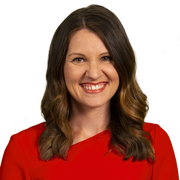 Stephanie Barichello
Meteorologist
Stephanie is the weekend evening/midday meteorologist at FOX6 News.
Stephanie was born and raised in Joliet, IL, a suburb of Chicago. She spent most of her childhood playing sports, her favorite of which being volleyball. She was part of the 3A state championship volleyball team during her senior year of high school at Joliet Catholic Academy.
She attended Valparaiso University in Valparaiso, IN where she received her Bachelor's degree in Broadcast Meteorology.
Right after college, she began her first television job at KDLT-TV in Sioux Falls, SD as their weekday morning meteorologist.
Stephanie loves thunderstorms and snow but seems to be most fascinated by clouds. When she's not in the studio or weather center she can be found relaxing at home with her husband watching movies. She also loves cooking, baking and Pinteresting!
The latest from Stephanie Barichello
This is the FOX6 Weather Experts updated daily text forecast.
Do you and your family have a plan in the event of severe weather? The FOX6 Weather Experts have some great advice that will help keep you and your family safe this severe weather season.
Weather permitting, highly active auroral displays will be visible overhead as far south as Milwaukee, the site suggests.