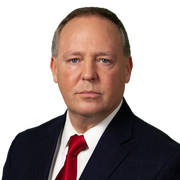 Bryan Polcyn
Investigative Reporter
If there's one thing I've learned after 30 years in radio and television news, it's this -- don't yell at a guy with a gun.
I've been known to get caught up in the moment, especially on 'unscheduled' interviews. I've been yelled at, cursed at, hip-checked, hung up on, threatened and shoved out the door. And, yes, there was that one time a guy came out of his house with a gun and yelled at me -- and I yelled back. I was correctly admonished to never do it again by my news director, my mother and my wife.
I never expected to be an investigative reporter. When I first got into radio in 1991, I wanted to do sports play-by-play. I'd been inspired by one of my childhood heroes, St. Louis Cardinals broadcaster Jack Buck. After four years in radio, I found I had a knack for the news and attended the University of Missouri School of Journalism where I made the leap from radio to television.
In 1998, I became a crime beat reporter for KCCI-TV 8 in Des Moines. In 2000, I joined the special projects unit at WDAF-TV (FOX 4) in Kansas City. And in 2004, I came to WITI-TV FOX6 News to join the investigative team. I've been fortunate to work all these years for a station that values investigative reporting as one of the pillars of our news operation. We get the time to dig into complex issues that have a genuine impact on your life. We hold politicians and government leaders accountable and aim to ensure they are transparent. It's hard work, but it's also fulfilling. I'm grateful every single day that I work for a company that believes in the power and importance of in-depth, hard news reporting.
While I do have a passion for my work, I'm a strong believer in work-life balance. And away from the job, I have a very full life. I'm married with four kids (two of my own, two step-children). In the next few years, we'll have three in college (send money, please!). I love to run, play soccer, go camping, ride roller-coasters, tailgate, and socialize with friends. I'm a big fan of chocolate porter and coffee stout. I can sing a mean karaoke. And I like few things better than a leisurely cruise on a warm summer weekend on my 2007 Kawasaki Vulcan 1500.
If you ride, let me know. Maybe we can get out on one together.
The latest from Bryan Polcyn