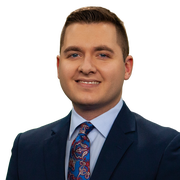 As a sixth-grade student in Franklin, my school chose me to 'anchor' our daily newscasts. At the time, I was excited for playground popularity, but I quickly realized that this would be my career moving forward. I've come to love the responsibility and search for truth that comes with journalism since then, and I'm excited to continue that work here at FOX6 — the station my family watched growing up here.
My journey back to Wisconsin opened my eyes to life outside the Midwest. After graduating from the University of Minnesota with a degree in Professional Journalism (Ski U Mah!), I began my career as a General Assignment Reporter at KNBN-TV in Rapid City, South Dakota, in 2016 before climbing the ranks to Weekend Anchor/Reporter and then Main Anchor. While there, I became one of the first reporters to enroll in wildland firefighter training, giving me unique access to the fire lines during some of the state's most devastating fires. My reports also explored growth in South Dakota's historic towns, in-depth look at crimes and more.
From there, I joined the staff at KOAA-TV in Colorado Springs, Colorado, as a Reporter and Fill-In Anchor in 2018. Life in that state, at the base of Pikes Peak, was incredible and working there was too. I spent an entire year reporting on the Kelsey Berreth case, from the missing person report to arrests and a high-profile murder trial, in addition to being. My work on the case was featured on an episode of Dateline. In addition, I was the station's point-person on many natural disasters and shed light on growing pains related to public safety in one of the nation's fastest-growing cities.
While I really enjoyed the West, there's nothing quite like coming home to advance a career and be closer to friends and family. I joined the FOX6 team as a Multimedia Journalist in early 2020.
I've always been a news junkie, but outside of that, my support for the Packers, Bucks and Brewers has never wavered! You can always fine me catching a game. I also enjoy staying active, whether that's working out, hitting the hiking trail or just going for a stroll along the Lakefront. I'm a fan of finding new restaurants, watching binge-worthy shows and a good podcast.
It's been special to see so many areas of Milwaukee revitalize themselves from afar, and I'm excited to be part of that moving forward. If you have a story idea, feel free to contact me!
The latest from Sam Kraemer