Milwaukee police officer shot, leaves hospital; suspect identified
MILWAUKEE - A Milwaukee police officer walked out of the hospital less than 24 hours after he was shot on the job near 25th and St. Paul.
Wheeled out of Froedtert Hospital, MPD Officer Herbert Davis stood to cheers and applause from dozens of his Milwaukee Police Department coworkers, friends and family on Friday afternoon. 
"As much as we help the community, they'll help us as well. It really means a lot," Davis said. "You expect that from your brothers and sisters, but you don't know what you're getting in certain situations."
SIGN UP TODAY: Get daily headlines, breaking news emails from FOX6 News
Davis, who has seven years of service with MPD who works at District 3, said two strangers came to his aid after he was shot while checking on a person reportedly slumped over in a car Thursday night.
Police said Davis, who was working alone, exchanged fire with a suspect. Jetrin Rodthong, 22, was arrested in connection to the shooting. He allegedly stole Davis' squad car and crashed it several blocks away near 17th and Clybourn. He has not been formally charged.
Rodthong was taken to the hospital. The 22-year-old has three open felony cases from 2020 and was out on bond in each, but had active bench warrant from October 2021 for court no-shows in each case. In the latest two cases, Rodthong was charged with bail jumping.
"The officer wasn't there to make a law enforcement arrest, he was really there as a caretaker to see and make sure this guy's needs were taken care of," Andrew Wagner, Milwaukee Police Association president, said.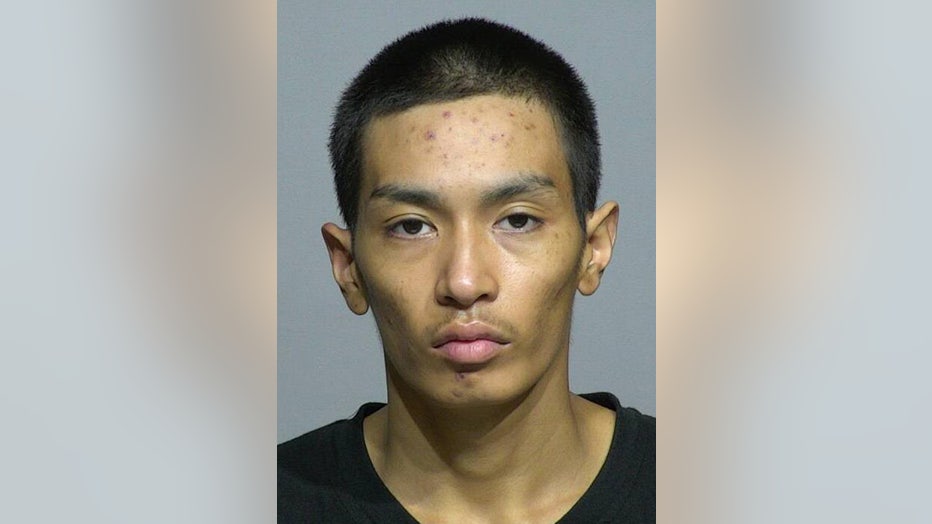 Wagner said the shooting is part of a disturbing trend over the past two weeks; Davis was the third Milwaukee-area law enforcement officer shot and injured in the past two weeks. An off-duty MPD detective was shot in the Third Ward on Jan. 13, and a Milwaukee County sheriff's deputy was shot on Tuesday, Jan. 25.
"We just want the community to work with us and not see us as the bad guys, because we actually are the good guys," said Davis. "We just hope that we can convey that better and get the community to work with us as well as us working better with the community and letting people see that."
FREE DOWNLOAD: Get breaking news alerts in the FOX6 News app for iOS or Android.
Davis credited his training for being able to be where he is today – headed home.
"I'm thankful for all the people that have been there, trained me, and worked with down the road, very thankful for them," said Davis.
Davis is a Cincinnati Bengals fan. A number of officers wore Bengals gear as they greeted Davis outside the hospital.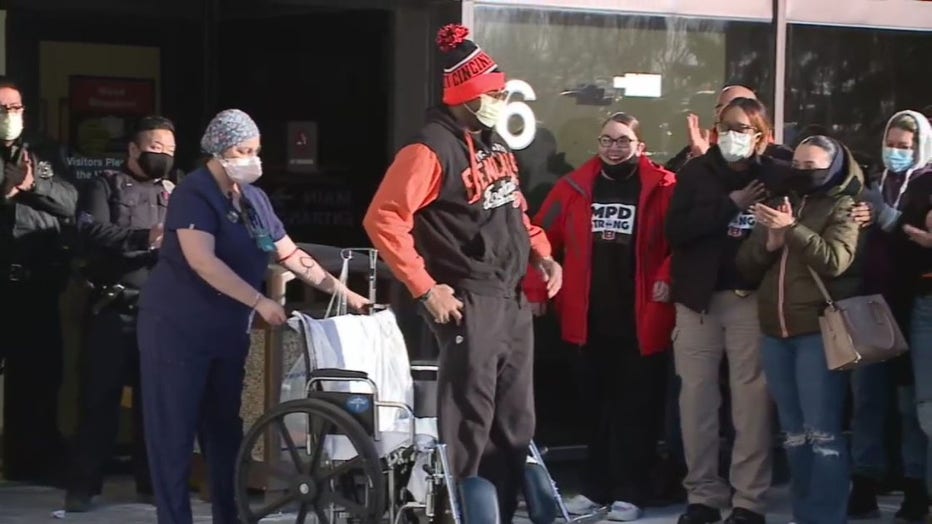 MPD Officer Herbert Davis leaves hospital after being shot near 25th and St. Paul
"They owe me one now. I've waited a long time for the Bengals," Davis said of the team's upcoming NFL playoff game.
His team may be in Ohio, but it is the community in Milwaukee that gets him emotional.
"You're not going to make me cry. You're not going to do it," said Davis. "But it means a lot, and to know that the citizens love us, too. As much as we help the community, they'll help us as well."