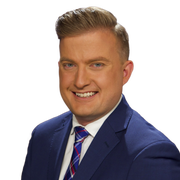 Bill Miston is an award-winning journalist, currently working for WITI-TV FOX6 in Milwaukee. He has more than ten years of journalism and reporting experience, having worked for Chicago, Champaign, Ill., Rockford, Ill., Green Bay, Wis., and Oklahoma City news operations. 
Bill came to WITI from its Oklahoma City sister station, KFOR-TV, in April 2019 where he spent more than two years covering wildfires, state politics, crime, and local and federal courts. He also served as a fill-in anchor.
If Bill looks familiar to FOX6 viewers, that's because he is. He previously worked as a reporter and fill-in anchor at WLUK-TV Fox 11 News in Green Bay for four-plus years, covering business/municipal development, crime, state and federal politics, and features reporting.
In 2016, Bill won the award for Best Sports Reporting Award in the state from the Wisconsin Broadcasters Association for the story of a high school athlete and college recruit forced to quit football because of concussions, and the effects that continued to impact his life.
Bill's work as been featured on NBC, CNN, FOX News, The Associated Press and other television stations across the country.
Before arriving in Green Bay in 2011, he spent more than three years as a multimedia journalist, producer and fill-in sports anchor at Rockford's NBC affiliate, WREX-TV. Bill also spent time working as a field producer, writer, editor and photographer in Chicago and Champaign, Ill. television newsrooms.
A native of Chicago's south suburbs, he received a bachelor's degree in journalism from the University of Illinois at Urbana-Champaign in 2008, specializing in political science and speech communication.
Bill's journalism career began at the University of Illinois, starting as a reporter with Illini Media Company — the independent, student-run media organization — in 2004.
Bill is excited to be back in Wisconsin. When he's not working, you can usually find him hiking, camping, downhill skiing, or on an area body of water with (or without) one or two skis strapped to his feet. Bill is a show skier, 3-event competitive water skier, and certified ski instructor.
The latest from Bill Miston
The news from Moderna and Pfizer has excited Dr. Deborah Fuller as she and her team have finalized their own MRNA vaccine which is in the early steps to start clinical trials.
As announced by Milwaukee County Elections Director Julietta Henry on Friday evening, the final tally included 459,723 total votes.
Milwaukee police are investigating a fatal shooting that happened on Thursday, Nov. 26 near 15th Place and Arthur Avenue.
Milwaukee Mayor Tom Barrett appointed Leon Todd on Tuesday, Nov. 24 as Executive Director of the city's Fire and Police Commission.
78-year-old Lauren Toll shuffled into a courtroom Friday, charged with attempted first-degree intentional homicide. Prosecutors say a bad business deal may be the motive.
There is a significant police presence at Mayfair Mall in Wauwatosa amid a report of shots fired inside of the mall on Friday afternoon, Nov. 20.
Prosecutors filed charges against a 78-year-old retired financial advisor accused of shooting a former business partner in Brookfield.
Private schools and families in Racine is asking the Wisconsin Supreme Court to stop a public health order put in place to prevent the spread of COVID-19.
The City of Wauwatosa and Officer Joseph Mensah signed off on his resignation agreement on Wednesday, Nov. 18.