Race for Alberta Darling's seat, Republican supermajority possible
MILWAUKEE - In a move out of a national playbook, Wisconsin Democrats are now involved in a Republican primary.
Former State Sen. Alberta Darling (R-River Hills) retired last year after 32 years in office. The race for her seat could determine whether Republicans get a supermajority in the Wisconsin Senate.
On a mailer, former President Donald Trump praises candidate Janel Brandtjen, a Republican who currently represents Menomonee Falls in the Wisconsin Assembly.
SIGN UP TODAY: Get daily headlines, breaking news emails from FOX6 News
"The people of Wisconsin are lucky to have a strong and great leader like Representative Janel Brandtjen," the mailer reads. It continues: "Conservative Republican Janel Brandtjen sided with Trump instead of with Wisconsin's election officials.
A look at the fine print, though, shows the Democratic Party of Wisconsin sent the mailer out.
"I think it's nothing more than a distraction from the real issues. People are concerned about their jobs, they're concerned about gasoline prices, they're concerned about food and some of the shortages that we've seen," Brandtjen said.
"I'm a mom who is basically a house wife from Menomonee Falls. I'm very committed to our community."
In the Republican primary election on Tuesday, Feb. 21, Brandtjen is facing State Rep. Dan Kodl (R-Germantown) and Thiensville Village President Van Mobley. 
FREE DOWNLOAD: Get breaking news alerts in the FOX6 News app for iOS or Android.
"Been a small business owner myself for 37 years, so I understand the small business world," Knodl said.
"Democrats would like to face Janel, which is why they are investing in her," said Mobley. "I'm a fresh face, an outsider that is extraordinarily experienced, and I have a track record of success.
One of the major issues for the Wisconsin Legislature is how to spend an estimated $7 billion budget surplus.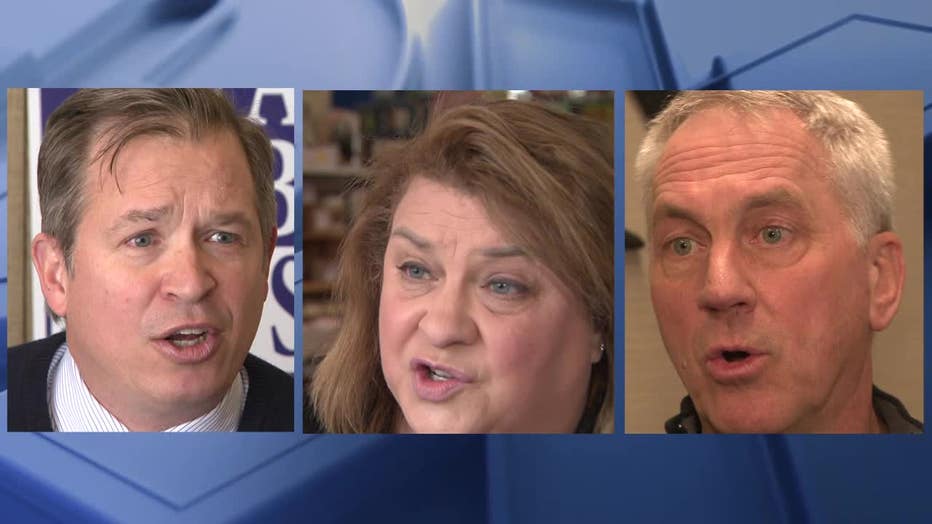 Van Mobley; Janel Brandtjen; Dan Knodl
"The $7 billion should finance a transformation of the taxation system in the state and a rejuvenation of our economy," Mobley said. "You have to look at it that way, not as throwing money around loosely here and there, so you have to concentrate your focus and efforts and give our economy a jump start."
"A good chunk of it should go back to the people who paid it in, and that's the taxpayers. So, tax policy has always been at the top of my agenda. And quite frankly, Gov. Evers has worked with us: The past two budgets have had tax cuts in them," Knodl said. "We've talked about shared revenue going back to the communities. So there are places that need to have additional revenue come their way. I'm big on corrections and crime. I would vote in a heartbeat to our dollars that go to fund our correctional systems. And education is the other part of that."
"For the most part, it should be returned to the taxpayers. We have charged you too much tax," said Brandtjen. "I do have concerns about being here, next door to Milwaukee. If there's something that we can do for our officers, as far as making sure that they stay, making sure we have enough, because a safe Milwaukee is great for business and great for everybody in the community."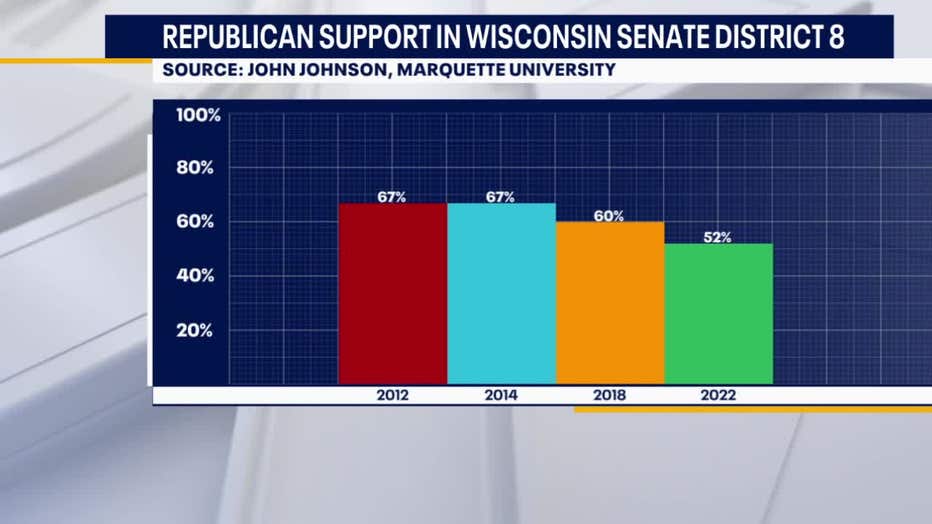 Republican support in Wisconsin Senate's 8th District
The 8th District includes Whitefish Bay and stretches north to Grafton, and includes Thiensville, Menomonee Falls, Germantown and other municipalities. Marquette University researcher John Johnson found the district's Republican support has dwindled over the past decade. Johnson said 67% voted for Republican Gov. Scott Walker in 2012, but only 52% voted for Tim Michels in 2022.
The winner of the primary moves on to the special election in April. The Republican winner will face Democrat Jodi Habush Sinykin, whose campaign did not respond to FOX6 News' request for an interview. FOX6 asked the Democratic Party of Wisconsin about the mailer, and a spokesperson said they were putting Brandtjen's views before voters.