Republican Alberta Darling announces retirement from Wisconsin Senate
RIVER HILLS, Wis. - Wisconsin State Sen. Alberta Darling (R-River Hills), once one of the most powerful women in state politics, will retire Dec. 1. It will end 32 years in office.
Darling's departure will likely spark a heated special election in some Milwaukee suburbs. The chamber's supermajority will be on the line.
While they had sparred over budgets and bills in the past, Democrats honored Darling Wednesday.
SIGN UP TODAY: Get daily headlines, breaking news emails from FOX6 News
"I was a little bit shocked, but I was extremely saddened. Sen. Darling has been a team-player when it comes to wanting to do things to help Milwaukee and particularly my district," said State Sen. LaTonya Johnson (D-Milwaukee). "It's going to be sad to lose that ally on the other side."
Gov. Tony Evers, a Democrat, also praised Darling. He has not said when he will call the special election to fill the next two years of Darling's four-year term.
Former Republican Gov. Tommy Thompson also worked with Darling, as they created the state's school voucher program.
"Wisconsin was the first state to have school choice, and now some 30 other states have copied Wisconsin's lead. And who was at the forefront of school choice? Alberta Darling," Thompson said. "She wanted to be able to have competition, so that parents would have a choice, parents could choose what's best for their students."
FREE DOWNLOAD: Get breaking news alerts in the FOX6 News app for iOS or Android.
Darling served in the Wisconsin Assembly in 1990, and has served in the Wisconsin Senate since 1992. In addition to River Hills, her district covers Milwaukee County's northern suburbs and parts of Ozaukee, Washington and Waukesha counties.
"She was dedicated, she was passionate, she was a hard worker," said Thompson in an interview with FOX6.
Darling co-chaired the powerful budget-writing Joint Committee on Finance for six legislative sessions. In 2011, she survived a recall in the wake of protests against the Republican-led Act 10.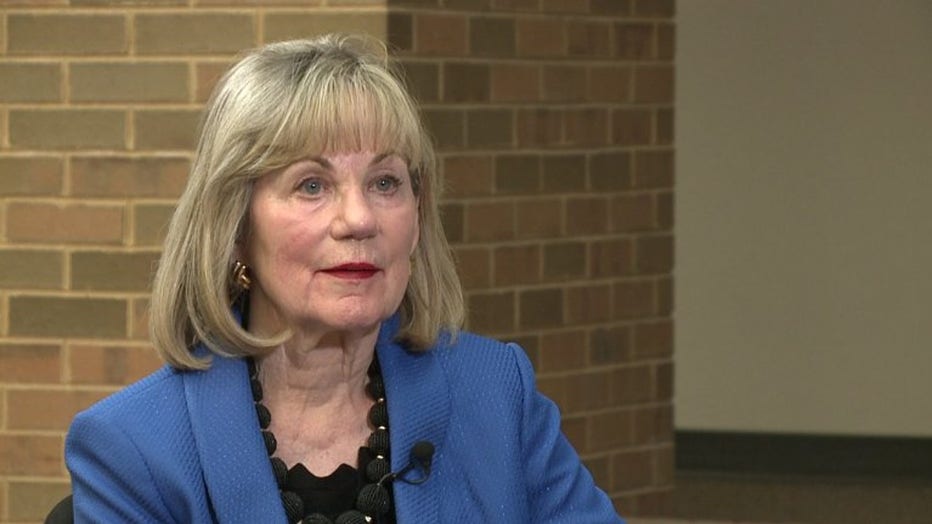 With Darling, Republicans would have held a 22-11 seat Senate supermajority. With her departure, Republicans will be one seat short; the Republican-controlled Assembly remains short of a supermajority. 
Darling was not available for an interview Wednesday following her announcement, but in the past, she spoke many times with FOX6. At the time of her recall election, she said, "Whatever happens – win, lose or draw – I can say at the end of the day, I did what my constituents asked me to do."
In a statement, Darling said she looks forward to spending more time with her grandchildren, family and friends. She added it is time for someone else to take the mantle.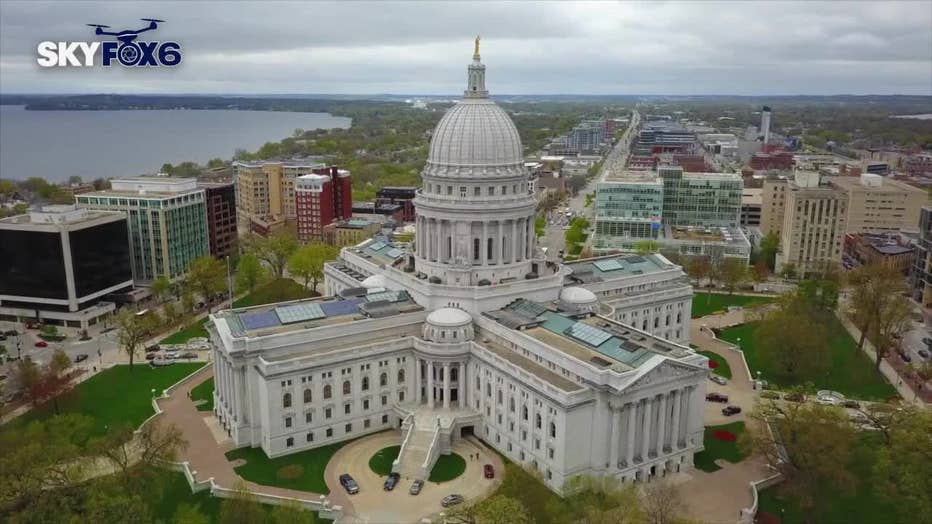 Wisconsin Capitol, Madison
Official statement from Darling:
"I am honored the great people of the 8th Senate District have entrusted me to be their representative in Madison for so long. I worked hard each and every day to bring their ideas and values to the State Capitol. 
"As the longest-serving woman to co-chair the Joint Committee on Finance, I made sure each and every dollar was spent prudently knowing this money comes from the hardworking people of our state. Our state finances went from massive projected deficits to real surpluses. This was not by chance or accident. I followed the same principles my parents taught me and the same ones Wisconsin families follow every day.
"I am proud to be one of the original authors of the first school choice program in the nation. I fought to make sure every child in the state has access to a quality education. It is my hope the Legislature continues to empower parents and improve outcomes for all. Anything less is a disservice to our children.
"As great as the many legislative achievements have been, I am humbled by the many friends, colleagues, supporters, and constituents I have had the privilege of meeting during my time in the Legislature. In my time of service, I have worked with many impactful leaders of Wisconsin all with the same passion for making our state the best in the nation. 
"I am especially fortunate to have been surrounded by a supportive family and staff. I thank them for their patience and dedication to the state of Wisconsin.
"Service comes with sacrifices. I look forward to staying active in the community and spending more time with my grandchildren, family, and friends. It is time for someone else to take up the mantle, build on these successes, and continue moving Wisconsin forward.
"On, Wisconsin!"
Reaction
State Senate Majority Leader Devin LeMahieu (R-Oostburg):
"Throughout her years in office, Alberta, was a fundamental part of this caucus and the state Senate. Her absence will be felt for years to come. She was a mentor and supporter to so many. Her service to the people of Wisconsin and the 8th Senate District was unsurpassed.
"Before I joined the Senate in 2014, Senator Darling already had 24 years of service to our state and I greatly admired her leadership. As a committee member and co-chair of Joint Finance for 22 years, she played an instrumental role in shaping the state's finances to what they are today.
"Most importantly, as a wife, mother and grandmother she has a heart for Wisconsin families which was reflected in her leadership as chair of the Education committee. She worked tirelessly to do what was right for kids, parents and the next generation of students in our state.
"Senator Darling's legacy remains within the many impactful policies she worked to pass and the unforgettable nature in which she carried herself as a leader and public servant. I am thankful for her legislative accomplishments and guidance. I wish her and her family the best in this next phase of their lives."
State Sen. Van Wanggaard (R-Racine):
"Senator Darling is the definition of a public servant and a champion for Wisconsin. Her tenacious advocacy for a quality education for all Wisconsin children, regardless of zip code, has lifted thousands out of poverty.  Senator Darling's leadership has returned billions of dollars to Wisconsin taxpayers. And Wisconsin will see the benefits of her promotion of mental health treatment for generations
"Alberta served and voted for the right reasons – to make all of Wisconsin a better place. Alberta is a great friend and colleague. Her counsel and wisdom in Madison will be missed, but she has truly earned her retirement and time with her family."
State Sen. Chris Kapenga (R-Delafield):
"As Senate President, I accept Senator Alberta Darling's resignation with sadness and gratitude for her many years of service.
"Alberta has worked tirelessly to provide a voice for her district and for Southeastern Wisconsin as she championed school choice, public safety, and economic development.
"I want to thank Senator Darling for her years of dedicated public service which has been an example to all of us, and I wish Alberta and her family the very best as she begins a new chapter."
State Sen. Duey Stroebel (R-Saukville):
"Alberta leaves Wisconsin a much better place after her decades of dedicated public service. Her remarkable, record-holding, tenure of six terms as Co-Chair of the Joint Finance Committee means there are countless areas of our State where one can find her fingerprints. This is especially the case in our strong fiscal position and in school choice."
"Alberta was a leader in five consecutive budgets to provide tax relief to average Wisconsinites and put our fiscal house in order. Both the massive tax cuts we passed last year and our incredible projected surplus would not have been possible without her hard work making tough decisions over those previous five budgets."
"I have always admired Alberta's tireless efforts to champion school choice and education reform. Alberta started at the ground level to build up school choice in Wisconsin. Last year more than 400 private schools educated more than 40,000 students through our various choice programs. While many people contributed to these momentous reforms, Alberta was always a key leader and advocate."
"Finally, as a lifelong resident and recent elected official of an adjacent district in Ozaukee County, I can attest to Alberta's influence in the communities she represented. She conducted herself with professionalism, grace and a public servant's heart. Whether as passionate allies or as passionate opponents on any issue, Alberta was nice to all and treated others with respect. I wish Alberta all the best in retirement."
State Rep. Barbara Dittrich (R-Oconomowoc):
"Since the first day I set foot in the Wisconsin State Capitol, Senator Alberta Darling has been nothing but supportive.
"Her encouragement and enthusiasm with having another Republican woman added to the numbers of our State Legislature have been so uplifting. I have appreciated her cheering my on in my attempts to serve the people of this great state with passion, wisdom, and integrity. The Senator's exemplary public service has made her a role model to women of every political persuasion. Her kindness and unwavering values have been evident to everyone she comes into contact with, and she will be greatly missed after her well-deserved December retirement. I stand on the shoulders of great women like Senator Alberta Darling who paved the way for me to improve our children's education, preserve fiscal responsibility, and pursue policy on a whole host of issues like mental health and child welfare. I wish her nothing but happiness in the days ahead."
State Rep. Janel Brandtjen (R-Menomonee Falls):
"It has been a pleasure and an honor to serve in the Legislature with Senator Darling. I have the utmost admiration for the grace and integrity she has always brought to her role. Senator Darling has been a leader on so many issues in the State of Wisconsin and will leave the State in much better shape than when she began her remarkable career. I sincerely wish her all the best and may she enjoy many splendid days with grandchildren and family."
CJ Szafir, president of the Institute for Reforming Government:
"Senator Darling has been one of the strongest advocates for lower taxes, educational reforms, and Wisconsin's conservative movement at-large. She is one of the most consequential policymakers of our time, and we are all better off due to her service. 
"Whether through her ability to consistently craft budgets that cut taxes or through her leadership in ushering in Act 10 reform that resulted in massive pressure from public labor unions and a failed attempt to recall her, Alberta always led fearlessly. 
"Senator Darling has been one of the strongest proponents of Wisconsin's successful school choice program and more recently fought to pass a historic education reform package that would have further empowered families and worked to resolve the abhorrent failures of Milwaukee Public Schools. There has been no stronger advocate for empowering parents and helping our children succeed than Alberta. 
"Even after her retirement, Alberta's legacy will continue through all of the positive ways she helped shape public policy over three decades. While she leaves big shoes to fill, I wish her well in retirement and thank her for her dedication and service to others over self. It's been an honor to work with her and her all-star team."