Packers draft Lukas Van Ness, Iowa edge rusher, in 1st round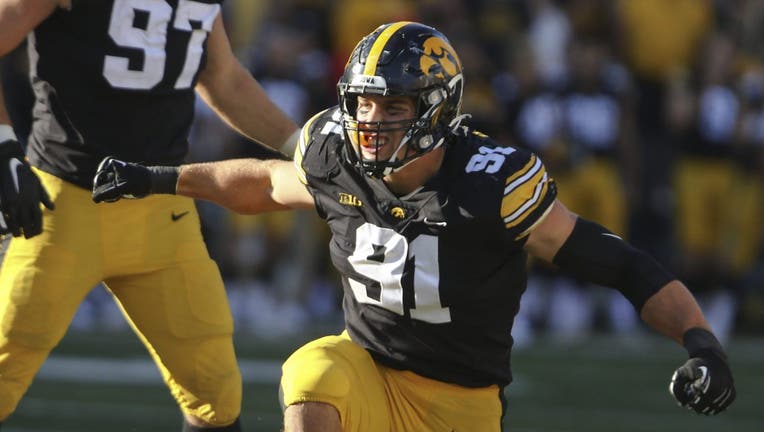 article
GREEN BAY, Wis. - The Green Bay Packers selected Iowa edge rusher Lukas Van Ness with the no. 13 overall pick in the 2023 NFL draft's first round Thursday, April 27.
"I couldn't ask for a better result," said Van Ness, who prepared for the draft by working out in California with a group that included Packers defensive tackle Kenny Clark. "I'm so happy to be Packer. I can't wait to get out there and wear that green."
According to the Packers, the 21-year-old will wear #90 for Green Bay. He had 12 ½ sacks among 19 ½ tackles for loss in his only two seasons for the Hawkeyes. After redshirting, he was named a freshman All-American in 2021 and second-team All-Big Ten in 2022. He started his college career, the Packers said, as an interior defensive lineman before moving outside. 
RELATED: Check out the new and improved FOX Sports app
Green Bay's lack of pass-rushing depth became apparent after Rashan Gary tore his anterior cruciate ligament last November. Gary had six sacks in nine games, Preston Smith had a team-high 8 ½ sacks and nobody else had more than four last season.
Packers general manager Brian Gutekunst said Van Ness' ability to address a specific, immediate need didn't necessarily play that big a role in their decision to draft him.
"It's helpful, but it really didn't drive the decision at all," Gutekunst said. "As you guys know, especially in the draft, we really think more long-term than immediately. This will have some immediate help for sure, but it's really more of a long-term thought process."
Standing 6 feet, 5 inches tall and weighing 272 pounds, Van Ness ran a 4.58 40-yard dash at the NFL scouting combine. The former high school hockey player earned the nickname "Hercules" for his strength and showed plenty of versatility at Iowa by lining up at both tackle and end.
SIGN UP TODAY: Get daily headlines, breaking news emails from FOX6 News
"I love to work out, so honestly it's a cool nickname," Van Ness said.
Van Ness called hockey his first love and says he has pictures of himself playing at the age of three. He believes his years playing hockey gave him skills that translate to the football field, such as how it helped him develop his motor.
"I truly believe I wouldn't be the (football) player I am without the game of hockey," Van Nes said. "But since I started playing this game of football, I fell in love and I knew that this was what I wanted to do."
The Packers acquired the No. 13 overall pick days before the draft as part of the Aaron Rodgers trade with the New York Jets, sending their original No. 15 overall pick to New York as part of the deal. The deal also landed them an additional pick in the second round, and a swap of picks in later rounds. 
Since 2005, the Packers have overwhelmingly favored defense in the first round – the team selecting a defender more than four times as often as an offensive player. Remove quarterbacks Rodgers and Jordan Love – a position almost certainly off the board in this year's first round – and the Packers were more than seven times as likely to pick a defender in the first round during that span.
While some fans clamored for the Packers to build the offense around Love, history suggested that wouldn't be the case – at least in the first round. The last time the Packers drafted an offensive playmaker in the first round was wide receiver Javon Walker in 2002. However, though it came in the second round, the first Packers pick of 2008 was receiver Jordy Nelson – the same offseason that saw the franchise shift from Brett Favre to Rodgers under center.
The Packers do favor offensive players as a whole, just not in the first round, having taken more offense (88) than defense (78) throughout all seven rounds of the draft since 2005. The Packers also lean heavily toward Power 5 schools compared to non-Power 5 schools (121-48) throughout the draft during that time.
First round picks under Gutekunst
The Packers entered the 2023 draft with 11 picks, marking the fifth straight year the team has had at least 10 picks when the draft opens. It is Brian Gutekunst's sixth draft as general manager and 25th with the organization.
The Associated Press contributed to this report.