Wisconsin election fraud: judge, defendant spar; gag order issued
RACINE, Wis. - The Racine County man who admitted to breaking the law to try to prove election fraud got into arguments with a judge Thursday, Sept. 8 during his initial court appearance, and the judge issued a gag order in the case.
Harry Wait, 68, previously told FOX6 News he broke the law to show vulnerabilities in the state's MyVote Wisconsin system. Due to the judge's order Thursday, he won't be talking to media about the case anymore.
The courtroom drama started before the hearing began. Wait was not present at 2 p.m., the start time for the Thursday hearing. Eighteen minutes later, Wait arrived; his supporters said he was summoned across the street to the courthouse instead of the neighboring law enforcement center where the judge was. FOX6 confirmed the summons, signed by Attorney General Josh Kaul, listed the courthouse. 
Wait then strolled into the courtroom and walked around the gallery, where his supporters were gathered. Racine County Circuit Court Judge Robert Repischak hit his gavel.
Judge: "Mr. Wait? Sit at the defendant's table."
Wait: "I didn't hear the case called yet, but thanks for the invitation."
Judge: "Sit down."

SIGN UP TODAY: Get daily headlines, breaking news emails from FOX6 News
At one point, the judge snapped at people wearing shirts which had "Harry's Fight Is Our Fight" and "Free Harry" printed on them. 
"No! Out! This is not a political rally, this is courtroom. Out," the judge ordered as he tossed them from the room.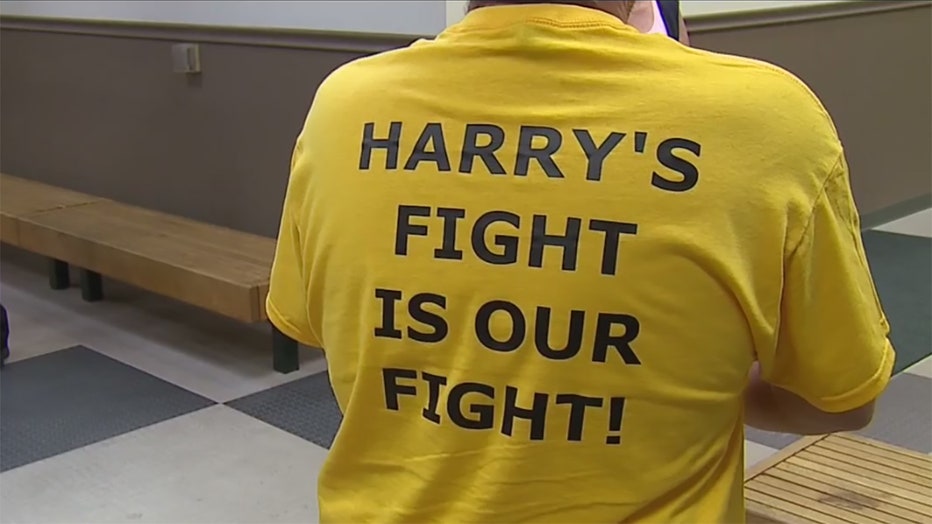 Shirt worn as Harry Wait made initial appearance on Sept. 8
The Wisconsin Department of Justice charged Wait with election fraud and felony identity fraud. He is defending himself.
"The DOJ is rogue right now. And they have not served me any documents," Wait said. "If you read my motion, notice and objections, I don't believe the DOJ has legal authority to appear before this court anymore. They have conducted sanctionable offense against me. And they have already prejudiced me before this court."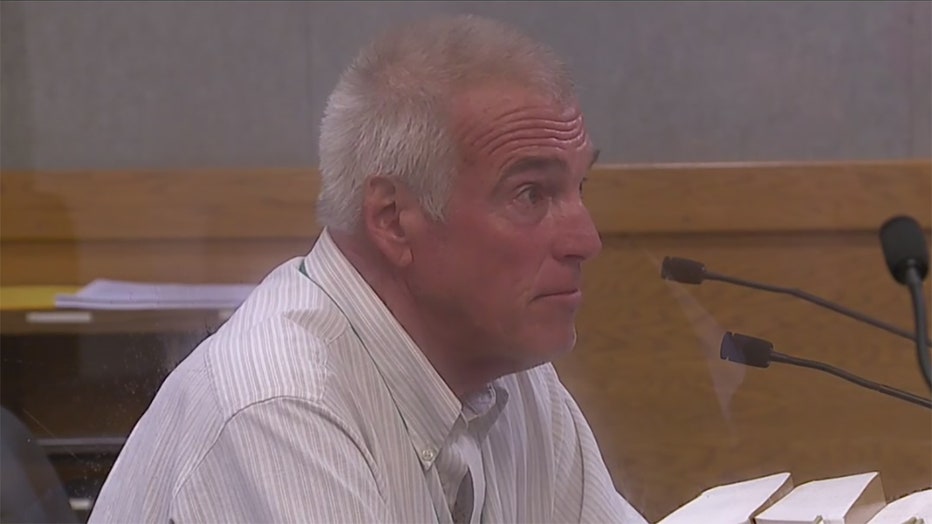 Harry Wait makes initial appearance on Sept. 8
Wait previously admitted he requested absentee ballots for other people without their permission because he was trying to prove voter fraud vulnerabilities. Wait asked for, but did not receive, a ballot for Assembly Speaker Robin Vos. Racine's clerk did send a ballot, though, for Mayor Cory Mason. 
In court, the judge agreed to keep victims listed as just "RV" and "CM." Wait and the judge again sparred.
Wait: "It was already general, public knowledge."
Judge: "Well, I don't know all the public knows."
Wait: "An informed public does."
Judge: "Well, I find that an informed public is rare these days."
Repischak ordered Wait to have no contact with those two. 
Wait: "Both officials are public officials. And doing public events, I may be at those public events. So I would like the judge to reconsider the no-contact order because the infringement upon my first amendment rights. "
Judge: "Well, you're going to have to avoid any physical contact with them…no face to face, personal contact."
Wait: "I'm going to object to that and the reason…"
Cutting Wait off, the judge answered: "I've already made my ruling. 
Wait: "OK, I'm putting on the record that I'm objecting."
When repeating the order to have no contact with RV and CM, the judge continued:

Judge: "Do you understand?"
Wait: "I heard your words."
Judge: "Do you understand them?"
Wait: "I do understand, but I still object."
After the court session wrapped up, Wait spoke to the media in the courtroom. "I think the court recognized that I'm not a violent person and a danger to the community."
"Shut it down," the judge yelled after seeing the impromptu news conference in his courtroom.
Then, Repischak ordered Wait back to the defendant's table and said he was ordering him and the parties in this case to no longer to talk to the media about this case.
 
Wait: "It's against my First Amendment rights. I'm asking this court to reconsider it's gag order."
Judge: "No. I'm not going to run the risk of having this proceeding tried in the media."
Wait: "Objection."
Judge: "Overruled."
Wait: "Thank you."
Then, after this second session ended, Wait left the courtroom and minutes later he again spoke to the media, but defended that discussion since it was about another case in a different branch in the Racine County Circuit Court, regarding the subpoena the state used in its investigation of Wait's bogus ballot requests.
 
"I'm talking about the subpoena now, which is another thing, so. The subpoena is overreaching, so I've already filed a motion to quash the subpoena, so we'll see how that case goes."
FREE DOWNLOAD: Get breaking news alerts in the FOX6 News app for iOS or Android.
Wait was released on a $2,500 signature bond. If convicted, he faces up to 13 years behind bars. 
The Wisconsin Elections Commission said the My Vote website is secure, and it is against the law to falsely certify that you are someone you aren't and request a ballot on another person's behalf.