Officer Jerving's funeral: MPD staffed by 14 agencies so police could attend
MILWAUKEE - Milwaukee Police Department districts were staffed by members of 14 agencies so that all members of MPD could attend the funeral for fallen Milwaukee Police Officer Peter Jerving on Monday, Feb. 13. 
The following agencies participated in this effort to support MPD:
Members of these agencies staffed MPD districts for 24 hours, covering every shift. 
It meant so much to the Milwaukee Police Department.
"They obviously stepped forward, and it was a heavy lift, and they did it through the graciousness of their hearts," said Shannon Seymer-Tabaska, MPD police inspector. "It was very humbling that these other jurisdictions came into our community. To actually take that role in the city of Milwaukee and relieve them of their duties so they could honor their fallen brother was very humbling."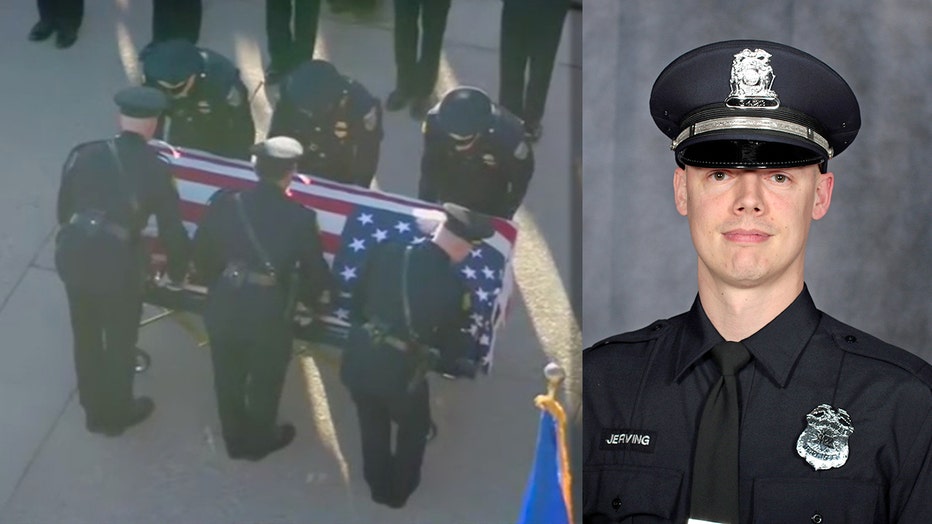 Officer Peter Jerving's casket leaves Elmbrook Church after his funeral Feb. 13, 2023.
Seymer-Tabaska said law enforcement is a community – a family.
"I think that it's just a brotherhood and a sisterhood in law enforcement," said Seymer-Tabaska. "We're always there to support in times of need."
Monday was an emotional day for the Milwaukee Police Department as Peter Jerving was laid to rest.
The day began with a procession from Krause Funeral Home to Elmbrook Church in Brookfield for Officer Jerving's visitation and funeral. A second procession led the fallen officer's body from the church to Wisconsin Memorial Park for burial. 
Jerving, 37, died Feb. 7 when he was shot during a struggle after chasing robbery suspect Terrell Thompson near 14th and Cleveland in Milwaukee.
Law enforcement from across the state and country paid their respects to the fallen officer, whose family called the support from near and far overwhelming. The Wisconsin Honor Guard Association helped provide full honors for Jerving, including a rifle firing party, commonly known as a 21-gun salute, the playing of "Taps," the presentation of the American flag draped over his casket and more. Flight for Life conducted a flyover.
During the services, Jerving's parents spoke to those who gathered.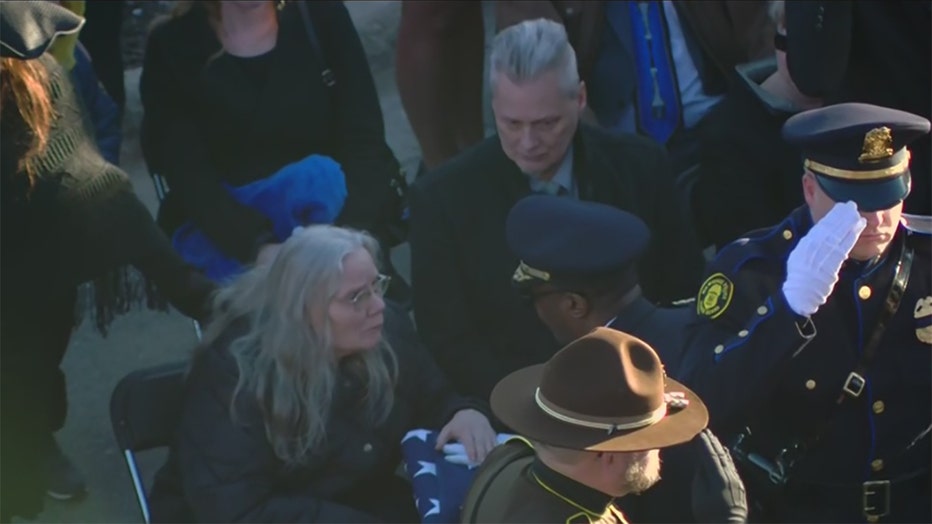 MPD Chief Jeffrey Norman presents an American flag to Officer Peter Jerving's parents
SIGN UP TODAY: Get daily headlines, breaking news emails from FOX6 News
"Help this nation to see that the police are not their enemy. Father, please bless all the officers of my District 4 of Milwaukee and every member of their families. Please help them to deal with their grief and trauma," said Jerving's mother, Patty."I ask for you to wipe away any bitterness that they might have in their hearts toward the young man who cut down Peter."
"My son has finished the race and will receive a glorious crown," Jerving's father, Douglas, said. "Like him, we have a job to do. We have a mission to complete. For me, it will be finished when God calls me home."
Jerving was a lifelong Milwaukee resident and decorated officer, honored by the police department in fall 2022 for saving someone's life in June.
MPD said Jerving received the award "for heroically providing lifesaving care to a shooting victim during extremely dangerous conditions." Officer Jerving grabbed a fire extinguisher and helped save a man in a burning vehicle who had been shot. He had four years of service with the police department and worked at Police District 4.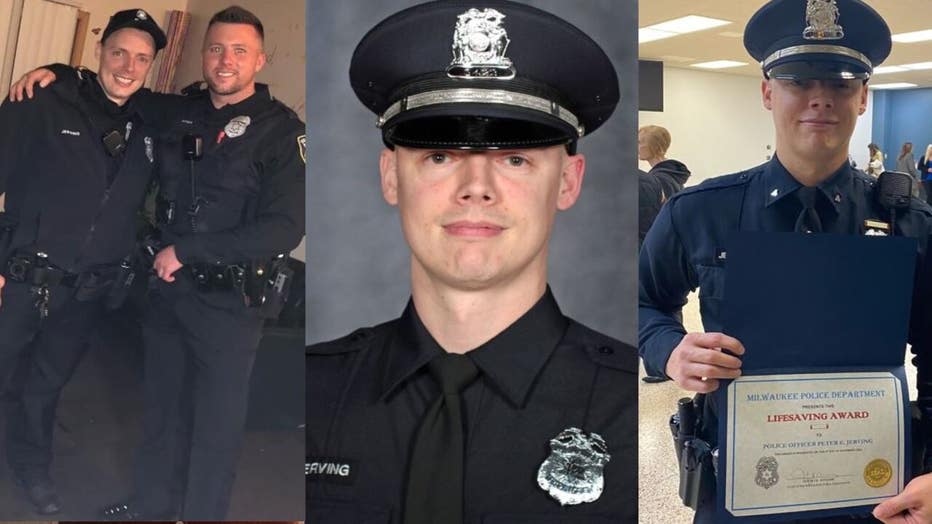 Milwaukee Police Officer Peter Jerving
Jerving worked at Western States for 14 years before taking a leave of absence to fulfill his dream of becoming a police officer. 
At the time of his death, Jerving was roughly halfway through his studies for a bachelor of science in criminal justice at Marian University.
Jerving's line-of-duty death was the first under Milwaukee Police Chief Jeffrey Norman's tenure. However, he was the fifth killed in the line of duty in the past five years. A sixth officer, Kou Her, was driving after his shift when he was hit and killed by a reckless driver.