Barack Obama in Milwaukee rallies Democrats, GOP responds
MILWAUKEE - Former President Barack Obama on Saturday, Oct. 29 campaigned for Wisconsin Democrats at Milwaukee's North Division High School, trying to drive larger turnout in a state he won by margins unseen in other recent elections.
"If you're anxious, if you're frustrated – don't complain, don't boo, don't tune out," Obama said in a call and response fashion as the crowd chanted "vote" to each phrase.
SIGN UP TODAY: Get daily headlines, breaking news emails from FOX6 News
Saturday's appearance was Obama's third at North Division, and came as early voting was already underway, and Election Day was 10 days away.
"As long as Tony Evers is governor, he'll keep doing whatever it takes to make sure that women have power to make their own health care decisions," said Obama. "He's got a little more of a Clark Kent vibe then a Superman vibe, but don't let the vest and the glasses fool you. He's tough.  He's single-handledly stopping the Republicans from driving the car off the road. He might be democracy's best hope in Wisconsin. That's one more reason he deserves your vote."
He rallied for Evers and Lt. Gov. Mandela Barnes, who is running for U.S. Senate. Real Clear Politics considers both races toss-ups.
"He's fought every step of the way to make sure Wisconsinites have opportunity to get ahead, just like he did. He believes in the American dream. If that's not a true blooded Wisconsin, American, I don't know what is," Obama said of Barnes. 
The former president hammered Barnes' opponent, Republican Sen. Ron Johnson, for floating the idea of including Social Security as part of the yearly budget approvals. 
 "If Ron Johnson doesn't understand that – if he understands giving tax breaks for private planes more than he understands seniors working all their lives are able to retire with dignity and respect – he's not the person who's thinking about you and knows you and sees you," said Obama. "And he should not be your senator from Wisconsin."
FREE DOWNLOAD: Get breaking news alerts in the FOX6 News app for iOS or Android.
Obama's stop came one day after Ronna McDaniel, chair of the Republican National Committee, rallied in Milwaukee for Republicans, including Johnson.
"They are fundamentally destroying America. That is what is happening. These people need to be stopped. They need to be defeated," Johnson said of Democratic leaders.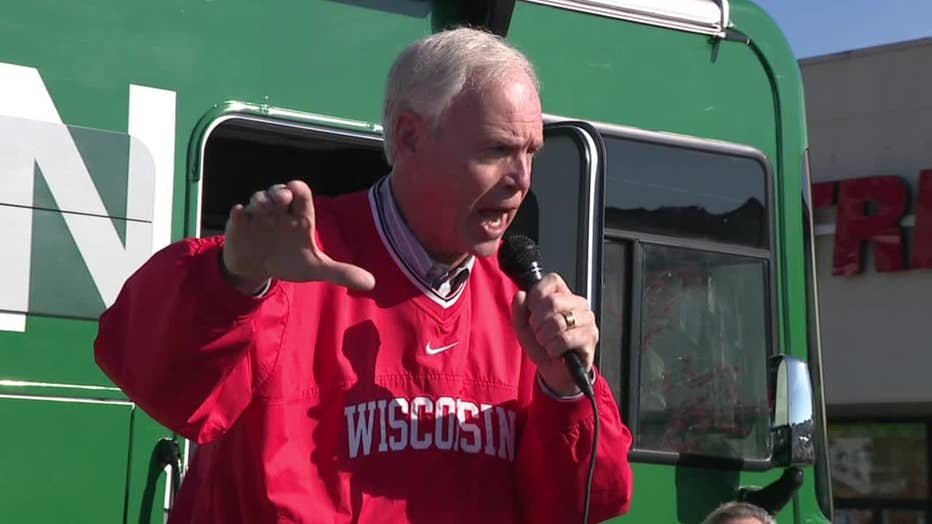 U.S. Sen. Ron Johnson starts bus tour on Oct. 28, 2022.
McDaniel helped Johnson kick off his 10-day, 60-stop bus tour. She said most voters would say "no" if asked whether they're better off than they were two years ago.
"Because of Democrat policies. Gas is up, inflation is up, home heating prices are going to be up. Every single part of our lives is more expensive right now," McDaniel said. "Our kids are still dealing with huge deficits from being shut down, from your governor and other Democrat governors. We're seeing crime up, we're seeing fentanyl coming across our borders, so I hope the Democrats are honest about their failures."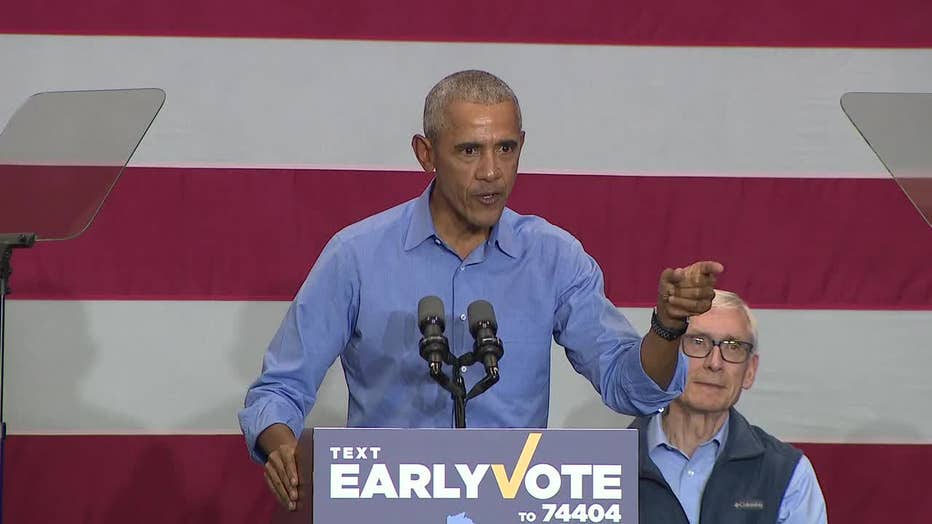 Barack Obama speaks at Milwaukee's North Division High School on Oct. 29, 2022.
In a state where recent elections have been decided by roughly one point, Obama surged; he won by 14 points in 2008 and seven points in 2012. Without his name on the ballot, Milwaukee County voter turnout dropped 50,000 in 2016 compared to 2012 with the largest drops in city districts with the most African American voters; turnout rose in 2020, but was still 33,000 short of 2012's mark.
"If enough of us make our voices heard, things will be better. And we will build a country that is more fair, and more just, and more equal and more free. Let's go do this, Wisconsin," said Obama.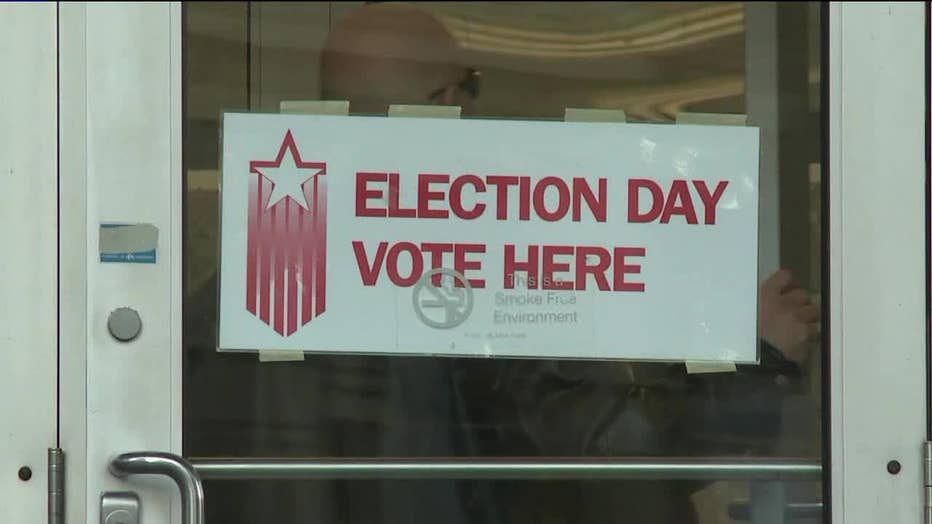 An AARP poll from September contained warning signs for Wisconsin Democrats: While Black voters 50 years old and older showed large support for Democrats, Republican support was double what it typically is. The poll also revealed those Black voters were less motivated to vote than other races. 
The Marquette University Law School poll, when pooling results from the past three months, found 78% of Wisconsin's Black voters prefer Barnes and 74% prefer Evers. 
Republican candidate for governor Tim Michels said Evers should apologize to North Division's students, where the latest state report card showed 0% of were proficient in reading or math and 45% graduate on time.