Jill Biden visits Waukesha, Children's Wisconsin after parade attack
MILWAUKEE - First lady Jill Biden paid respects to the victims of the Waukesha Christmas parade attack – meeting with several survivors and families of some who were killed on Wednesday.
The first lady went to the memorial in Waukesha's Veterans Park where many have left flowers, teddy bears and candles in honor of the six people killed and more than 60 who were injured. A moment of silence in a heartbroken city, Biden shared a message of support.
"There is no logic to this loss. It feels especially unthinkable that it happened at a Christmas parade," Biden said. "All of America mourns with Waukesha."
SIGN UP TODAY: Get daily headlines, breaking news emails from FOX6 News
The first lady was flanked by U.S. Surgeon General Dr. Vivek Murthy and second gentleman Douglas Emhoff.
"We are so, so deeply sorry for your loss," said Emhoff.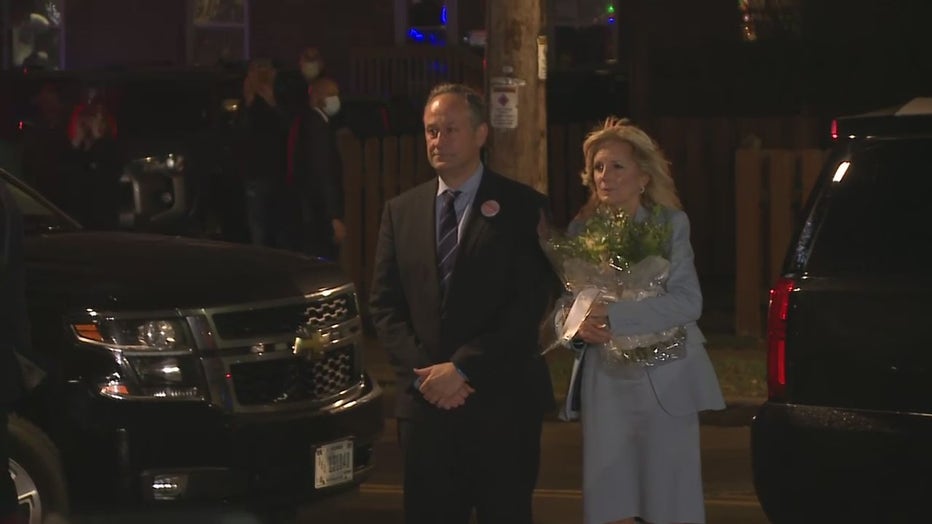 First Lady Jill Biden, Second Gentleman Doug Emhoff visit Waukesha memorial site
Behind closed doors at Waukesha City Hall, the trio talked with Dancing Grannies who survived the attack; two of their troupe died. In total, the White House delegation met families of four of the six who died.
"Jackson (Sparks)…who had big dreams and an even bigger heart, may their memories bring you joy," said Biden.
FREE DOWNLOAD: Get breaking news alerts in the FOX6 News app for iOS or Android.
Earlier in the day, at Children's Wisconsin, the group talked with health care workers who treated 18 parade victims. Sixteen were admitted, one died and one remains hospitalized in fair condition.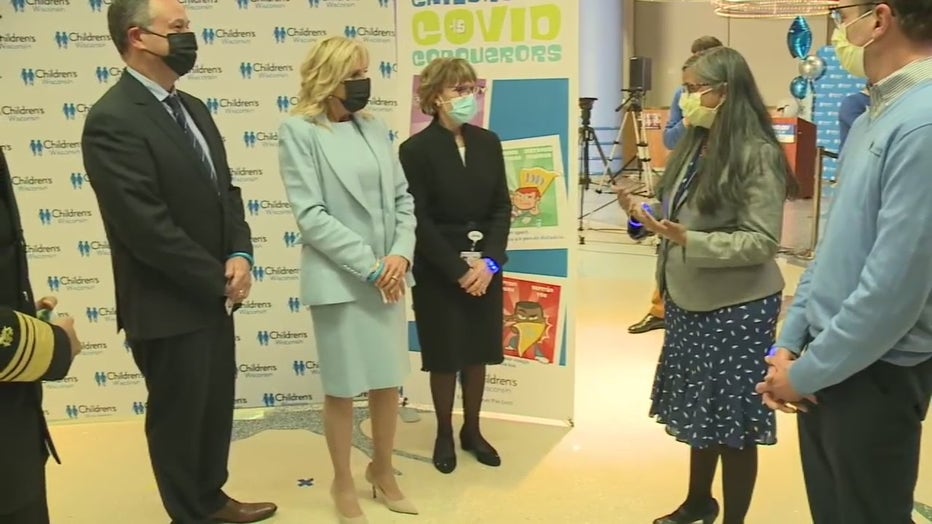 First Lady Jill Biden, Second Gentleman Doug Emhoff at Children's Wisconsin
The first lady also used the trip to promote COVID-19 vaccinations and met with kids who just got their shots.
"I'm excited you have another way to keep your family safe. A vaccine for children 5 and older. It's not just another way to keep your kids protected from COVID-19, it's the best way," Biden said.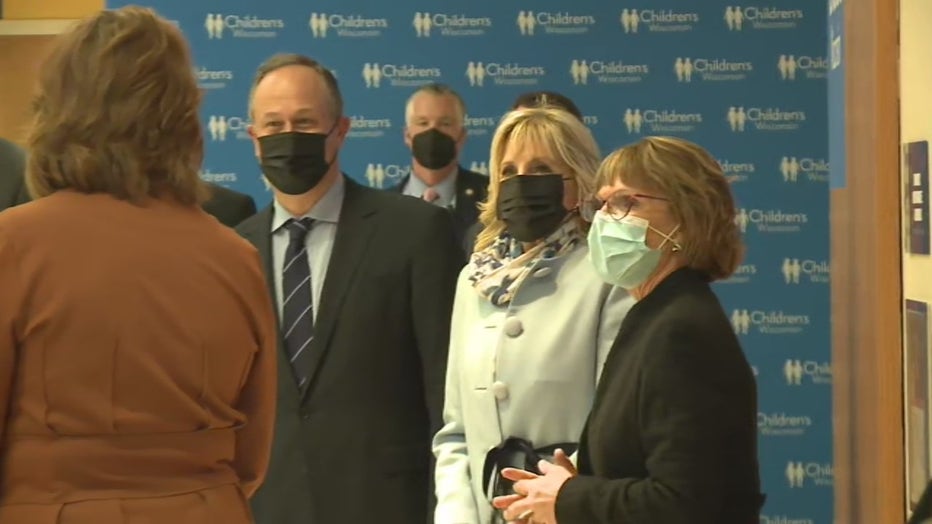 First Lady Jill Biden and Second Gentleman Doug Emhoff visit Children's Wisconsin
The first lady said all White House Christmas decorations are dedicated to frontline workers. She and her delegation did not answer any questions from reporters during the trip.
Joining the first lady was Waukesha County Executive Paul Farrow, who is chairman of the Republican Party of Wisconsin.
Reaction
Democratic Party of Wisconsin Chair Ben Wikler
"Today's trip is significant for our state, coming just a few weeks after an unspeakable tragedy impacted our neighbors in the Waukesha community. It makes such a difference to have leaders like First Lady Biden and Second Gentleman Emhoff who are guided by empathy and compassion. We're grateful for their leadership and presence as Wisconsin families cope with grief and come together to work through the process of healing.
"We're also grateful that today's visit will highlight the critical importance of getting vaccinated. As the second year of this pandemic draws to a close, we're thankful that more than 3.5 million Wisconsinites have stepped up and received at least one dose of a safe and effective COVID-19 vaccine. Still, the work is not done: as we confront another variant of this disease, it is more important than ever that we continue to get vaccinated and, when eligible, receive a booster shot. Together, we can put this pandemic behind us."