Blue for Peter Jerving: Milwaukee landmarks honor fallen officer
MILWAUKEE - Milwaukee landmarks went blue on Thursday night, Feb. 9 in honor of fallen Milwaukee Police Officer Peter Jerving.
Jerving died after he was shot early Tuesday, Feb. 7 after chasing robbery suspect Terrell Thompson near 14th and Cleveland on the city's south side.
The Milwaukee buildings will remain illuminated in blue until Officer Jerving is laid to rest on Feb. 13.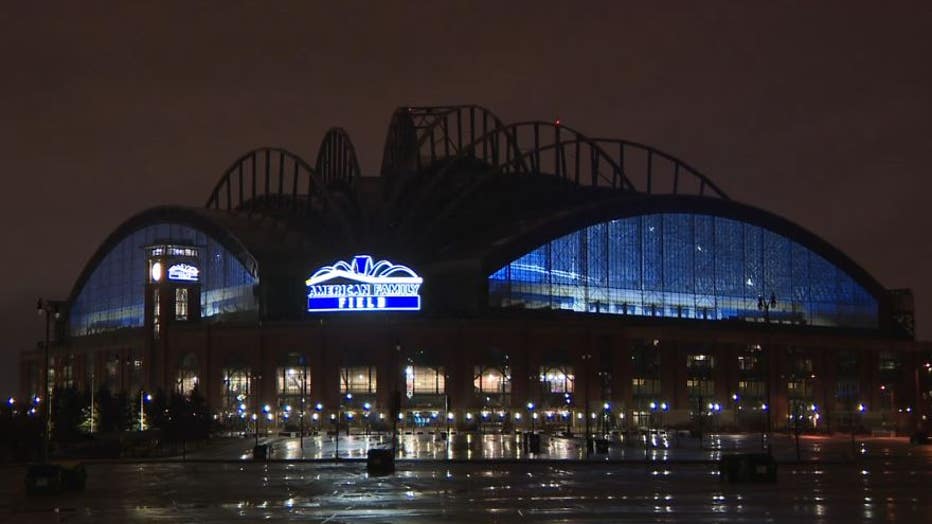 The buildings and other landmarks include:
411 East Wisconsin Center (Michigan Street skywalk bridge)
600 EAST
833 East Michigan
American Family Field
Brighten the Passage (Water Street and Broadway under I-794)
Gas Light Building
Hyatt Regency
Lakefront Brewery
Light the Hoan
Marcus Performing Arts Center
MGIC
Milwaukee County Historical Society
Milwaukee Downtown, BID #21 (windows at 301 W. Wisconsin Avenue)
Mitchell Park Domes
Northwestern Mutual
Pritzlaff Building
Schlitz Park (archways)
The Pfister Hotel
US Bank Center
War Memorial Center
Wisconsin Center (Wells Street tunnel)
"From American Family Field to the U.S. Bank Center to Northwestern Mutual to the Mitchell Park Domes, so really, all four corners of our city will have a landmark or building illuminated blue," said Gabe Yeager with MKE Downtown BID.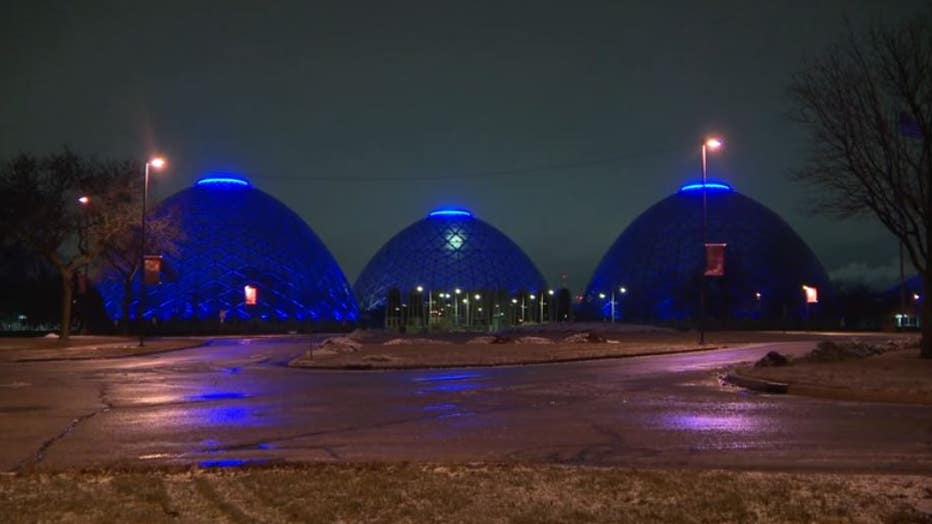 Yeager said this is the most participants they've had for a lighting event, especially on short notice.
"I think the visual impact will be somber, quite frankly," said Yeager. "We issued the request for our downtown properties around 9 o'clock (Wednesday) night, and by (Thursday) morning, about 20 properties had already signed on board to participate. It's a really tragic event that happened in our city, and our hearts are incredibly heavy."
Yeager said Milwaukee Downtown BID's landmark lighting program started during the coronavirus pandemic, continuing as a visual way for the city to display unity.
"It's a unified front we're showing, not only our community, but showing the world," said Yeager. "It's incredibly unfortunate that this happened."
Yeager said they want to send a clear message to all feeling the weight.
"We work daily with our community liaisons in District 1 here in downtown Milwaukee," said Yeager. "We know them on a first-name basis."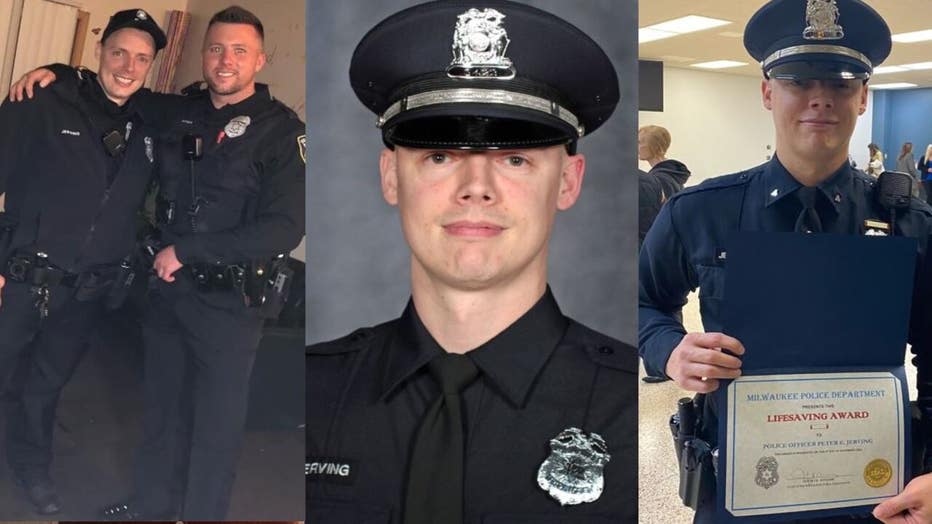 Milwaukee Police Officer Peter Jerving
Jerving, 37, was on the force for four years. Loved ones and Milwaukee Police Chief Jeffrey Norman said it was a childhood dream of Jerving's to serve.
According to his obituary, he leaves behind his mother and father, along with four sisters and two brothers and many extended family members, along with his partner, Megan.
SIGN UP TODAY: Get daily headlines, breaking news emails from FOX6 News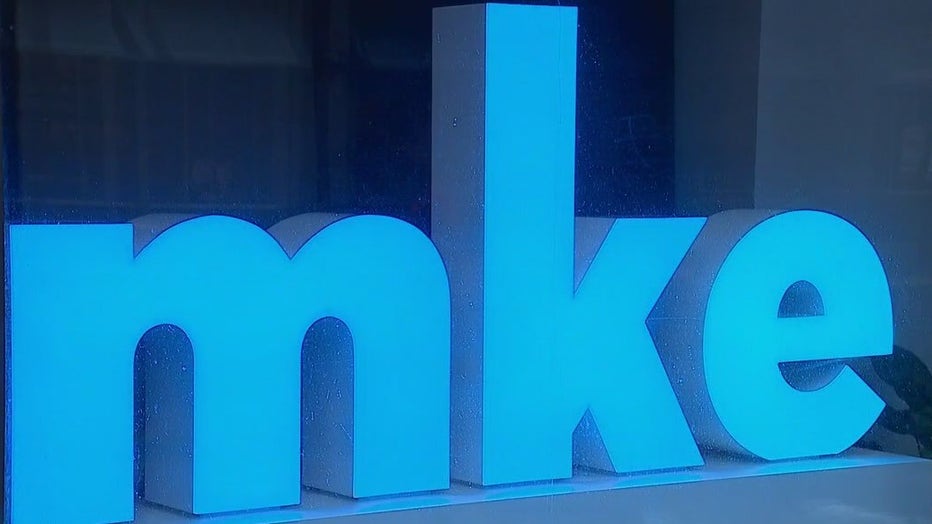 The fallen officer's obituary describes him as "a huge sports fan, both watching and playing." The young officer supported all of Wisconsin's teams, his obituary says, from the Packers to the Bucks and beyond. He played many sports, including volleyball. His Kelly's Bleachers volleyball friends in Wind Lake organized a fundraiser for Jerving. He was supposed to play there three days after his death. It's among many fundraisers set up to raise money to support Jerving's family after this tragedy.
Before he became a police officer, Jerving worked at Western States Envelope & Label in Butler, where his co-workers saw him as a son and supported his childhood dream of becoming a police officer.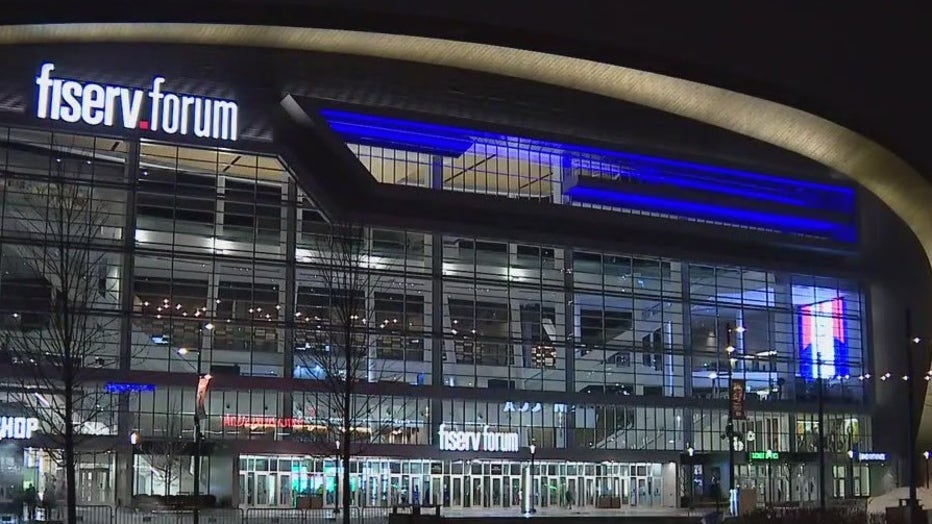 The officer was a student at Marian University, studying criminal justice and working toward a bachelor's degree.
"He was silly, and charming, and playful. He loved his family and friends fiercely, especially his many nieces and nephews. And he loved serving as a police officer for the city of Milwaukee," Jerving's obituary says.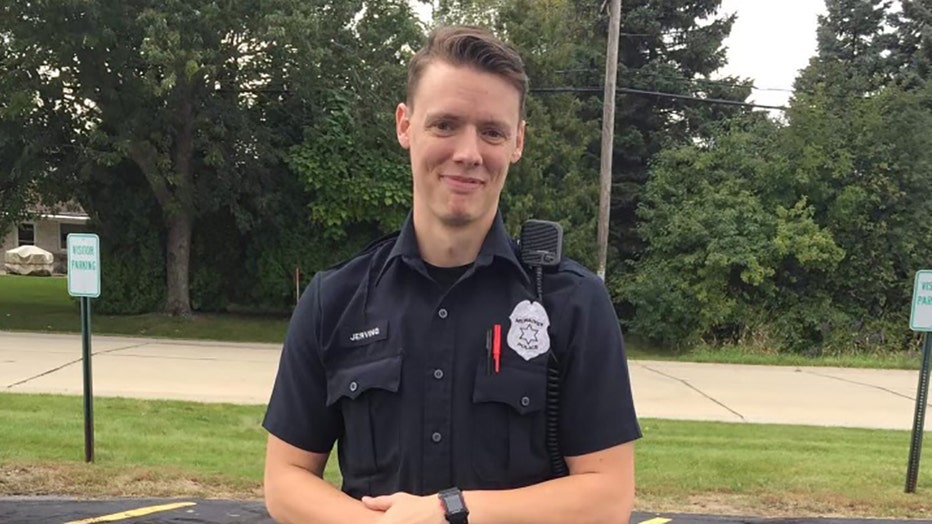 Milwaukee Police Officer Peter Jerving (Courtesy: Mary Lynn Ellis)
Funeral services were scheduled for Feb. 13 at Elmbrook Church in Brookfield, after which he will be laid to rest at Wisconsin Memorial Cemetery.