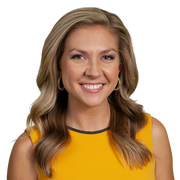 Suzanne Spencer
Anchor, Reporter
Her curious mind was a natural fit in the world of journalism; she started as a multimedia journalist in Indiana and quickly moved up through the ranks. She joined FOX6 in 2017 as a general assignment reporter, moved to weekend anchor and now anchors mornings for FOX6 WakeUp.
Suzanne created a monthly "Cold Case" series in 2019 highlighting unsolved murders in Milwaukee that has received awards including from the Wisconsin Broadcasters Association. She was nominated for an Emmy for her stories onboard an aircraft carrier, the U.S.S. Abraham Lincoln. She has also received awards for her in-depth reporting from the Associated Press for both investigative and feature stories.
Suzanne has broken investigations into cops accused of wrong-doing and a corruption indictment against a sheriff who was later ousted. She held officials accountable in releasing the names of nursing homes affected by the deadly COVID-19 pandemic.
She has recently traveled to Washington D.C. to cover National Police Week honoring fallen Milwaukee police officers and San Francisco to cover the Packers. No matter where she is or what she is covering, Suzanne aims to use her voice for the voiceless, capture moments and get to the truth through enterprise and compelling stories. Her favorite stories are those that highlight the human connection and make a difference.
Suzanne began her career at WSBT-TV in South Bend, Indiana. She graduated from DePauw University with a degree in English Writing and a minor in Media Studies. She lives in Milwaukee with her husband and dog, Wally.
The latest from Suzanne Spencer