Ron Johnson hosts border security roundtable in Milwaukee
MILWAUKEE - The Wisconsin race for U.S. Senate – Republican incumbent Ron Johnson versus Democrat challenger Mandela Barnes – could be one of the most competitive in the country.
Johnson focused his attention on the nation's southern border; on Tuesday he hosted a border security roundtable in Milwaukee, where he praised the Trump administration but criticized the Biden administration.
"You will never have a 100% secure border. We had it largely under control, now it's completely out of control," he said. "The root cause is sitting in the Oval Office."
SIGN UP TODAY: Get daily headlines, breaking news emails from FOX6 News
U.S. Border Patrol agents are apprehending surging numbers of migrants along the country's border with Mexico – 1,500 miles from Milwaukee.
"You cannot look at that number and say this is just another surge, just another typical surge that comes out of nowhere that we see. That's just not true," said Mark Morgan, former acting commissioner of U.S. Customs and Border Protection.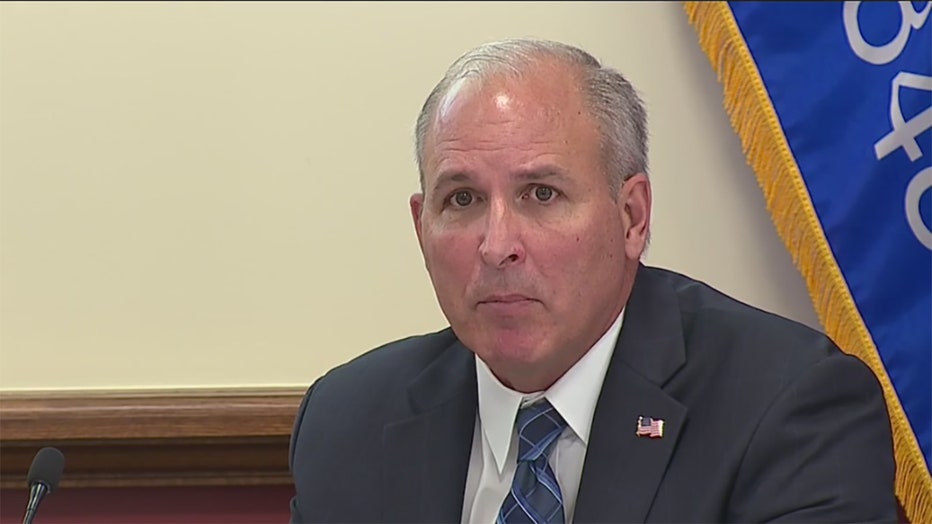 Morgan was among those in Milwaukee, joining Johnson along with the president of the Border Patrol agents' union.
"Catch and release is not humane. If we truly want to be humane, if we truly want to protect life, we are going to believe and act within the rule of law," said Brandon Judd, National Border Patrol Council President. "These vulnerable women and children that are being abused, sexually, physically, and at times, murdered. If we enforced the laws properly, this would stop."
FREE DOWNLOAD: Get breaking news alerts in the FOX6 News app for iOS or Android.
Democrats defended President Joe Biden.
"[Biden] has nothing to do with it, the world has nothing to do with this," said State Sen. Chris Larson (D-Milwaukee). "The fact that there are people looking to shift around the world because of climate change, because of other problems – I think it's showing that if there's anything he [Johnson] is going to complain about it would be that there are less apprehensions, so in that regard, the number is up, and it shows that Joe Biden is actually securing the border in a better way than Trump did."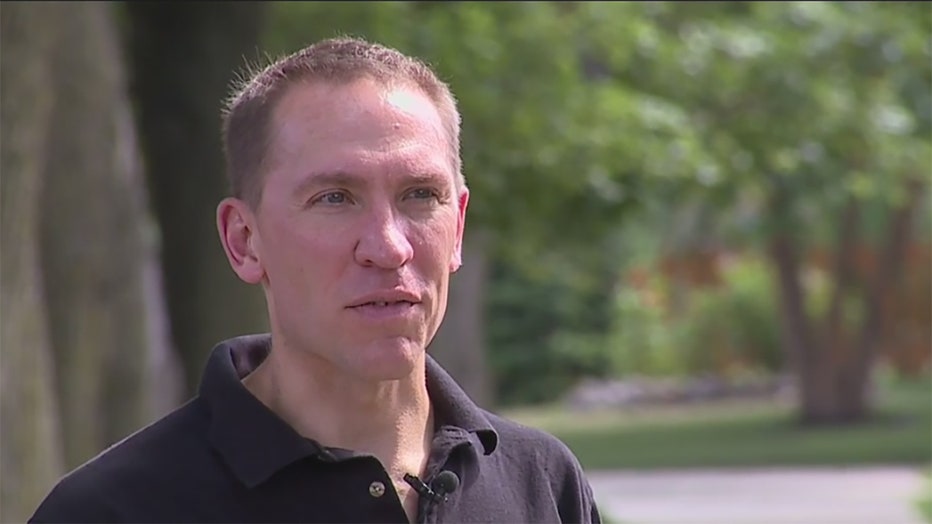 The participants of the roundtable disagreed. They said the change in tone from the new administration is driving more migrants to seek entry into the United States. Morgan pointed to data showing Border Patrol apprehensions surged after Joe Biden's inauguration, but sunk when Donald Trump won the 2016 election.
"We call that the Trump effect. I'm just being straight with you, because look, nothing changed," Morgan said. "Nothing changed, except for you had a candidate at the time and some politicians who were saying: 'We're going to secure the border. We are going to shut down illegal immigration.'"
Customs and Border Protection reports so far this fiscal year more than 2.2 million what they call "encounters" at the southern border. 
Some Wisconsin sheriffs speaking at the roundtable Tuesday said drugs snuck in at the southern border end up in Wisconsin.
"We are getting everything that comes through that open border," said Green Lake County Sheriff Mark Podell.
"These drug traffickers tell us they're willing to risk going to border states because down there they can buy these pills for 20 cents a pill, and they can sell them in northeast Wisconsin for $30 or $40 dollars a pill," said Fond du Lac County Sheriff Ryan Waldschmidt. "We're taking Fond du Lac County off the map every single year, year, after year, after year. Those are Americans who are dying from this at the hands of the Mexican cartels who are producing this and profiting on this."
Larson called Johnson's roundtable a distraction.
"If we're worried about our national security, it's not going to come from this racist attack on people at our border, it should be focused on what Donald Trump was doing with these top secret documents," Larson said.
Johnson said he is skeptical of the FBI's search of the former president's Mar-a-Lago estate, calling it a "highly partisan act."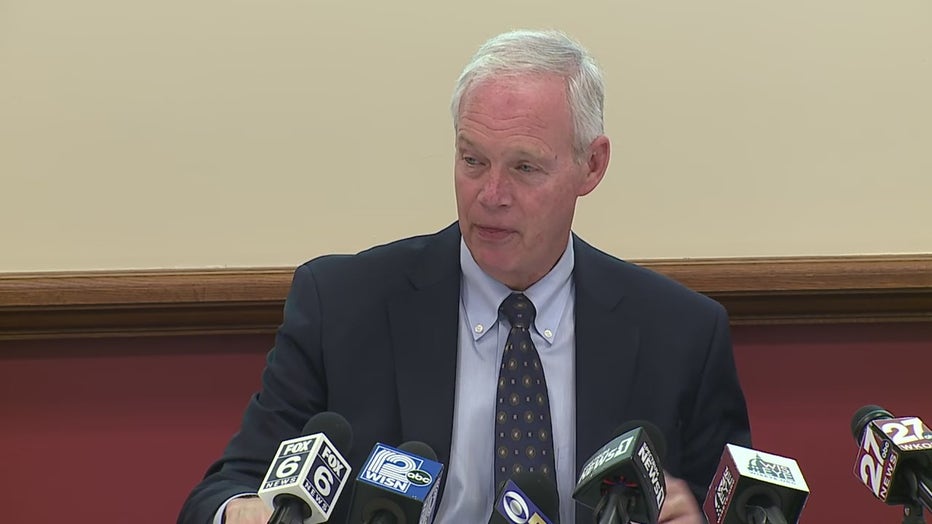 U.S. Sen. Ron Johnson (R-Wisconsin)
"I don't trust the top echelons of the FBI. They've run operations against me. They gave me a secured briefing, unsolicited, then leaked it to the media, to smear me," he said. "I don't trust the FBI. They hold all the cards. They've proven themselves to be untrustworthy."
Johnson is a member of the Senate's Homeland Security and Governmental Affairs Committee, and is facing a reelection challenge from Wisconsin Lt. Gov. Mandela Barnes.
FOX6 News asked for Barnes' reaction to the roundtable. The campaign didn't provide a response.
In February 2022, a Marquette University Law School poll found 36% of Wisconsin voters were "very concerned" about illegal immigration, 24% were "somewhat concerned," 19% were "not too concerned" and 20% were "not concerned at all."
At the border
Migrants were stopped fewer times at the U.S. border with Mexico in July than in June, authorities said Monday, a second straight monthly decline.
Flows were still unusually high, particularly among nationalities less affected by Title 42, a pandemic-era rule that denies migrants legal rights to seek asylum on grounds of preventing spread of COVID-19. In theory, Title 42 applies to all nationalities but costs, diplomatic relations and others considerations usually dictate who is expelled under the public health authority.
U.S. authorities stopped migrants 199,976 times in July, down 3.8% from 207,933 in June and down 6.8% from 213,593% in July 2021, Customs and Border Protection said.
Authorities stopped Mexicans, Guatemalans, Hondurans and El Salvadorans less in July than in June. Mexico has agreed to take people from all those countries who are expelled under Title 42, a relatively easy task for Border Patrol agents due to Mexico's proximity.
People from countries more likely to be released in the U.S. on humanitarian parole or with notices to appear in immigration court were stopped more often. Border Patrol agents stopped Venezuelans 17,603 times in July, up 34% from June and nearly triple from July 2021.
Cubans were stopped 20,080 times by Border Patrol agents, up 25% from June and nearly six times from June 2021. Colombians were also stopped more often.
Del Rio, Texas, was again the busiest corridor for illegal crossings among the Border Patrol's nine sectors on the Mexico border, with agents stopping migrants 49,563 times in July. Texas' Rio Grande Valley, which had long been the busiest, was a distant second with 35,180 stops.
The Associated Press contributed to this report.