Milwaukee police shooting at Vets Place Central, man dead
MILWAUKEE - Milwaukee police shot and killed a 66-year-old man at a veterans home Tuesday morning, Dec. 20. 
Police said they were called for an active shooter at Vets Place Central near 34th and Wells around 7:30 a.m. The facility provides transitional and long-term housing for veterans – including the 66-year-old.
"It's a tragic event. It's nothing we would ever wake up this morning and expected to happen," said Jason Johnson with Center for Veterans Issues, the organization that operates Vets Place Central.
SIGN UP TODAY: Get daily headlines, breaking news emails from FOX6 News
Police said the 66-year-old was in the basement of the facility, along with other residents, when he pointed a gun at the two officers who were first inside. One of the two officers shot the 66-year-old, killing him. No one else was hurt.
"We have a report being that there's individuals who were in close proximity to the individual who had fired his weapon," Milwaukee Police Chief Jeffrey Norman said.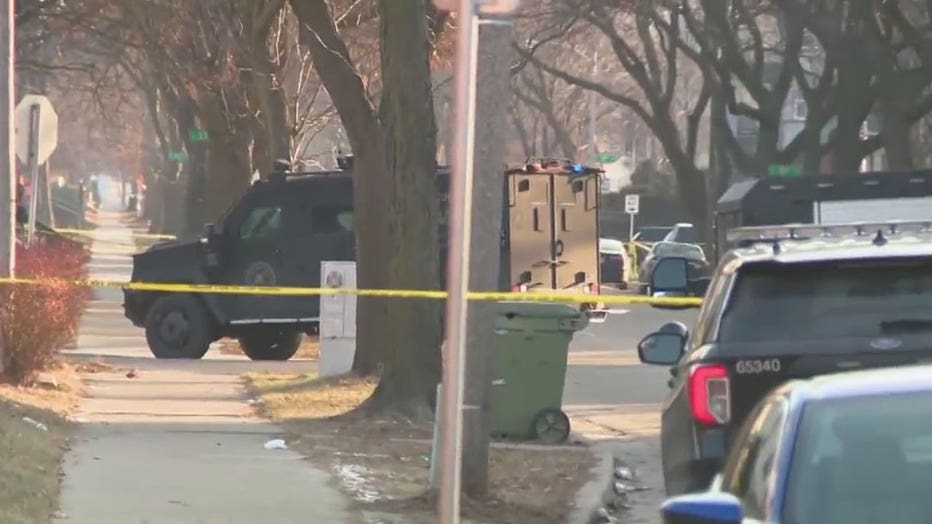 Police presence near 34th and Wells, Milwaukee
For hours, police had the blocks surrounding the facility closed off as investigators worked to piece together what happened. Norman said the bomb squad was on hand in case explosives were found.
Johns, who is a veteran himself, is the attorney for Center for Veterans Issues. He said he would not get into details about the 66-year-old's background or what started the situation. He said some veterans have difficulty transitioning back into civilian life – and that's where Center for Veterans Issues come in.
"We're all brothers. We all served in combat together. And we at CVI are a family," Johns said. 
Center for Veterans Issues said grief counselors from the Department of Veterans Affairs will be available to help support residents and employees at Vets Place Central.
MPD said the officer who shot the man is 38 years old and has been with the police department for nearly two decades. He has been placed on administrative duty, which is routine. The second officer, a 40-year-old with more than 13 years of service, did not fire his weapon.
This incident will be investigated by the Milwaukee Area Investigative Team with the Oak Creek Police Department being the lead agency.
FREE DOWNLOAD: Get breaking news alerts in the FOX6 News app for iOS or Android.
Statement from Eduardo Garza, president and CEO of Center for Veterans Issues:
"The care and safety of the veteran community, our residents, employees, and neighbors remain a top priority for CVI. Our thoughts and prayers go out to the family and friends of one of our residents who was killed this morning in a confrontation with the Milwaukee Police Department at one of our veterans housing facilities, Vets Place Central.
"Law enforcement officers have secured the facility and the area and CVI is cooperating fully with the police investigation. While we understand the public is looking for additional information, at this time we are expending all our efforts and focus on assuring our residents and staff have the resources they need to manage the trauma over what has occurred. This will take some time and as such, we do not have any further information to provide about the incident.
"We are grateful that other residents and staff of the facility who were evacuated during the incident are safe and secure off-site.
"We're working with the Department of Veterans Affairs and their team of grief counselors to provide additional support to our residents and employees following this traumatic event.
"Multiple wars and multiple deployments of our service men and women has resulted in an array of difficulties derailing their ability to transition back into civilian life, and CVI is here to address the needs of our veterans, their families and the communities they live in."