First Lady Jill Biden Milwaukee visit; reopening schools amid pandemic
MILWAUKEE - First Lady Jill Biden is visiting Milwaukee on Wednesday morning, Sept. 15 to speak about safely reopening schools amid the pandemic.
The first lady arrived in Milwaukee around 10:15 a.m. Wednesday – and was greeted at Mitchell International Airport by Milwaukee Mayor Tom Barrett.
Biden toured Marvin E. Pratt Elementary School in Milwaukee – and then shared some thoughts with teachers and parents about learning during the pandemic.
"I'm so grateful for the educators like those here at Marvin Pratt Elementary who helped us through the last year -- when families needed help the most, educators answered the call," Biden told those gathered at Pratt Elementary. "I'm here today because your children matter to me -- and they matter to the president."
Following her speech at Pratt Elementary, the first lady sat down in a roundtable format to hear personal stories from teachers and parents at the school.
"I know this is complicated. But we're going to keep listening and we're going to keep learning from your experiences. And we are committed to working as hard for your children as you do.," Biden said. "Together, I know that we are going to find a way forward."
During her speech, the first lady was not wearing a mask even though MPS policy requires them – even when teaching.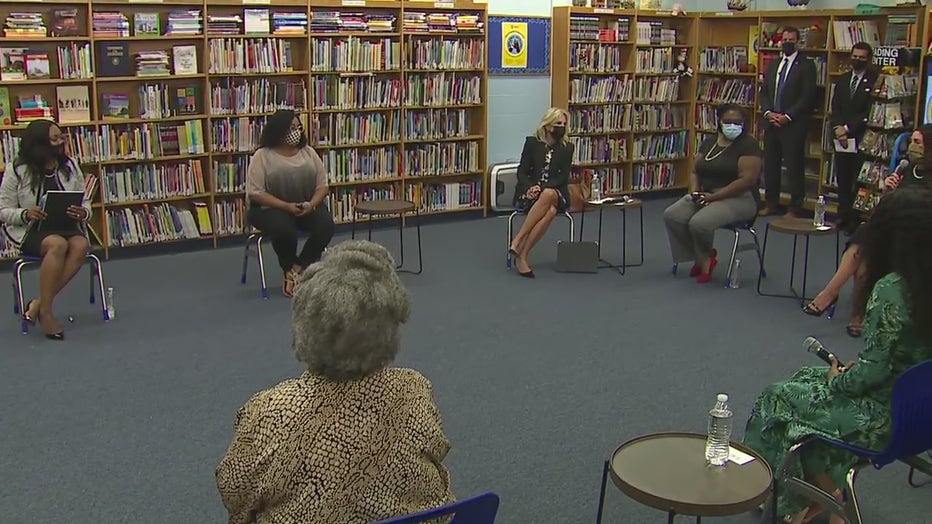 First Lady Jill Biden visits with teachers, parents at Marvin E. Pratt Elementary School in Milwaukee
"Making sure that they get everything they need was hugely stressful. And you know, we are not teachers. Teachers have one of the most important jobs in the world. these are our kids, this is our future," said Jessica Davis, parent of a 5-year-old and 6-year-old.
"I think they were a little bored, of course, at home," said Carol Johnson, a great-grandmother of two Pratt students. "You can only do so much hide and seeking and all of that with the kids. again, it was very stressful for them being out of school for me."
SIGN UP TODAY: Get daily headlines, breaking news emails from FOX6 News
On the issue of safety, Johnson told FOX6 News she is convinced the school is keeping her great-grandchildren safe, but she is unsure about vaccinating kids under age 12.
"I don't know. Younger kids, oh boy, it was harder for the older people, so I just don't about the kids under 12," Johnson said.
A White House COVID-19 Response Team member leading work on school reopening said she hopes that could be this year.
 "We are still hoping for later this year. We don't have a totally firm timeline, but we are hoping for later this year. But we do feel really confident that with these measures in place, measures like what is happening here at Marvin Pratt, you can stay in school safely, we can prevent transmission," said Mary Wall, White House COVID-19 Response Team.
FREE DOWNLOAD: Get breaking news alerts in the FOX6 News app for iOS or Android
Also joining the roundtable, Pratt's principal, the president of the teachers' union, and the National Education Association (NEA). But most of the time was spent hearing from parents. 
FOX6 News asked the first lady her thoughts on a possible vaccine mandate, but she did not answer. Milwaukee Public Schools is mandating all workers including volunteers to get vaccinated. The president required it of all Head Start educators – a program available at Pratt Elementary.
Reaction
Republican Party of Wisconsin Executive Director Mark Jefferson
"The past seven months under the Biden administration have been a crash course in bad government as Wisconsin families witness skyrocketing prices, a disastrous withdrawal from Afghanistan, and a small business-crushing workforce shortage. Not even Dr. Jill Biden can cover for her husband's failing grade."
RNC Spokesperson Preya Samsundar
"No visit from Jill Biden will erase the fact that the Biden administration is actively seeking to take away the rights of Badger Staters with their unconstitutional executive orders."
Next for the first lady
After her stop in Milwaukee, the first lady will hit the road to Des Moines, Iowa where she is scheduled to visit a community college campus.
At the beginning of September, the White House announced the first lady was heading back to the classroom herself. Jill Biden is the first to have a career outside of her public-facing duties. She teaches writing at Northern Virginia Community College.