Bucks cancel Deer District watch party for Game 7
MILWAUKEE - The Milwaukee Bucks have canceled the Deer District watch party for Sunday's series-deciding Game 7 against the Boston Celtics.
The cancelation comes after three people were shot and injured just outside the plaza Friday night following Game 6 of the Eastern Conference semifinals – part of a violent day in the city.
"It pains me to see people suffering as a result of other people's stupidity, basically," said Bill Reinemann, a parking lot attendant near Fiserv Forum. "Actually kind of glad that at least the idea has been tabled for right now."
SIGN UP TODAY: Get daily headlines, breaking news emails from FOX6 News
Many in Milwaukee say something has to give. Friday night, Reinemann said something did.
"Multiple people came and leaned on one of the fencing panels and collapsed it and probably about two- or three-hundred people rushed in," he said.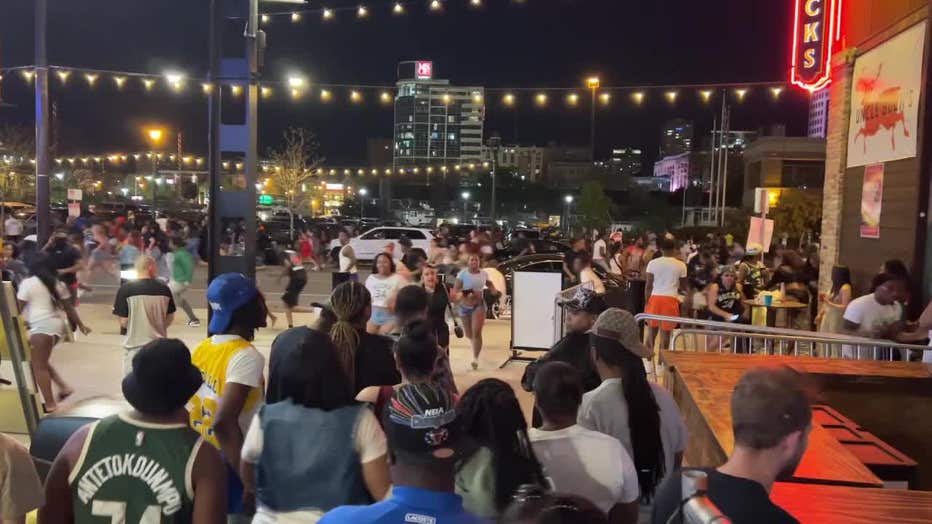 Scene after shooting outside Deer District on Friday, May 13.
"Based upon last year there seemed like a lack of security. I don't think we would come back for another watch party or game," said witness Adam Schmidt.
While the Bucks emphasize that the shooting happened outside Deer District property, they say security, health and welfare are always top priorities. The cancelation of Sunday's watch party is intended to allow police to focus on investigating Friday's shootings.
FREE DOWNLOAD: Get breaking news alerts in the FOX6 News app for iOS or Android.
"We cannot have this in our city," Mayor Cavalier Johnson said. "You can be assured we're moving forward with every reasonable tool we have."
Milwaukee Mayor Cavalier Johnson issued a limited curfew for Saturday and Sunday night after a wave of shootings left more than a dozen people injured across the downtown entertainment district – including 17 near Water and Juneau.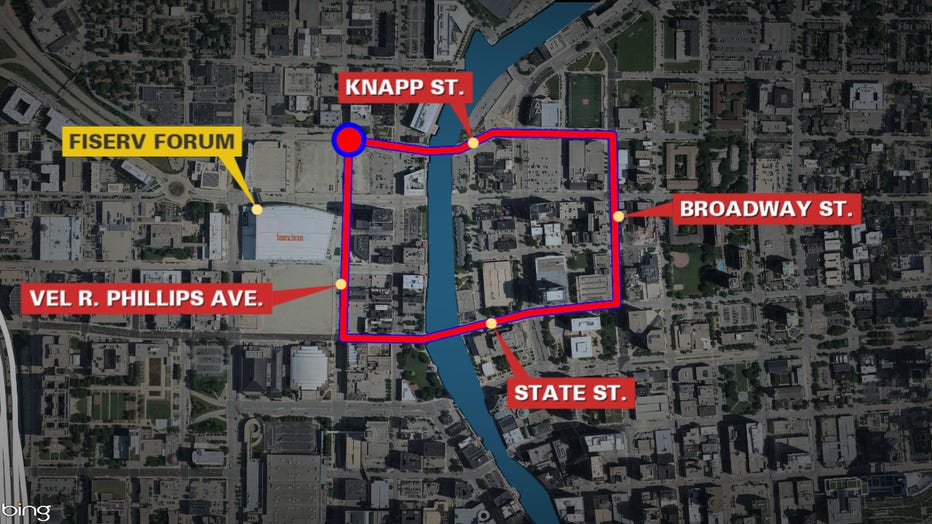 Map of area under limited curfew Saturday night, May 14 and Sunday night, May 15
"I think it keeps maybe a little bit less traffic," said Shelby Kabela, visiting from Iowa.
Kabela and fellow traveler Jamie Kennedy were in a nearby bar Friday night when they were told to get down. They hope the measures will allow things to calm down.
"It was pretty scary," Kennedy said. "I'm sure there's a lot of disappointed fans it isn't happening, but at the same point I understand from a safety standpoint."
The curfew, which takes affect at 11 p.m., would likely not impact Sunday afternoon crowds for the playoff game. Game 7 is scheduled to tip off in Boston at 2:30 p.m. CT.
The mayor said there will be more police in place – including officers from other department – to enforce the curfew. A spokesperson for the mayor's office said the National Guard could be deployed by the governor in "extreme circumstances."
Statement from Milwaukee Bucks:
The shootings that happened in downtown Milwaukee last night were horrific and we condemn this devastating violence. We are grateful to local law enforcement for its valiant efforts to try to contain what was a dangerous and fluid situation. While these incidents took place outside of Deer District property, it clearly resonated with fans coming out of the arena and leaving the plaza. Security, health and welfare are always our top priorities for our guests and employees and we appreciate the hard work of our security team to keep our fans safe.
In order to allow law enforcement to devote needed resources to the continued investigation of last night's events, we have decided to cancel tomorrow's planned watch party on the plaza. Deer District businesses will remain open as usual. We continue to work with the Milwaukee Police Department and other public safety partners to provide a safe and welcoming environment for our fans. We plan to have further details soon.