RNC 2024: Milwaukee recommended to host convention
MILWAUKEE - The Republican National Convention's site selection committee voted Friday, July 15 to recommend Milwaukee to host the 2024 event.
The convention could bring 45,000 people to Milwaukee, along with a $200 million economic boost. From hospitality to creating jobs, Milwaukee Mayor Cavalier Johnson said it is a win for everyone. 
"This isn't about a Democratic position or a Republican position – this is about a business position," Johnson said. "I want the economic benefits. I want the convention. I want the visitors. I want the attention of the world to be right here on Milwaukee"
SIGN UP TODAY: Get daily headlines, breaking news emails from FOX6 News
Johnson and other officials in southeastern Wisconsin were quick to offer their pleased reaction in a news conference Friday following the announcement.
"There may be a disagreement on some of the things that we stand for, but we realize, and we see that the national party realizes the importance of Wisconsin in the elections that are coming up," said Waukesha County Executive Paul Farrow. "We know that we're a swing state that is going to be integral to getting a Republican president back in the White House – and to make sure that we hold onto the conservative values that we have."
Organizers said they are ready to put Milwaukee on the national map.
"This allows Milwaukee to re-imagine the hospitality industry for this state," said Gerard Randall, who holds multiple titles including first vice chair of the Wisconsin GOP, VISIT Milwaukee board member, and host committee member. "This is truly one of the most incredible announcements that I've been able to make in my lifetime. And I'm just so proud of what this city has come together to do; come together to make us a showcase for the rest of the world."
FREE DOWNLOAD: Get breaking news alerts in the FOX6 News app for iOS or Android.
RNC Senior Advisor Richard Walters said in a statement that the committee's vote is a "testament to the forthright and professional behavior embraced by Milwaukee's city leaders throughout the process." Rona McDaniel, chair of the Republican National Committee, will make the final decision, Walters added 
"I want Milwaukee to hold a prominent position as a convention city," Johnson said. "When we show how Milwaukee hosts a big, national political convention, we're inviting other convention planners to take notes – and to bring those activities, and importantly bring those spending dollars, right here to the city of Milwaukee, right here to the state of Wisconsin."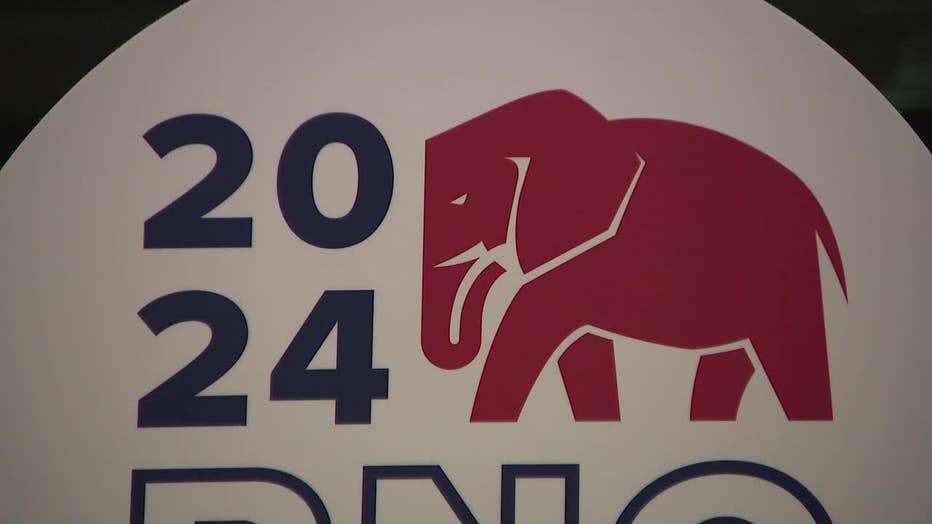 2024 Republican National Convention (RNC)
It is not a done deal yet; the 2022 RNC Summer Meeting will be held August 2-5 in Chicago. 
"I'll be in Chicago to make sure they all know that they began by making Milwaukee their choice, and they should end by making Milwaukee their choice," Randall said.
The site selection committee had whittled its choices to two cities, Milwaukee and Nashville, in their selection process. Nashville's council on July 5 withdrew a draft agreement to host the RNC.
VISIT Milwaukee led the city's pitch. Back in March, the organization showed the chairwoman convention sites – Fiserv Forum and the Wisconsin Center. Johnson, who was acting mayor at the time, also made his pitch.
More reaction
Rebecca Kleefisch, Republican candidate for Wisconsin governor:
"Democrats abandoned Milwaukee in 2020, and when we get to showcase Wisconsin to the nation in 2024, a Republican governor will be there to greet them. The GOP was born here in Wisconsin, and we're ready to celebrate our legacy of freedom and put a Republican back in the White House."
Former Wisconsin Gov. Scott Walker:
Milwaukee Host Committee Chairman Reince Priebus:
"I have always known that Milwaukee is the perfect place for the Republican Party to hold its Convention. Wisconsin is a battleground state, Milwaukee is a fabulous city, and the people of Wisconsin are the best in America. We will have a blast and it will be a great way to start our work together so that the Republican Party and our great country can begin the beautiful process of electing a President of the United States."
MMAC President Tim Sheehy:
"We're proud of today's significant step forward toward welcoming the Republican National Convention to Milwaukee in 2024. While this decision still must be ratified by party officials, we thank the RNC's Site Selection Committee for voting to recommend Milwaukee as the best choice to move forward with for this event.
"This represents yet another remarkable opportunity for the Milwaukee Region, our businesses and our community. The direct economic impact of hosting this convention will be a vital jump start for Milwaukee businesses and their employees, after being hit so hard by the pandemic and ensuing supply chain, labor shortage and inflation issues. And there may be even greater value in the opportunity for Milwaukee to once again shine in an international spotlight. Remember that every large-scale event we execute successfully helps us make the case for hosting even more big events in the future. And there are few events larger in scale, visibility and impact than a national political convention.   
"We would not have made it to this point without hard work and strong bipartisan support. We thank everyone, from both sides of the political aisle and everywhere in between, for doing the work it took to get us here. We're proud to support VISIT Milwaukee, Mayor Cavalier Johnson, County Executive David Crowley and so many others who led the effort to bring home what is shaping up as a big win for 'Team Milwaukee.'
"For MMAC and our business community, our approach to this event is exactly the same as it was for pursuing the 2020 Democratic National Convention: It's not about red or blue, but rather green – the color of dollars that will flow into Milwaukee when we secure this convention."
Milwaukee Bucks President Peter Feigin:
"As the Republican National Convention is expected to be held in Milwaukee, Fiserv Forum will significantly elevate its profile as a world-class major-event venue. In addition to creating a substantial economic impact for Milwaukee, the Convention will further demonstrate that our city and arena can successfully host enormous events en route to attracting other prominent events in the future."