Wisconsin State Fair opens, runs through Aug. 15: What to know
WEST ALLIS, Wis. - The Wisconsin State Fair kicked off Thursday, Aug. 5. The 2021 return features 70 new foods and more than 100 musical acts – and new COVID-19 precautions.
The Wisconsin State Fair will open at 11 a.m. daily and will close each night at 11 p.m., with the exception of the final Sunday, when the fair will close at 10 p.m.
Health guidance
Reduced hours at the fair this year give crews behind the scenes a chance to sanitize everything before the next day begins. There are also hand sanitizer stations throughout the grounds.
"There are hundreds of hand sanitizer stations across the expansive 200-acre fair park," said Tess Kerksen, the fair's public relations manager.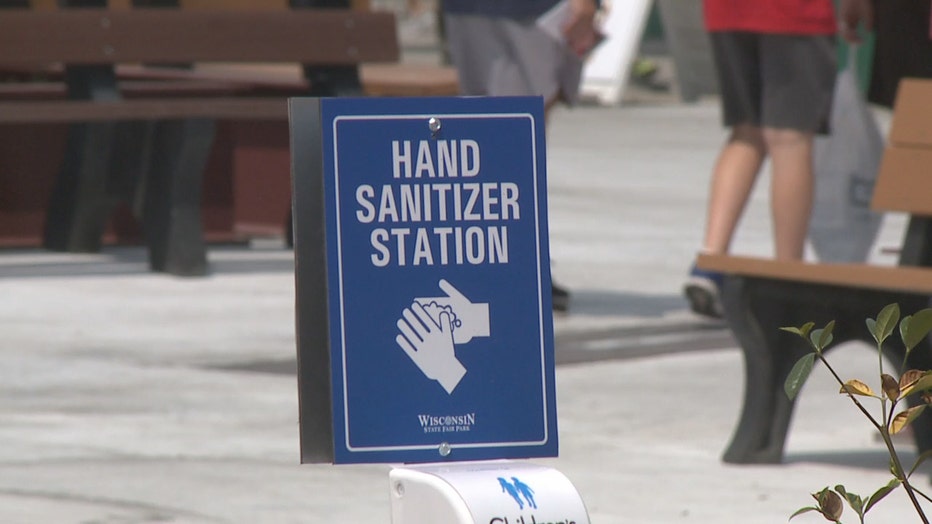 Hand sanitizer station at Wisconsin State Fair Park
Masks will not be required at the 2021 Wisconsin State Fair and individuals are encouraged to follow the Centers for Disease Control and Prevention (CDC) guidance. Additionally, because the fair takes place at the expansive 200-acre Wisconsin State Fair Park, the 2021 State Fair will not have capacity limits. Still, fairgoers will see notice some changes.
Kerksen isn't sure how COVID-19 will impact attendance this year. It was announced on April 20 that it would go on. Because of the delta variant, and the unvaccinated, Milwaukee is once again a high-transmission county for the virus.
"We only had to cancel 6 times in our history, and we don't want to see that again," Kerksen said. "We are so glad to be back."
Performances and entertainment
According to a new release, additional operational adjustments have been made for health and safety reasons. These include not selling new refillable souvenir cups or refilling past year's cups. Various eating contests will not be held.
There is also a different vibe for on-stage performers.
"There is a different energy and excitement," said musician Catelyn Picco, a Waukesha native.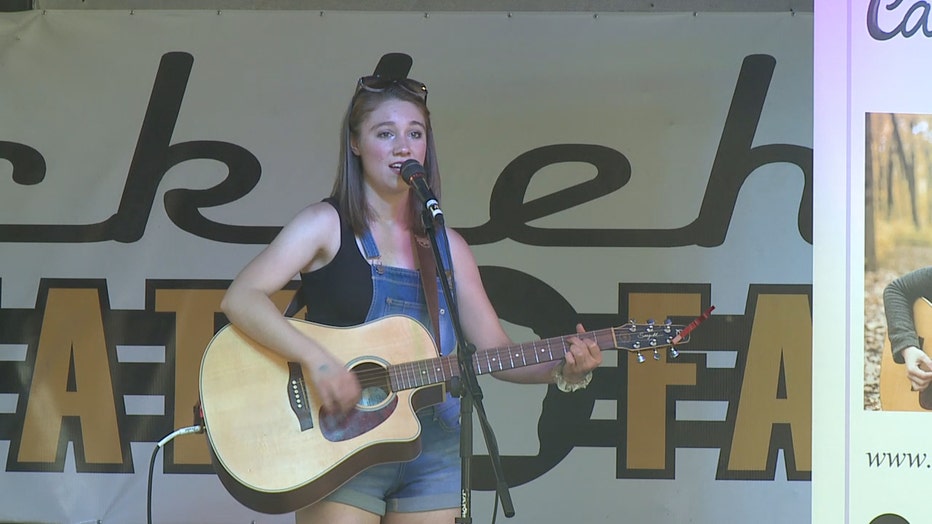 Picco found herself frozen as a part-time performer; all of her gigs from spring and summer of last year were canceled. For her, the Wisconsin State Fair is a lifeline.
"I think people are just grateful to be here and so happy to be here," Picco said.
Fair leaders said they continue to monitor COVID-19 cases in Milwaukee County. One of the big draws this year is expected to be the Boyz II Men concert on Friday, Aug. 13.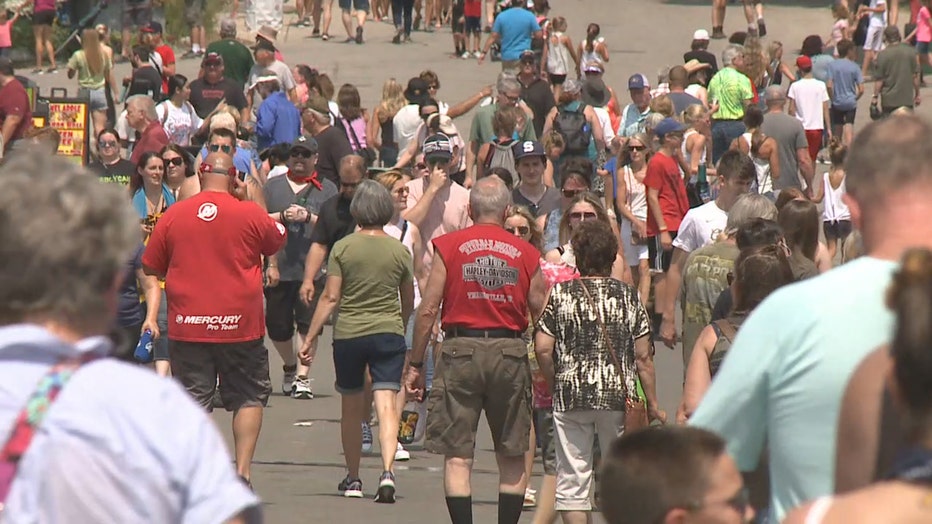 2021 Wisconsin State Fair
Agriculture and competitive exhibit competitions and shows that were scheduled prior to 11 a.m. will continue to take place. All food vendors, shopping, buildings and SpinCity will be open at 11 a.m.
Visit the Wisconsin State Fair website for information on all programming and operational adjustments.
FREE DOWNLOAD: Get breaking news alerts in the FOX6 News app for iOS or Android
Payment and entry
To make entry more efficient and to continue to prioritize safety, parking and admissions purchased on-site will be cashless.
Fair officials strongly encourage fairgoers to purchase their general admission tickets prior to arriving at the fair to reduce lines for purchasing tickets and create a more seamless entrance process.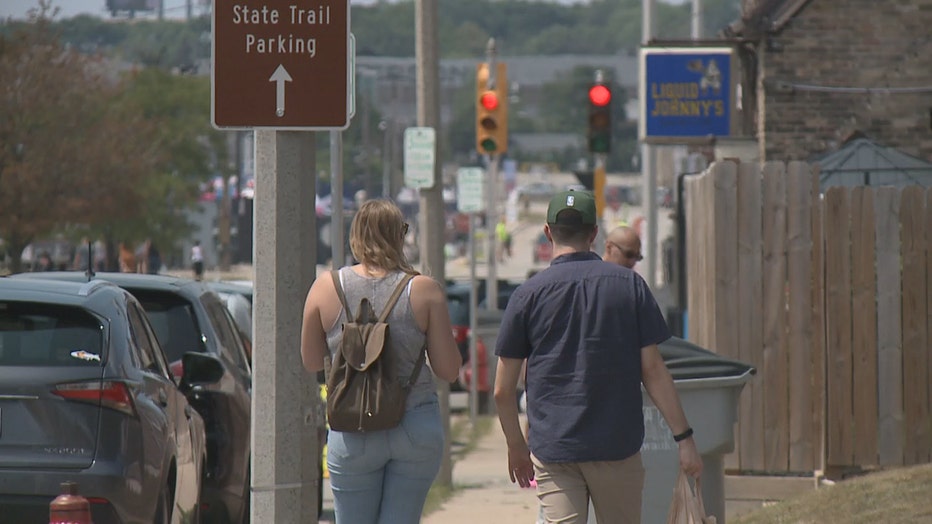 People walking to the 2021 Wisconsin State Fair
"We have gone cashless at our parking and admissions – that doesn't mean we are cashless throughout the whole park, but parking and admission to reduce contact," Kerksen said.
There are still several ways to purchase admission tickets in advance using cash or credit cards, including the State Fair Ticket Office and official retail partners. Fairgoers can also purchase admission tickets and more online at the fair's website.
Parking and transportation
Parking in Wisconsin State Fair Park lots will open at 10:30 a.m. daily. A number of cars made their way into the on-site general parking lots, which cost $12.
But fairgoers who planned to use public transportation face a hurdle. A driver shortage forced the Milwaukee County Transit System to cancel shuttles this year. However, there are bus routes that run near Wisconsin State Fair Park.
With that cancelation in full swing, driving seemed to be the common theme for the fair's opening day.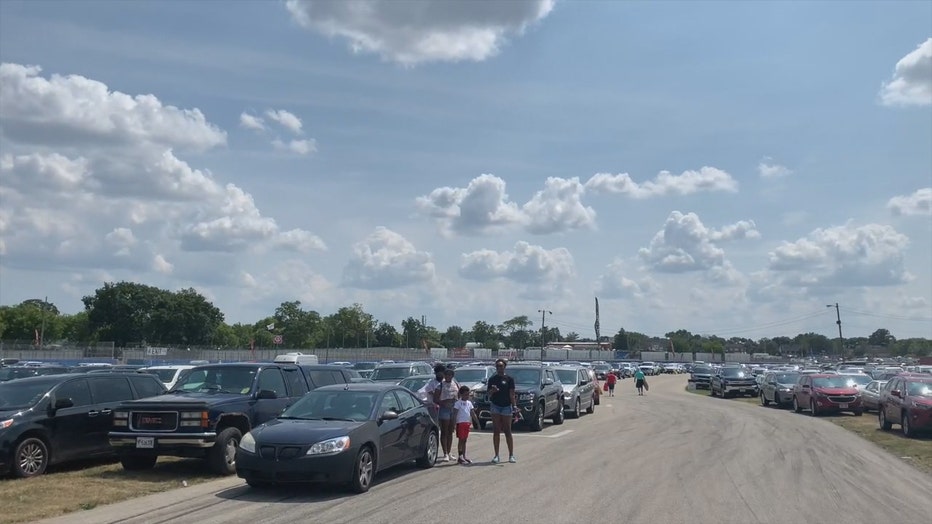 General parking lot at Wisconsin State Fair Park
At the corner of 75th and Kearney, Randy Doman offered parking on the grass near his home. Eleven cars can fit in Doman's yard. He charges $10 for fairgoers looking for a cheaper parking option. Other houses and lots in the area charge up to $25 for parking. 
"I enjoy meeting the people. It's fun," Doman said. "I don't like doing this if I have to work at it."
Rebecca Hogan and her husband used to live in Milwaukee. This time around, they flew in from Phoenix. They're in town for a wedding but couldn't pass up a trip to the fair.
"We would just walk because we lived really close," Hogan said. "I love the fair. I've been going to the fair every year since I've been a little kid."
Anyone who decides to park off the fairgrounds should pay attention to parking signs. Some areas around the fair have temporary no parking signs. Signs are sometimes on one side of the street. Vehicles were towed Thursday.
Temporary no parking sign near Wisconsin State Fair Park
Hunger Task Force donations
Hunger Task Force is bringing back its opening day donation tradition. Fairgoers can donate two cans of peaches or pears, or make a cash donation at the gate to receive $2 admission from 11 a.m. to 5 p.m. on Aug. 5.
Hunger Task Force is also offering a digital option this year, where fairgoers can make their donation and complete their order for the $2 ticket online. A minimum $10 donation is required per pair of tickets, the equivalent of a 50% discount off the gate admission price of $14.
The online promotion is available through Thursday, Aug. 5 at 4 p.m. and is available at Hunger Task Force's website: hungertaskforce.org/state-fair-2021.