Weakland funeral; former Milwaukee archbishop with complicated legacy
MILWAUKEE - A funeral was held on Tuesday, Aug. 30 for former Milwaukee Archbishop Rembert Weakland.
Weakland was defamed for protecting priests who sexually assaulted children. He served as Milwaukee archbishop for 25 years and died at 95. 
The Weakland funeral was held at Cathedral of St. John the Evangelist beginning at 4:30 p.m. There was a visitation from noon to 4 p.m.
The Mass came with controversy the Milwaukee Archdiocese tried to control as survivors of clergy sexual abuse and their allies talked with FOX6 News and demonstrated outside the church with what they called a "survivors' memorial."
The program director of Nate's Mission, which is made up of survivors of clergy sexual abuse and advocates, said a public funeral symbolizes the dangerous falsification of history.
"It's a celebration of him. It's an honor of him," said Peter Isely, founder of the Survivors Network of Those Abused by Priests. "When he died, their first release was celebrating him. Not a word about victims and the cover-up of sex crimes. Not a word." 
Milwaukee Archbishop Jerome Listecki's chief of staff issued this statement:
"A funeral Mass is not a glorification of a person's life, but rather an act of mercy for the dead during which we pray that, despite any failings in life, they may be received by a merciful God. We pray for all sexual abuse survivors and hope they can find healing and peace."
In an earlier statement, Listecki's chief of staff said no media would be allowed in the funeral, offering this statement:
"In an effort to reduce the additional pain that sexual abuse survivors may experience from exposure to the current level of media publicity, we're making a change and the funeral Mass will be closed to the media."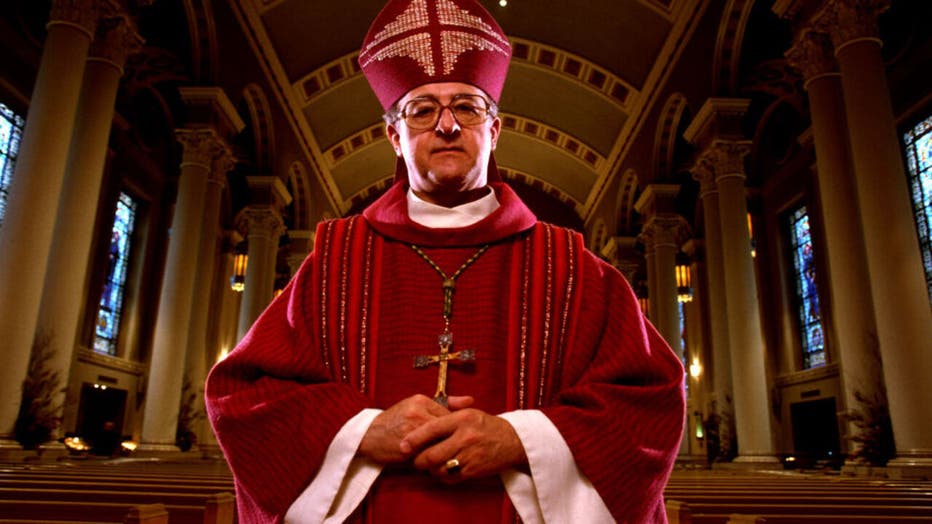 Portrait of Rembert Weakland, Archbishop of Milwaukee, in church, January 1, 1984. Shot for Business Week magazine. (Photo by Michael L Abramson/Getty Images)
Rembert Weakland's funeral Mass
Inside the cathedral, the message focused on Weakland's successes. The Mass did acknowledge Weakland's role in clergy abuse. Reverend Steven Avella covered it in the eulogy before Archbishop Listecki briefly spoke on it, as well, according to people inside.
While the Catholic Church is hopeful Weakland's sins will be forgiven, survivors say this Mass was just another mistake.
As church bells rang above, pallbearers led Weakland out of the church for the last time. His funeral Tuesday celebrated the change he brought to Milwaukee Catholics.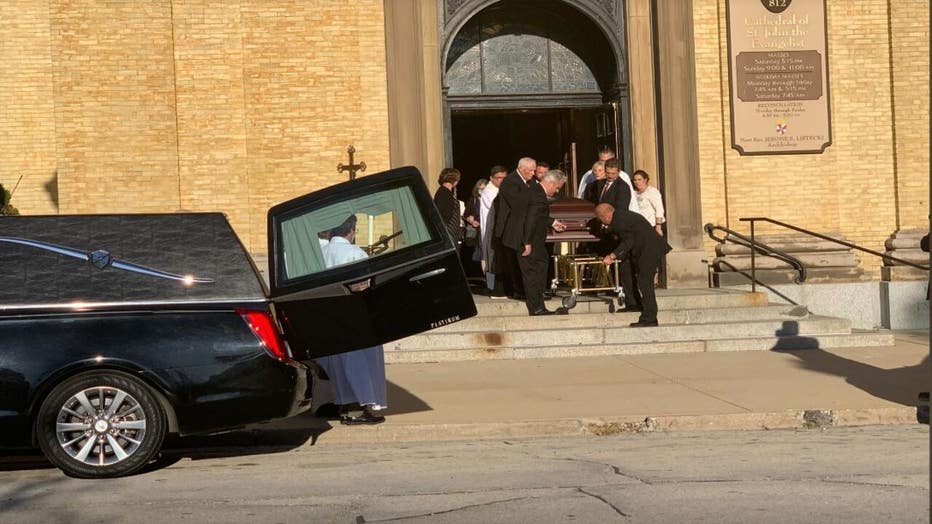 "We are grateful for the time he spent with us, and many of us loved him," said Avella.
From 1977 to 2002, Weakland ushered the archdiocese into the modern age, increasing the involvement of laypeople, addressing social issues and preaching with power, but Avella and Listeki also acknowledged his mistakes, mainly the reassignment of priests who he knew were sexually abusing children.
"People were hurt, lives shattered and disillusioned," said Avella. "With the perks of power and leadership comes the burden of accountability for serious mistakes."
Those mistakes weren't forgotten outside the cathedral.
"This is really a day of shame for the archbishop and the archdiocese," said Isely. 
"He showed survivors no mercy," said Monica Barrett. "He didn't care about us."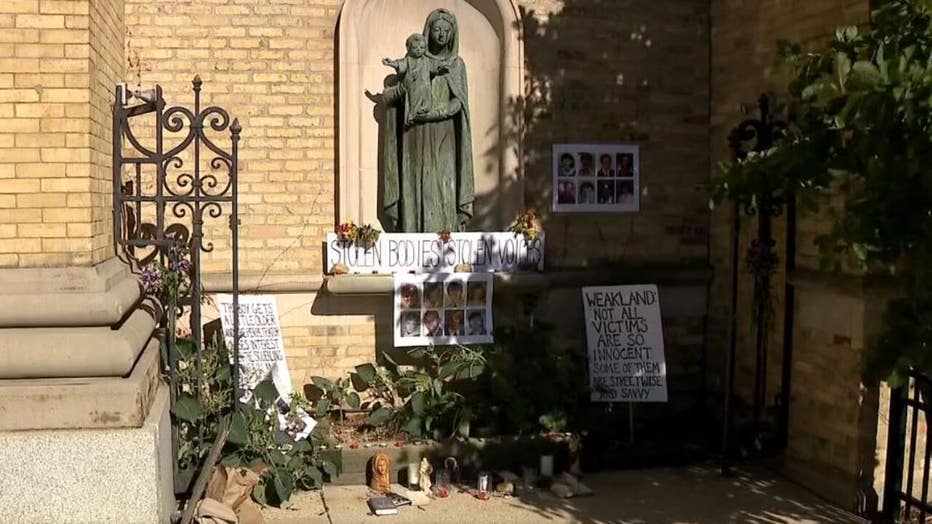 "We're not against having a funeral," said Isely. "We're not against prayers whatsoever. If God wants to forgive Archbishop Weakland, fine. He never asked forgiveness for what he did to us."
Rembert Weakland's complicated legacy
A once-rising star in the church, Weakland was a progressive advocate for helping the poor and increasing the role of women in the church. Others say his legacy is far from sacred after documents show Weakland knew dozens of priests were sexually assaulting children and helped cover it up.
SIGN UP TODAY: Get daily headlines, breaking news emails from FOX6 News
A statement from Listecki after his passing credited Weakland with embracing change from the Second Vatican Council, including re-thinking the role of laypeople in the church and addressing social issues. Listecki added: "May he now rest in peace."
Isely said those accomplishments fail in comparison to what he's found in recent years – proof that Weakland not only knew priests were sexually assaulting children in Wisconsin but that he also covered it up.
"It's bad," said Isely. "It's obscene. He was complex. He was sophisticated and all that kind of stuff, but one thing that was not complex about him at all was his fierce devotion to priests that assaulted children."
Isely pointed to Weakland's decision to reassign the predatory priests to different parishes without any notice to families as what really defines the former archbishop's legacy.
"What's one victim of one of our priests compared to the majesty, importance, glory and salvation which is the Catholic Church?" said Isely. 
Isely said he hopes Weakland's death may reignite the pursuit of justice for victims like himself.
"He never apologized to us," said Isely. "He never looked us in the eyes and said, 'I'm sorry for what happened to you and your families.'"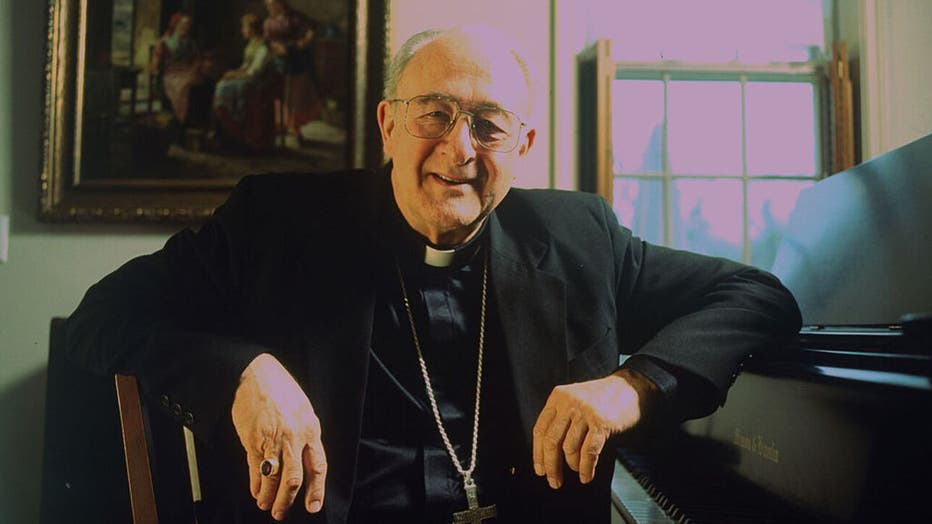 Archbishop Rembert Weakland (Julliard piano graduate) in smiling portrait, taking time out from his official duties for session at piano. (Photo by Steve Liss/Getty Images)
Isely said work continues to hold the archdiocese accountable and push the attorney general to keep investigating the abuse and coverup.
FREE DOWNLOAD: Get breaking news alerts in the FOX6 News app for iOS or Android
Weakland is to be buried in Pennsylvania at St. Vincent Archabbey, where he went to high school, college, seminary and eventually became archabbot.