Wauwatosa Mayfair Road pursuits, baby in car, 2 charged
WAUWATOSA, Wis. - A driver was arrested after fleeing from an attempted traffic stop along Mayfair Road in Wauwatosa. That was the first of two pursuits on March 15. Prosecutors say during the second one, there was a baby in the backseat.
Police shared the video on social media on Wednesday, March 22.
Davion Newson, 22, and Gamila May, 20, of Milwaukee are charged in the case.
Wauwatosa police said officers saw a vehicle with heavily tinted windows and dealer plates but no buyer's guide in the window, as by required by law. They tried stopping the vehicle near 102nd and Burleigh, but the driver took off.
Police say Newson was driving as officers pursued him on Burleigh. 
Officers used a tire deflation device to slow the vehicle down near 90th and Burleigh.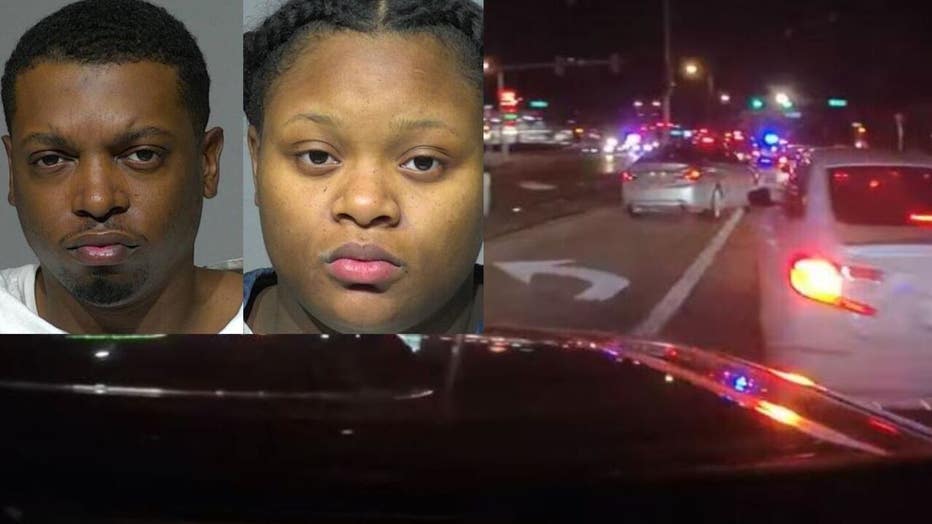 Prosecutors say Newson nearly hit people in the parking lots of Speedway near 84th and Appleton and the nearby J&M Quik Mart. After he drove over a curb near Appleton and Hampton, Milwaukee police shut down the intersection. 
The driver then went over a concrete median, and the car became disabled, ending the first pursuit after 4.7 miles. Prosecutors say it reached 87 miles per hour.
After that, the complaint says Newson jumped into a waiting white SUV. 
According to prosecutors, May was driving that vehicle. She told investigators she and Newson had been at a family therapy appointment, and Newson left while she was in the parking lot crying. She said she soon got a call from him that he had a flat tire and needed her to come pick him up. She said she went to the area near Appleton and Hampton with a baby in the back seat of the SUV and saw that police were pursuing Newson. She said Newson jumped into the SUV and the second pursuit began. The complaint said an officer cut his hand trying to get Newson out of the SUV, which took off, nearly striking two Milwaukee police officers.
This pursuit lasted nearly a mile and reached 90 miles per hour. May said at one point, she crawled into the back seat to hold the baby, who had rolled from the car seat during the chase. She said she told Newson to pull over.
Newson was arrested after prosecutors say he ran into a home near 92nd and Hampton with May, who was carrying the baby. The complaint says he used May and the baby to block the doorway to assist in his escape. He ran into the basement for 30 minutes before he was ultimately taken into custody.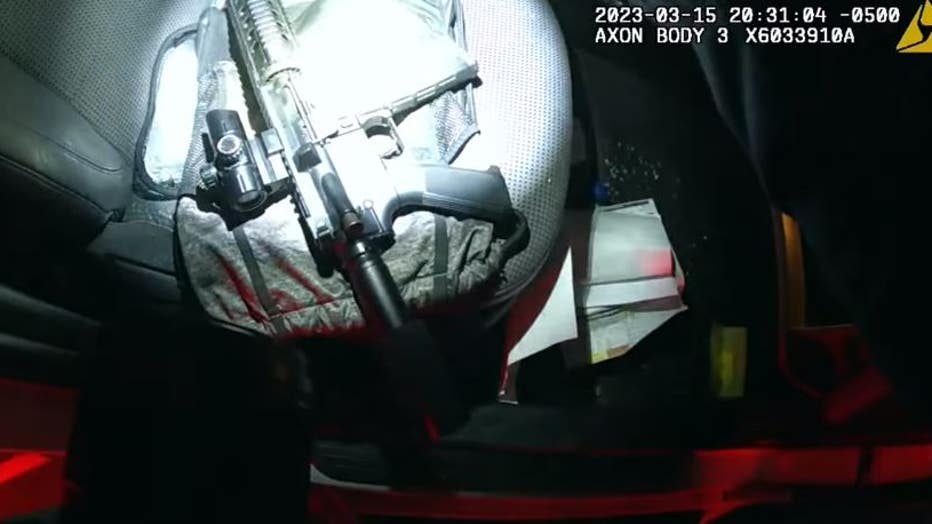 Prosecutors say a rifle, crack cocaine, fentanyl, scales, a suspected cutting agent and five cell phones were found in the vehicle(s). 
SIGN UP TODAY: Get daily headlines, breaking news emails from FOX6 News
Newson faces seven felonies:
possession with intent to deliver cocaine
second-degree recklessly endangering safety -- two counts
vehicle operator flee/elude officer -- two counts
neglecting a child, as party to a crime
felony bail jumping
May is charged with neglecting a child, as party to a crime and vehicle operator flee/elude officer, as party to a crime
Both made their initial appearances in court March 20. Cash bond was set at $30,000 for Newson, and May received a $2,500 signature bond.
Prosecutors say Newson was out on bond in two Milwaukee County cases at the time of these pursuits.