UWM library gun incident; man accused was 'just getting high'
MILWAUKEE - A Milwaukee man seen with a gun at the University of Wisconsin-Milwaukee's Golda Meir Library on March 16 is now charged.
According to prosecutors, 25-year-old Elmo Daniels admitted it was his gun and that he was at the library "just getting high."
A criminal complaint states a woman saw Daniels on the library's third floor. She told police he waved at her and saw him load a gun, inserting a magazine into the handle. 
SIGN UP TODAY: Get daily headlines, breaking news emails from FOX6 News
"If you bring a weapon inside of the building, it's a violation of state law. It's a Class A misdemeanor," said UWM Police Chief David Salazar.
UWM police used surveillance to track Daniels down, and he was taken into custody without incident roughly two miles from the library. Inside a fanny pack Daniels had, officers found a handgun loaded with a round in the chamber and a magazine in the handle. There was a second magazine found on Daniels' person; 14 live rounds were in the magazines. Police also found two blue pills, suspected to be MDMA or fentnayl, in the fanny pack.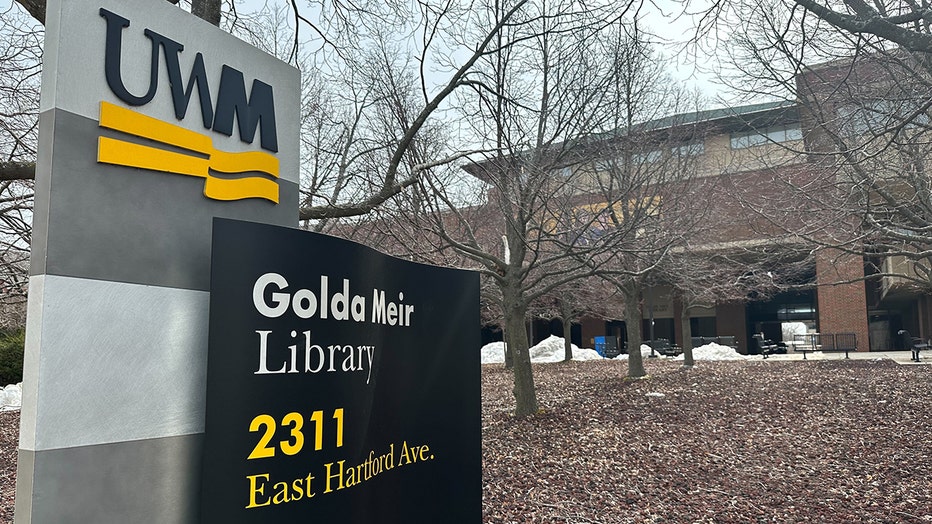 Golda Meir Library, University of Wisconsin-Milwaukee (UWM)
Per the complaint, Daniels told police that he was at the library to "do drugs in the back" and "use the Wi-Fi." He said he also sleeps there sometimes. When asked if he was doing anything else in the library, Daniels told police: "I was just getting high." When asked about the firearm, he admitted he did not have a concealed carry permit and said: "Yeah, it's my firearm. I have a lot of firearms." As for how many, the complaints states he told police it's "none of your business."
Daniels is charged with one count of carrying a concealed weapon and one count of carrying a firearm in a public building. Police have asked the public for help finding him.
"If they see this individual to turn him in, but more importantly to him directly to turn himself in to any police department," Salazar said.
UWM statement to students:
"Your safety is our first and highest priority. Because the man was off campus by the time police were notified, and the incident was resolved within minutes of that notification, UWM did not issue a RAVE alert or a campuswide communication. On Friday morning, library leadership sent an email to library staff summarizing the incident and thanking them for their assistance.
Although this case ended without incident, we understand that some people are disappointed with how we communicated the details about this situation and the lack of a campuswide message. We want to be responsive to those concerns in the future.  
Our campus deserves clear, honest and timely communication about issues impacting campus safety. Worries about gun violence are something we all live with every day. Students, faculty and staff must know they can trust UWM and UWM Police to keep everyone safe and informed. We will continue this conversation with the campus community in the coming weeks."