West Allis trees uprooted, Milwaukee's south side hit hard by storms
WEST ALLIS, Wis. - Storm damage stretched from West Allis to Milwaukee's Walker Square on Wednesday, Aug. 11 after storms wreaked havoc across the area the night before.
Thankfully, it does not appear anyone was seriously hurt. Cleanup continued throughout the day Wednesday.
Trees uprooted, limbs strewn about, falling on homes, cars and across roads made for a chaotic several hours. Now, residents hope that a second round of storms Wednesday evening won't mean a second round of cleanup on Thursday.
Officials with the West Allis Department of Public Works said more than 20 trees were uprooted and fell either on or near homes. That number, they believe, will increase as crews survey the damage.
Three trees were uprooted near 68th and Rogers in West Allis– all in the same block. Neighbors are hoping damage to their homes is minimal. One neighbor says she heard a loud boom.
"The winds were just overwhelming and the next thing you know, you hear this loud boom and thump and you know somethings dropped. I never expected to look out the window and see my tree uprooted from the ground," said Sandra Menzia, West Allis homeowner. 
West Allis work crews made as quick of work as could be expected near 76th and Hicks on Wednesday, trees and limbs laying about.
"It's just incredible, the power of nature," said resident Jerry Ziegler.
Dispatchers in West Allis were inundated with calls as countless people tried to make sense of the damage done by Tuesday night's storms. And it wasn't just in West Allis.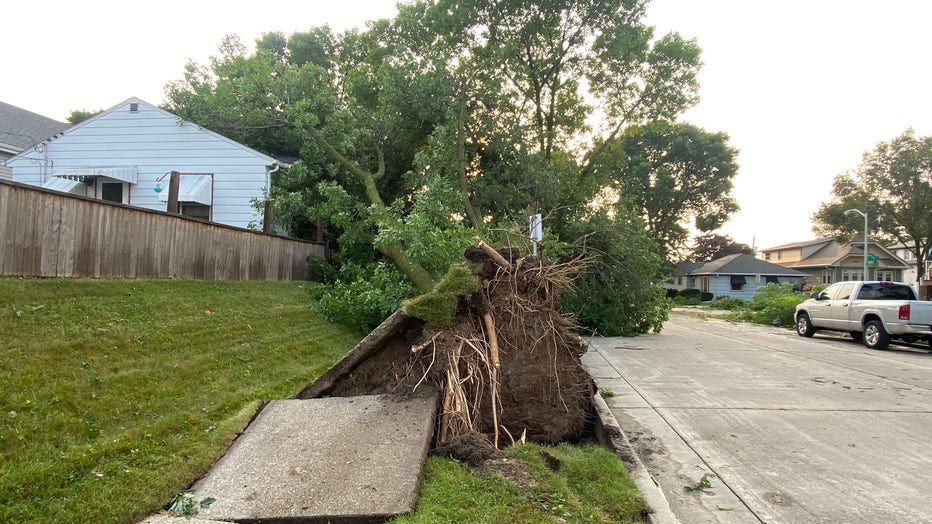 Tree uprooted near 75th and Hicks in West Allis
Milwaukee's south side hit hard
Trees took out light pols, electrical lines and came down on cars and homes in Milwaukee's Walker Square neighborhood near 9th and Greenfield.
"Power lines are all down, phone lines are all down," said Jose Gonzalez, who lives in the neighborhood. "It just came down hard. Like maybe the wind was like 90 miles an hour. Just took everything, just took everything fast."
The air was dead calm before the front moved in. Further west, along Burnham near 28th, a tree hid a home. One block south of there, a handful of helpers tried to clean up damage at 28th and Rogers.
"If it wasn't for all the help, this would have still been laying across the yards," said resident Marlos Ehlert.
FREE DOWNLOAD: Get breaking news alerts in the FOX6 News app for iOS or Android
We Energies crews are working to restore power after strong storms and high winds caused extensive damage across Wisconsin. For current outage information, please visit the We Energies outage map.
We Energies strongly urges customers to stay at least 25 feet away from any downed power lines and report the situation to We Energies or a local law enforcement agency immediately.