New Milwaukee COVID testing center opens
MILWAUKEE - From emissions testing to COVID-19 testing, a former Wisconsin Department of Transportation facility is now a coronavirus testing site in Milwaukee.
The former DOT emissions testing site at 25th and St. Paul was where drivers could get their emissions test, but now, it's serving as a drive-thru COVID-19 testing site in Milwaukee's Menomonee Valley. 
"It's really advantageous that we're basically in the same area," said Dr. Nick Tomaro, Milwaukee Health Department.
"It's a new site, so I think it is very convenient," said Raymond Arredondo, driver.
The site will be open Monday through Friday. The hours vary depending on the day. This testing site is in addition to the other two at the Northwest and Southside Health Centers. The testing site at American Family Field closed in September. It had been the largest testing site in the county.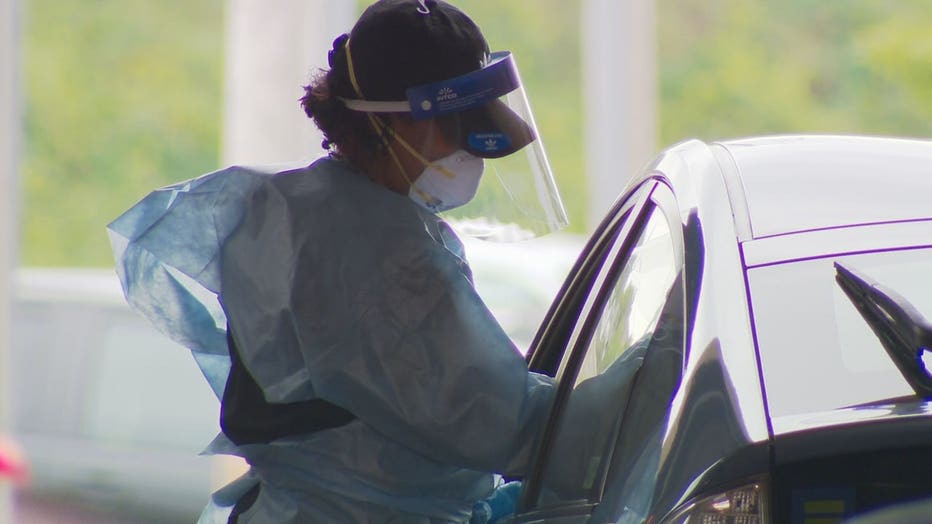 "Thank you to the Brewers for supporting community testing for that long," said Dr. Tomaro.
Dr. Tomaro said they wanted to stay in a central location and with the help of the Department of Transportation, they were able to open up the Menomonee Valley testing site.
Officials say when the time comes, this could also be a vaccination site.
"We believe we will focus on boosters at this site," said Tomaro.
According to numbers from Friday, Oct. 8, COVID-19 cases are on the decline, but the number is still considered in the "excessive transmission" category.
"We're still at a positivity rate that needs to come down drastically before we feel comfortable about where we are at," said Tomaro.
Tomaro says the most dominant COVID-19 strain in the community is the delta variant. With the winter season ahead taking people back indoors health officials are urging those eligible to get their COVID-19 vaccine.
"It's so important to get vaccinated," said Tomaro. "It protects you from serious disease and from ending up in the hospital."
More information on testing and vaccines can be found here. 
FREE DOWNLOAD: Get breaking news alerts in the FOX6 News app for iOS or Android