Milwaukee officer hit by vehicle, detective fires shots; 1 arrested
MILWAUKEE - A Milwaukee police officer was seriously injured after a driver tried to run him over Tuesday, Oct. 4.
The officer was running after a 29-year-old man wanted as part of another investigation when he was hit by a vehicle near 40th and Villard.
"I heard a couple of gunshots ring off, back to back to back," said Yaya, who witnessed the shooting. "As soon as we heard the gunshots, not even like 10 seconds after, you heard police sirens."
SIGN UP TODAY: Get daily headlines, breaking news emails from FOX6 News
Just before noon, police said an investigation into illegal gun possession and heroin and cocaine distribution took a turn. Officers tried to pull over the 29-year-old at 42nd and Fairmount, but he sped off. The short chase ended a half-mile away when the man's car slammed into another vehicle near 40th and Villard.
"Not too long after, you started hearing the sirens. Some man started running down the street, and they caught him," Yaya said.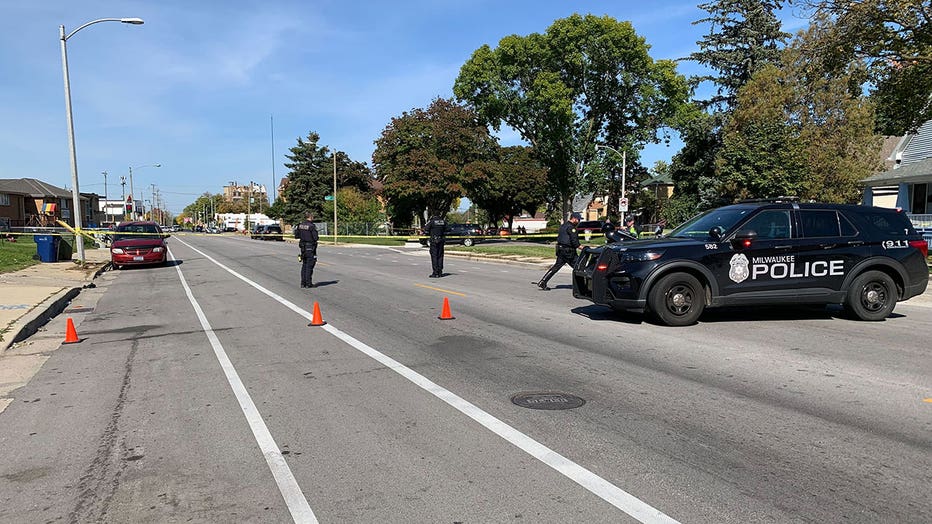 Police presence near 40th and Villard, Milwaukee
As an officer ran after the 29-year-old man, police said a car came barreling toward the officer – hitting him. Police said the driver of that vehicle was associated with the 29-year-old man.
"From what we understand at this time, it looked very intentional," said Milwaukee Police Chief Jeffrey Norman.
A detective at the scene fired shots at the driver, who got away. It is unknown if the driver was hit by gunfire.
"It was like 'fa, fa, fa, fa, fa' – and after they let that go, you heard the police sirens like 'wooo,'" said Yaya.
FREE DOWNLOAD: Get breaking news alerts in the FOX6 News app for iOS or Android
It was an afternoon that left a neighborhood – and a police department – fed up. 
"I'm angered. I'm not happy with this," Norman said. "I'm very bothered by this, and I hope our community is just as bothered by this behavior because this is unacceptable on all different types of levels."
The 29-year-old man who was running from the officer was arrested. Criminal charges will be referred to the Milwaukee County District Attorney's Office. Police have not given a description of the driver who got away or the vehicle involved.
The officer who was hurt is a 29-year-old man with 10 years of service. The detective who fired the shots is a 33-year-old man with 15 years of service. He was placed on administrative duty, which is standard procedure.