Milwaukee Alderwoman Lewis in court, pleads not guilty to misdemeanor
MILWAUKEE - Milwaukee Alderwoman Chantia Lewis made an initial court appearance on Wednesday, Sept. 29. She is charged with multiple counts – including embezzlement, theft and unlawful campaign finance disbursement.
The activities in question allegedly took place between April 2016 and July 2020.
A criminal complaint lists the following charges:
Misconduct in public office
Theft (embezzlement, exceeding $10,000)
Theft by fraud (not exceeding $2,500)
Campaign finance – intentionally file false report or statement
Campaign finance – intentionally accept unlawful disbursement
In a sprawling criminal complaint, investigators said Lewis "defrauded the city of Milwaukee and her campaign" of more than $21,000. Prosecutors said the money was used for "trips, car care, credit cards and other expenses."
Investigators said Lewis "falsely represented to the city of Milwaukee that she was owed reimbursement for expenses incurred on city travel, when in fact she paid for those expenses out of her campaign account."
SIGN UP TODAY: Get daily headlines, breaking news emails from FOX6 News
Lewis entered a plea of not guilty to misdemeanor theft by fraud. She did not enter any pleas as it relates to the other counts, all felonies. A preliminary hearing will be scheduled.
If convicted on all counts, Lewis could spend a maximum of two decades behind bars and $65,000 in fines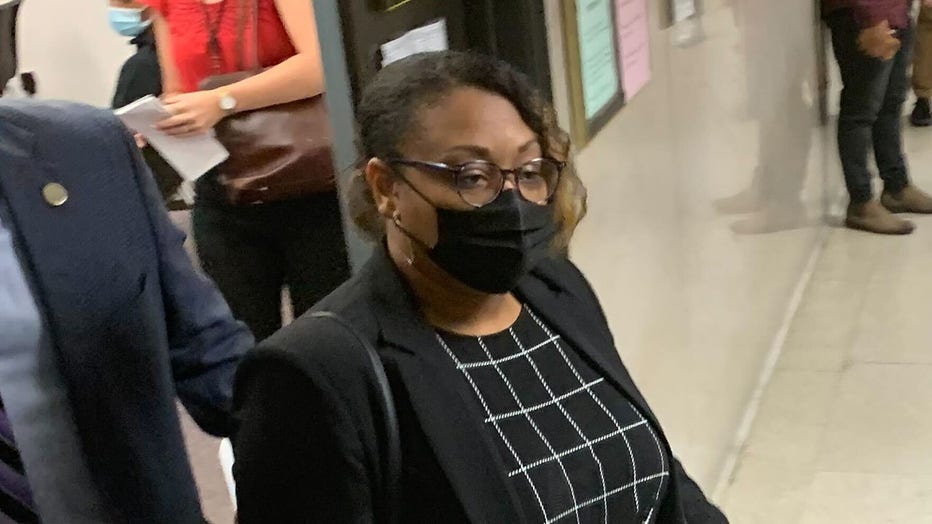 Chantia Lewis makes an initial court appearance on Sept. 29, 2021.
Following word of charges, Common Council President Cavalier Johnson on Sept. 7 announced that Lewis was relieved of her committee duties, effective immediately.
"Ms. Lewis has already been removed from her committee assignments – I don't believe there is a significant risk of any further misappropriation," Prosecutor Matthew Westphal said Wednesday.
FREE DOWNLOAD: Get breaking news alerts in the FOX6 News app for iOS or Android.
The judge set a signature bond at $1,000. As a condition of her bond, Lewis is to have no contact with several people who donated to her campaign. Prosecutors said Lewis deposited those funds into her personal account.
Lewis is also a candidate for U.S. Senate.
In a statement released the day she was charged, Lewis indicated that she was recently advised of the "potential campaign reporting errors" and has "worked with and cooperated fully" with the district attorney's investigation – adding "I am innocent of any criminal wrongdoing."