Wisconsin COVID cases rising, hospitals near capacity
MILWAUKEE - Milwaukee County is seeing a new record this week for the number of people hospitalized in 2021 with COVID-19. 
Rising cases are again clogging hospitals across Wisconsin, including at Froedtert where leaders say they are "full." The hospital's president stresses the surge is driven by unvaccinated people.
"In the ICUs, we have 33 of our 100-and-some odd beds are COVID patients. Roughly around 88% of our COVID positive patients in-house are unvaccinated," Eric Conley, Froedtert Hospital president, said.
SIGN UP TODAY: Get daily headlines, breaking news emails from FOX6 News
Conley said the increase is impacting non-COVID patients looking for care, and Gov. Tony Evers said the trends are mirrored throughout the state. 
"Only 37 of the state's 1,331 ICU beds were available as of yesterday," the governor said Wednesday.
Health officials say the surge in hospitalization is not because of the omicron variant; rather, it is the delta variant. There is more help on the way. Wisconsin requested five Federal Emergency Management Agency teams with about 100 total members to assist the state's hospital staff.
"These teams will be disbursed around the state and will add important capacity, especially in ICUs," said Karen Timberlake, Wisconsin Department of Health Services secretary-designee.
FREE DOWNLOAD: Get breaking news alerts in the FOX6 News app for iOS or Android.
According to the DHS, the seven-day average of hospitalized COVID-19 patients is 1,360; 12.4% of those patients are on ventilators. 
"Statewide, we are really struggling with hospital capacity with just 3% of ICU beds available," said Dr. Ben Weston, Milwaukee County chief health policy advisor.
More children are hospitalized at Children's Wisconsin with COVID-19 this week than at any other point this year. The vast majority of those children are also unvaccinated.
"We are seeing patients in the hospital who are younger than was the case this time last year – and they are staying in the hospital longer," Timberlake said.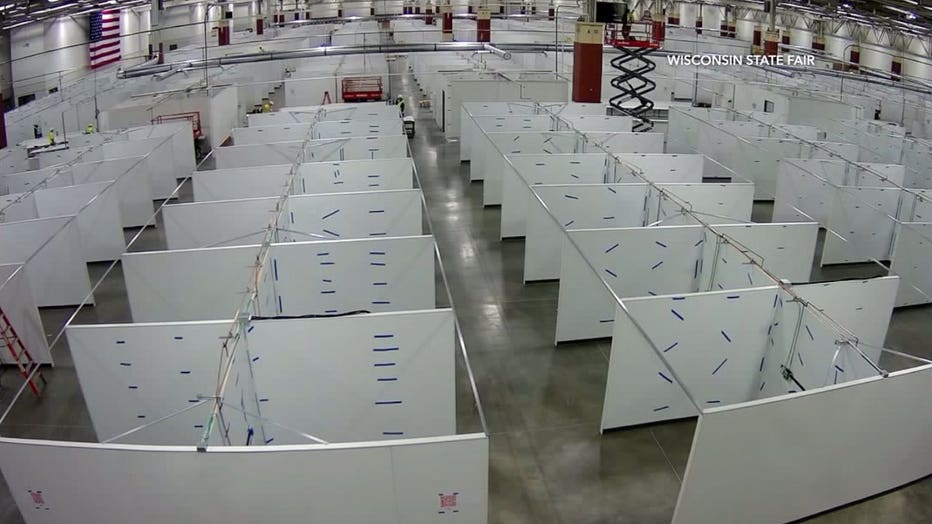 Alternate care facility at Wisconsin State Fair Expo Center for treating COVID-19 patients (2020)
In October 2020, Evers activated a field hospital at the Wisconsin State Fair Expo Center to combat an "out of control" pandemic that was overwhelming hospitals.
"There are no plans to reopen the field hospital right now," Milwaukee Mayor Tom Barrett said Wednesday. "The hospitals have been working very closely with each other and they have a lot of contingent plans in effect."
In Milwaukee, health officials said current data shows an average of 424 new COVID-19 cases a day – and about five deaths every two days. 
According to the Milwaukee County COVID-19 dashboard, roughly 57% of residents have received at least one vaccine dose as of Wednesday afternoon. Health officials said the bottom line is: Get vaccinated, it greatly reduces the risk of being hospitalized.