Denita Ball, Milwaukee County's 1st female sheriff, sworn in
MILWAUKEE - Milwaukee County Sheriff Denita Ball was sworn into office Friday, Jan. 6 – officially making her the first Black woman elected sheriff in the state.
Ball is the 66th sheriff of Milwaukee County, but the first woman to hold that post. She is calling on the community to help her work of keeping everyone safe.
"It is my time," Ball said.
SIGN UP TODAY: Get daily headlines, breaking news emails from FOX6 News
The historic moment was celebrated inside the Milwaukee County War Memorial Center.
"It's a wonderful thing to wake up and know you're going to see history, you're going to live through history, said Grant McLean, Milwaukee alumnae president of Delta Sigma Theta Sorority.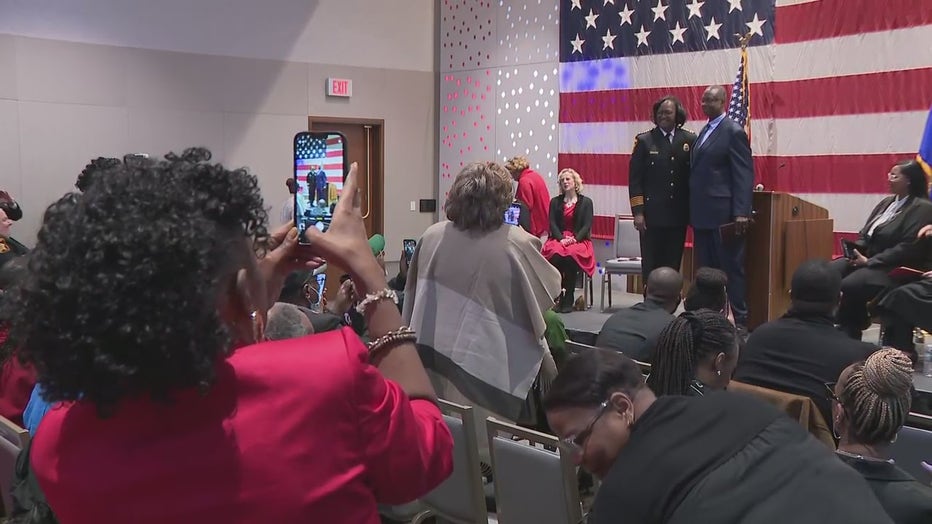 Denita Ball sworn in as Milwaukee County Sheriff
"This is an extremely historic moment. And it's not lost on me, especially being the father of three girls," said Milwaukee County Executive David Crowley. 
With 56% of the vote in August, Ball beat her competitors, Brian Barkow and Thomas Beal, in the Democratic primary. She ran unopposed in November.
"I was thinking about how awesome responsibility this is that the voters have entrusted me to run this agency. I realize the weight of the moment, but I am here to embrace it and get the job done," said Ball.
FREE DOWNLOAD: Get breaking news alerts in the FOX6 News app for iOS or Android.
The challenges confronting Ball will be many. Her deputies guard the airport, run the county jail and patrol the interstates. She told FOX6 News they are using data to better crack down on dangerous driving.
"We're looking at areas where we see the most reckless driving, and so we are putting our resources in that area," Ball said.
How will the new sheriff help the city of Milwaukee, which just finished its third year in a row with record homicides?
"We all have a piece to that puzzle, and we all need to come together and figure out what we need to do. There are people out there who are hurting. There are people out here who need us. And although law enforcement has a role, we don't have the only role. We need all of us working together," said Ball.
Ball has a long career in local law enforcement. She served with the Milwaukee Police Department for 25 years and retired in 2011. She then became a professor and earned a doctorate degree. Former Sheriff Earnell Lucas picked her as deputy sheriff.
"I believe that the lord placed me here, and as a result, I know that he has great things in store for Milwaukee County under my leadership," Ball said.
Lucas resigned in October with a few months left in his term. Gov. Tony Evers then appointed Ball to fill the remainder of that therm.