Motorist safety program: Milwaukee police, Advance Auto Parts team up
MILWAUKEE - Advance Auto Parts and Milwaukee police unveiled a new program on Friday, Sept. 17 designed to increase safety among motorists in Milwaukee. 
The store team for the Advance Auto Parts at 23rd and North in Milwaukee donated $2,500 in gift cards to Milwaukee police.
When a police officer pulls over a motorist, he or she may issue a $10 gift card to motorists instead of writing a ticket or equipment citation – to encourage residents to safely repair vehicle headlights, taillights, or other minor issues.
FREE DOWNLOAD: Get breaking news alerts in the FOX6 News app for iOS or Android.
"You turn what could be a really bad experience into something positive," said Bo Boone, Advanced Auto Parts district manager.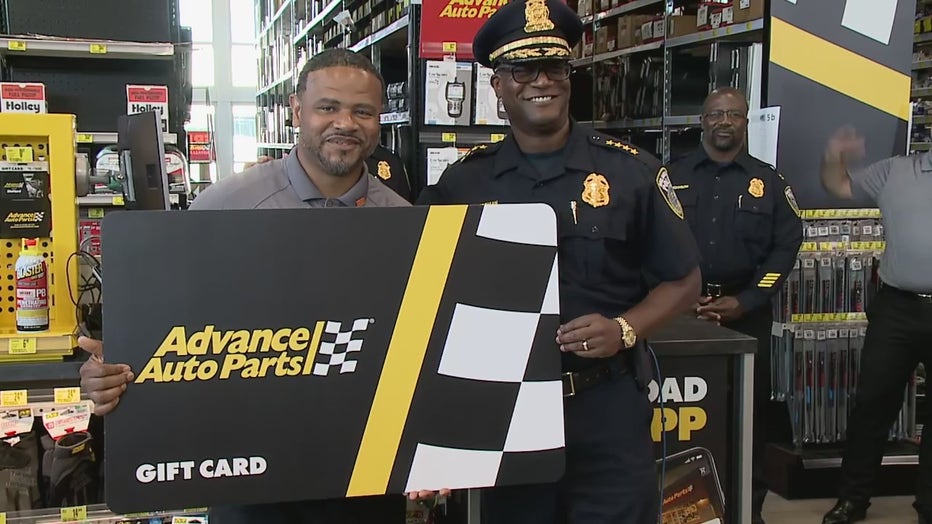 "In regards to equipment violations, this is an engagement way that MPD can play a part in working with our community to have safer driving," Acting MPD Chief Jeffrey Norman said.
Norman said anything to support more safety on the roadways is important. While it will be random which traffic stops will be part of the program, MPD hopes it will put the brakes on dangerous situations.
FREE DOWNLOAD: Get breaking news alerts in the FOX6 News app for iOS or Android
"Reckless driving is a challenge within our city, and it's important for us to have all efforts in regards to evading or impacting reckless driving," said Norman.
A representative for Advance Auto Parts said this is the company's way of giving back to the community. Motorists receiving a gift card may use the card at any Advance location in Milwaukee, throughout Wisconsin or online at AdvanceAutoParts.com.