Waukesha County tornadoes, 2 confirmed; storm damage across state
WALES, Wis. - The National Weather Service confirmed two tornadoes touched down in western Waukesha County early Thursday morning, July 29.
The village of Wales sustained an EF1 tornado early Thursday – its path nearly a mile long and 100 yards wide. It was concentrated in the area of County Highway D and Townline Road south of State Highway 18.
Damage consistent with another ED1 tornado was found south of Dousman. That tornado's path was more than two miles long with winds topping 100 mph, according to experts. It started near a cemetery on County Highway Z.
"It certainly looks like this is where the tornadoes embedded in the line were," said Ben Miller with the National Weather Service. "This could have been a very bad situation had things come together in the wrong way."
The storm toppled farm buildings and left a path of destruction. Cows could be seen grazing among the debris that landed in farm fields. Workers told FOX6 News it took almost all day just to clear the area and access the wires.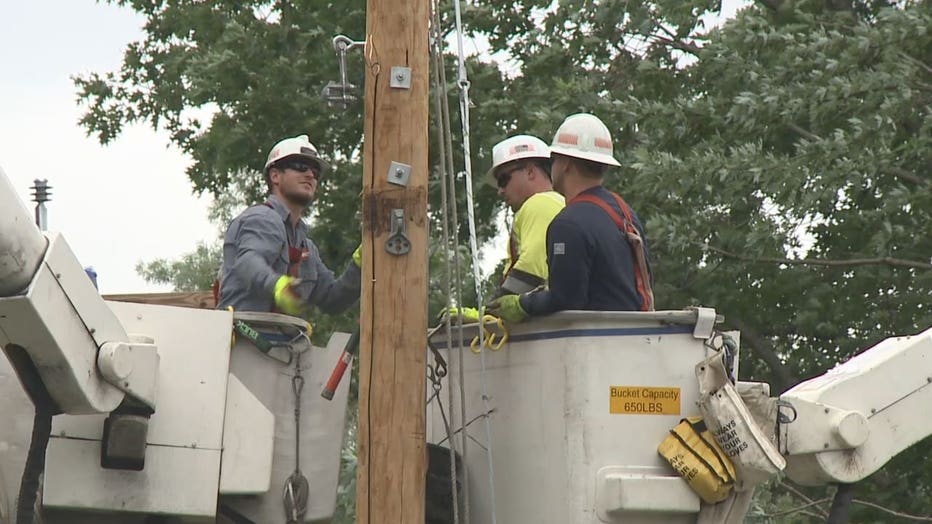 Utility crews work on Waukesha County power lines
FREE DOWNLOAD: Get breaking news alerts in the FOX6 News app for iOS or Android
Rural Waukesha County was considered a hot spot of activity during the morning storm. Downed power lines all over kept many in the dark.
"We had at one point maybe 43,000 customers out," said Brendan Conway of WE Energies. "Assume that (power lines) are energized and dangerous. Stay away from them. They're dangerous."
For resident Marcy Flanagan, a thud on the roof sent her outside once the storm passed to get a look at the damage.
"At around 1:30 it really picked up – you could hear that sound like a train," resident Marcy Flanagan said. "We were using flashlights to see if the tree was against the house. Yes, it is!"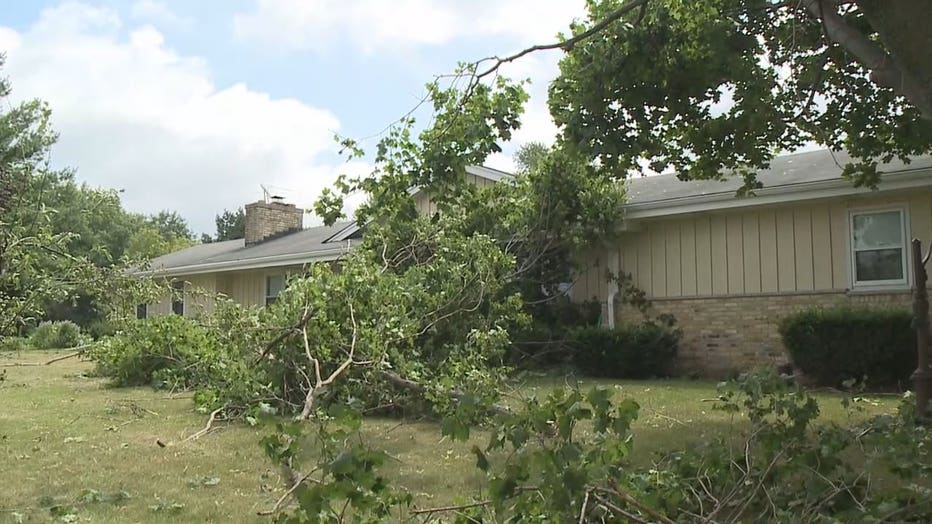 Some of the trees likely will take days to clear. In Wales, a 100-year-old giant was peeled like a banana from its trunk. It was another sign of a wild night where virtually the entire state of Wisconsin was under some sort of watch or warning.
Dousman destruction
On Willow Springs Drive in Dousman, Lori and Greg Thielen noticed more sun than usual in their front yard Thursday.
"You know, we were always short on firewood, but I'll tell you this, we're not short on firewood anymore," said Greg.
Lori, who has taken shelter in the basement, looked up to see not her towering Chinese elm tree, but instead – Greg's truck.
"I caught out of the corner of my eye – the big white truck up in the air," she said.
The truck had been parked in the perfect position to be uprooted, along with the decades-old tree.
"The time it's going to take to clean up this mess, is going to be days and days," said Greg.
The husband and wife are now grateful that Mother Nature didn't send the tree in a different direction.
"I can't be thankful enough, the house is okay, my wife is okay, that's the most important thing," Greg said. Even finding humor in an unfortunate situation. "If somebody wants a truck, I got one right there. I'll sell it cheap."