Rodgers long-term contract offer from Packers; ESPN reports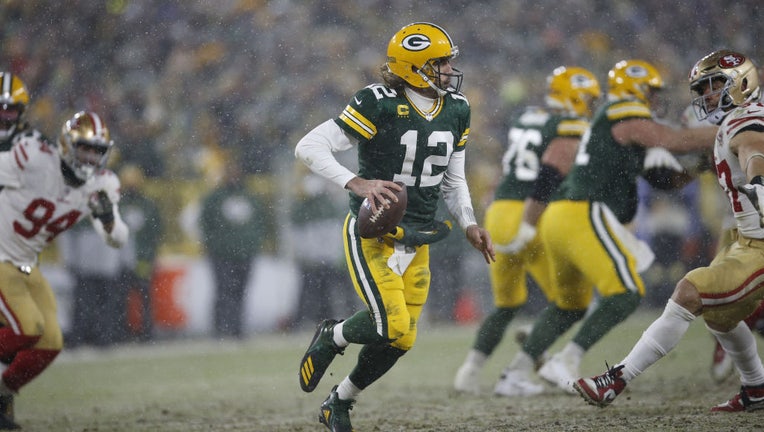 article
GREEN BAY, Wis. - ESPN's Jeremy Fowler is reporting that four-time MVP quarterback Aaron Rodgers has a massive long-term contract offer from the Green Bay Packers – one that would alter the quarterback market. 
From the potential move of Rodgers out of Green Bay to the likely departure of San Francisco's Jimmy Garoppolo despite the 49ers reaching another NFC championship game with him, trades, not courtships, are the talk of the QB market.
The constant chatter about Rodgers drowns out a change that would be equally seismic — Russell Wilson leaving Seattle. Tension between Wilson and the Seahawks surfaced last offseason. Now the issue is what's best for the club's future, although the Seahawks keep saying they're not shopping the Super Bowl 48 winner.
SIGN UP TODAY: Get daily headlines, breaking news emails from FOX6 News
Wilson has two years left on a contract with a no-trade clause, meaning he controls where he would go. And that raises another key question: Which teams need a quarterback? Washington is on a list perhaps topped by Tampa Bay and Pittsburgh with the retirements of Tom Brady and Ben Roethlisberger.
Rodgers' stalemate with the Packers last summer ended with an agreement to void the final year of his contract in 2023. The club has said it will wait as long as it takes for the MVP of the past two seasons (four overall) to decide whether he wants to play for them, or play at all.
If Rodgers seeks a trade, that adds another domino among teams seeking a starter in free agency. Those pickings aren't much past slim, if at all.
Associated Press contributed to this report.