Green Bay Packers draft picks: Van Ness, Musgrave headline 2023 class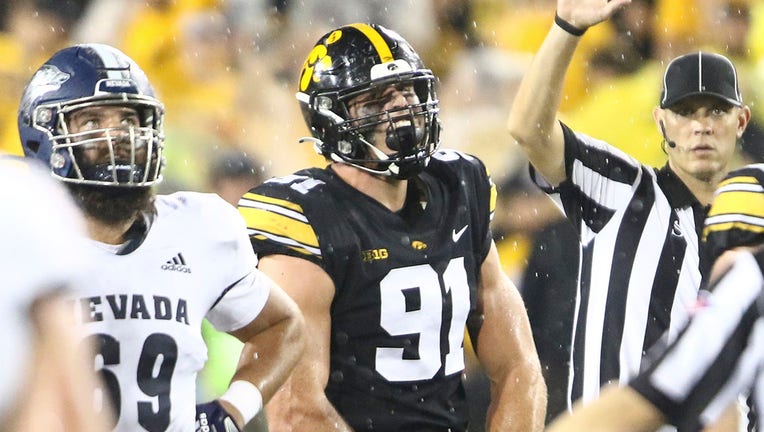 article
GREEN BAY, Wis. - The Green Bay Packers drafted 13 players across the 2023 NFL draft's seven rounds, which concluded Saturday, April 29.
Here's a look at the newest members of the Green & Gold.
The Packers selected the Iowa edge rusher with the no. 13 overall pick, acquired in the trade the sent Aaron Rodgers to the New York Jets.
According to the Packers, the 21-year-old had 12 ½ sacks among 19 ½ tackles for loss in his only two seasons for the Hawkeyes. After redshirting, he was named a freshman All-American in 2021 and second-team All-Big Ten in 2022.
Standing 6 feet, 5 inches tall and weighing 272 pounds, Van Ness ran a 4.58 40-yard dash at the NFL scouting combine. The former high school hockey player earned the nickname "Hercules" for his strength and showed plenty of versatility at Iowa by lining up at both tackle and end.
Van Ness started his college career, the Packers said, as an interior defensive lineman before moving outside. He will wear #90 for Green Bay. 
With the no. 42 overall pick, the Packers took Musgrave, a tight end out of Oregon State – a selection also acquired in the Rodgers swap.
Musgrave, who was slowed by injuries in college, had just 47 catches for 633 yards and two touchdowns overall – including 11 catches for 169 yards and a touchdown in Oregon State's first two games last year before undergoing season-ending surgery on his medial collateral ligament.
The 6-foot-6 Musgrave played a total of 20 games his four seasons at Oregon State. Packers college scouting director Jon-Eric Sullivan said there's no long-term concern regarding Musgrave's health and said that injury history has given the second-round pick additional motivation.
Then, at no. 50 overall after a pair of mid-round trades, the Packers added Reed – a wide receiver from Michigan State.
Reed, who is 5-foot-11, began his college career at Western Michigan before spending three seasons at Michigan State. He caught 55 passes for 636 yards and five touchdowns last season after collecting 59 receptions for 1,026 yards and 10 touchdowns in 2021. He also is a quality punt returner.
Reed caught 59 passes for 1,026 yards and 10 touchdowns in 2021. Last season, he had 55 catches for 636 yards and five touchdowns, including a game-winning score in an overtime victory over Wisconsin.
Round 3: Tucker Kraft
The focus on pass catchers continued on Day 2; the Packers added Kraft, a tight end from South Dakota State, with the no. 78 overall pick.
According to the Packers, Kraft caught 65 passes for 773 yards and six touchdowns in 2021 before winning a 2022 national championship. At 6-foot-5 and 254 pounds, he ran a 4.69-second 40-yard dash at the scouting combine.
Kraft's 2022 limited him to nine games due to a leg injury, the Packers said – but he was still named third-team FCS All-American.
Round 4: Colby Wooden
The Packers addressed defense Saturday after talking three straight offensive players following the selection of Van Ness. Wooden, a defensive lineman from Auburn, drafted no. 116 overall.
Wooden started three years, the Packers said – playing all over the Tigers' defensive line. He totaled 152 tackles and 15 sacks in 40 games.
Round 5: Sean Clifford and Dontayvion Wicks
While he won't be competing with Jordan Love for the starting job, Penn State quarterback Clifford is expected to be in the mix to fill the backup role. He was taken no. 149 overall.
In his four seasons as a starter and team captain, the Packers said Clifford set school records in passing yards (10,661), passing touchdowns (86) and wins (32).
Wicks, a Virginia product, became the second receiver drafted by the Packers, going no. 159 overall.
At 6 feet, 1 inch tall and 206 pounds, the Packers said Wicks set a school record for single-season receiving yards (1,203) and earned first-team All-ACC honors in 2021 after a foot injury sidelined him as a sophomore.
Round 6: Karl Brooks and Anders Carlson
Brooks, a Bowling Green defensive lineman, came off the board at no. 179 overall. 
According to the Packers, the 303-pound tackle started 48 of 52 games played in college and totaled 167 tackles and 27 ½ sacks – 10 of which came last season when he earned first-team All-MAC honors.
Carlson, a kicker out of Auburn, was selected with the no. 207 overall pick. He made 79 field goals for the Tigers – second in school history – on 110 attempts.
The Packers said Carlson tore his ACL in 2021 while trying to recover an onside kick. He is the younger brother of Las Vegas Raiders kicker Daniel Carlson – a first-team All-Pro last season.
Round 7: Carrington Valentine, Lew Nichols, Anthony Johnson Jr. and Grant DuBose
With the no. 232 overall pick, the Packers added Kentucky cornerback Valentine. 
A two year starter at Kentucky, the Packers said Valentine had 119 tackles, 16 pass breakups and an interception in 35 games.
Three picks later, no. 235 overall, Central Michigan running back Lew Nichols joined the fold. 
Nichols won MAC Offensive Player of the Year in 2021 after rushing for 1,848 yards and 16 touchdowns, the Packers said, but missed three games last season due to injury.
Anthony Johnson Jr., a safety from Iowa State, was drafted with the no. 242 overall pick.
Johnson Jr. played five seasons for the Cyclones – starting a school-record 54 games – and shifted from cornerback to safety as a senior last season, the Packers said. He earned second-team All-Big 12 honors with a career-high 60 tackles and two interceptions in 2022
Charlotte wide receiver Grant DuBose, pick no. 256 overall, was the Packers' final draft choice of 2023. 
At 6-foot-2, 201 pounds, the Packers said DuBose reeled in 63 catches for 787 and nine touchdowns his senior season. He earned second-team All-Conference USA honors.
Undrafted players signed
On May 1, the Packers announced the signings of 12 rookie free agents:
Keshawn Banks, linebacker, San Diego State
Brenton Cox Jr., linebacker, Florida
Chuck Filiaga, guard, Minnesota
Malik Heath, wide receiver, Mississippi
Jason Lewan, defensive lineman, Illinois State
Camren McDonald, tight end, Florida State
Christian Morgan, safety, Baylor
Henry Pearson, fullback, Appalachian State
Jimmy Phillips Jr., linebacker, SMU
Benny Sapp III, safety, Northern Iowa
Kadee Telfort, tackle, UAB
Duece Watts, wide receiver, Tulane
The Associated Press contributed to this report.