Packers draft tight ends, receiver on Day 2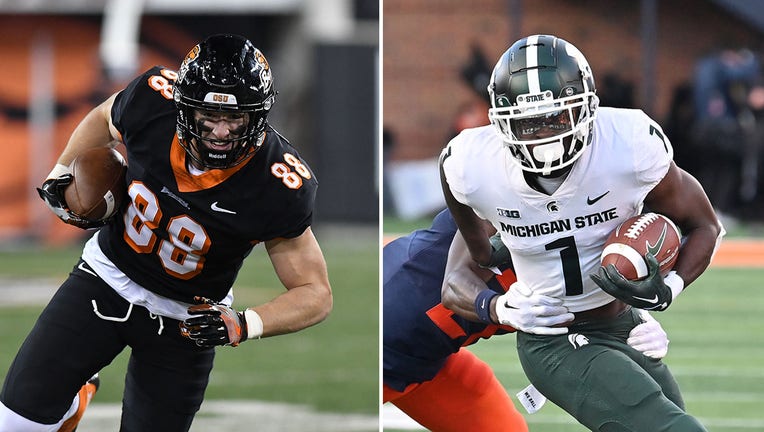 article
GREEN BAY, Wis. - The Green Bay Packers selected Oregon State tight end Luke Musgrave with the no. 42 in the 2023 NFL draft's second round Thursday, April 27.
Then, at no. 50 after a pair of mid-round trades, the Packers added another pass catcher – Michigan State wide receiver Jayden Reed.
In the third round, the team added South Dakota State tight end Tucker Kraft – snagging another offensive target at no. 78 overall.
RELATED: Check out the new and improved FOX Sports app
Luke Musgrave
Green Bay chose Musgrave with the 42nd overall selection, a pick they acquired in the trade that sent four-time MVP quarterback Aaron Rodgers to the New York Jets.
Green Bay is taking a chance on the upside of Musgrave, who was slowed by injuries in college. He had just 47 catches for 633 yards and two touchdowns overall, including 11 catches for 169 yards and a touchdown in Oregon State's first two games last year before undergoing season-ending surgery on his medial collateral ligament.
Musgrave impressed scouts at the Senior Bowl and at the combine.
"I really was trying to press to get to the Senior Bowl," said Musgrave, the nephew of former NFL quarterback and offensive coordinator Bill Musgrave. "It really was my goal. I got cleared really kind of reluctantly two weeks before it, and I was able to go to the Senior Bowl."
The 6-foot-6 Musgrave played a total of 20 games his four seasons at Oregon State. Sullivan said there's no long-term concern regarding Musgrave's health and said that injury history has given the second-round pick additional motivation.
"You can feel it when you talk to the kid," Sullivan said. "He's ready to prove to the football world that he is a very good player and that he can stay healthy."
Jayden Reed
Reed, who is 5-foot-11, began his college career at Western Michigan before spending three seasons at Michigan State. He caught 55 passes for 636 yards and five touchdowns last season after collecting 59 receptions for 1,026 yards and 10 touchdowns in 2021. He also is a quality punt returner.
Reed, who turned 23 on Friday, considered the call from the Packers the ideal birthday gift.
"Well, my girlfriend gave me some glasses," Reed said. "I got an Apple watch. But nothing tops this. I mean this is all I could ever ask for. This is all I ever wanted forever in my life."
Reed caught 59 passes for 1,026 yards and 10 touchdowns in 2021. Last season, he had 55 catches for 636 yards and five touchdowns, including a game-winning score in an overtime victory over Wisconsin.
Although Reed is only 5-11, the Packers believe he can line up on the outside as well as in the slot. Reed also is a quality punt returner.
Help for Love?
Green Bay entered this draft needing to find more targets for Love, who had made just one start while backing up Rodgers the last three seasons.
"I think any time you're going to have a quarterback that's under center for the first time, you want to surround him with playmakers, so that was definitely part of the conversation," Packers vice president of player personnel Jon-Eric Sullivan said. "It fell to us that way. We stayed true to the board and it was exciting to get the opportunity to surround Jordan with two guys we really like."
Although Green Bay drafted three receivers last year – North Dakota State's Christian Watson in the second, Nevada's Romeo Doubs in the fourth and Nebraska's Samori Toure in the seventh – the position still ranks as one of the Packers' biggest needs.
Allen Lazard, who had 60 catches for 788 yards last season to lead the Packers in both categories, left for the Jets in free agency. Randall Cobb also is a free agent. Watson and Doubs are the only wideouts under contract who had at least 100 yards receiving last season.
The Packers' top returning tight ends are Josiah Deguara and Tyler Davis, who combined to catch 17 passes for 140 yards last season. Veteran Marcedes Lewis, who had the second-highest snap total among Packers tight ends, is a free agent.
Trade time
The Packers entered Day 2 of the draft with two picks in the second round – no. 42 overall, used on Musgrave, was acquired in the Aaron Rodgers trade with the New York Jets.
After picking Musgrave, the Packers traded their own second-round selection (no. 45) to the Detroit Lions for the no. 48 and no. 159 overall picks. The team then swapped the no. 48 pick to the Tampa Bay Buccaneers for picks no. 50 and no. 179.
Past picks
Green Bay took Iowa edge rusher Lukas Van Ness at no. 13 overall Thursday.
While the franchise has favored defense in the first round since 2005, the second round and third rounds have been an area that the team targets wide receivers – picking nine during that time, more than any other position. Overall, the Packers have taken 24 offensive players compared to 16 defensive players in rounds two and three since 2005.
On Day 2 of the draft, general manager Brian Gutekunst has only selected two defensive players – both taken in 2018, his first draft at the helm. 
Second round picks under Gutekunst
2022: North Dakota State wide receiver Christian Watson
2021: Ohio State offensive lineman Josh Myers
2020: Boston College running back AJ Dillon
2019: Mississippi State offensive lineman Elgton Jenkins
2018: Iowa cornerback Josh Jackson
Third round picks under Gutekunst
2022: UCLA offensive lineman Sean Rhyan
2021: Clemson wide receiver Amari Rodgers
2020: Cincinnati tight end Josiah Deguara
2019: Texas A&M tight end Jace Sternberger
2018: Vanderbilt linebacker Oren Burks
The Packers entered the 2023 draft with 11 picks, marking the fifth straight year the team has had at least 10 picks when the draft opens. It is Brian Gutekunst's sixth draft as general manager and 25th with the organization.
The Associated Press contributed to this report.