From Ukraine to Milwaukee, UWM's Nadiia Konieva makes a name for herself
MILWAUKEE - For many students, choosing which college to attend can be as accessible as a click of the mouse on a computer. One freshman's journey to Milwaukee required a big swing of faith, determination and strength.
At the University of Wisconsin-Milwaukee, home to 23,000 students, Nadiia Konieva has made a name for herself on campus, and where she truly shines is on the court for the Panthers tennis team.
In her first year, Konieva finished the regular season with an overall singles record of 20 wins and was eventually named the Horizon League Freshman of the Year...
"I actually think it was very good," said Konieva. "I just was always trying to improve myself."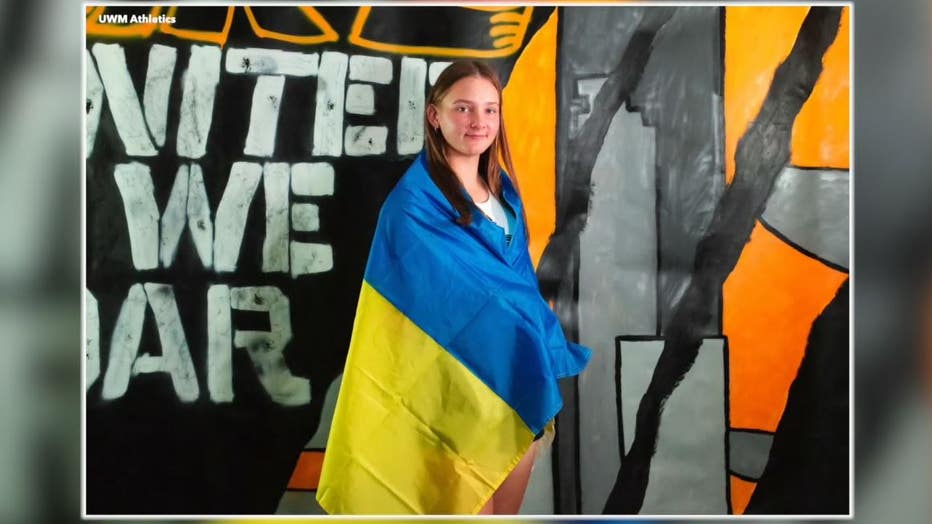 Her talent on the court brought her to Milwaukee, but unlike other students, college wasn't served up with an online application. Instead, the university became her new home thanks to an Instagram post, a tennis video and a journey that started over 5,000 miles away in Kharkiv, Ukraine.
RELATED: Check out the new and improved FOX Sports app
"It was really hard because, especially, I just left all my friends and family," said Konieva. 
In 2022, back home in Ukraine, it was just like any other day in February.
"I woke up at 5 a.m. when it started, and I was still like, not believing it because I thought, 'OK, it will stop this day for sure,'" said Konieva. "Everything will be good."
But it wasn't, and back then, at just 16 years old, Konieva was one of the millions of Ukrainians who had a decision to make.
"We actually didn't plan to leave because we don't have a lot of resources to go, and we don't really have friends," said Konieva.
On Feb. 24, 2022, Russia invaded Ukraine.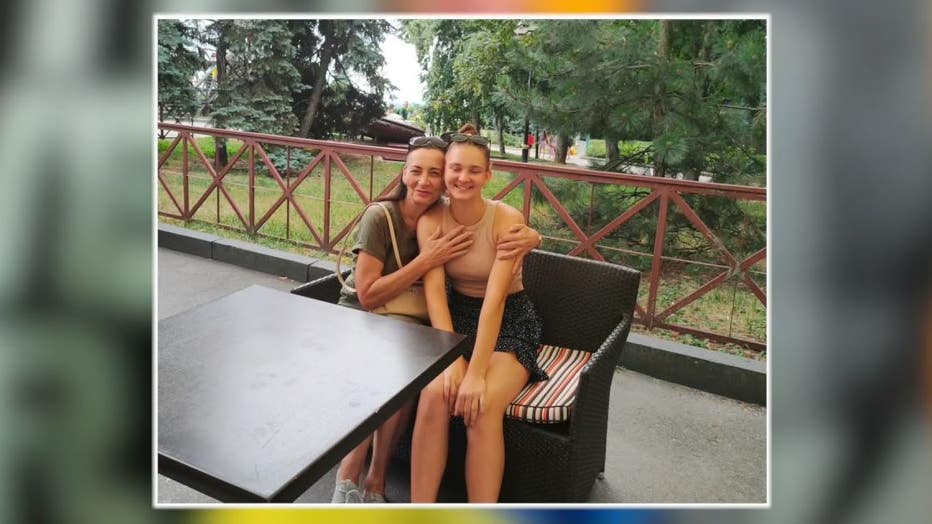 SIGN UP TODAY: Get daily headlines, breaking news emails from FOX6 News
A week after the war started Konieva's tennis coach said a father of some of the kids she had trained had organized a bus to take a group of them to Poland, so Koniva fled with her mother while her father and many of her friends and family stayed behind...
"We just had the night to think about this," said Konieva. "The next day at 5 a.m., we had a car and we went. It was unreal to stay in Ukraine, so we decided to go, but it was kind of scary because we didn't know anyone and we didn't plan it."
The long trek to neighboring Poland would take four days by bus, with several small stops in between.
"For example, we could stay just proceeding very slowly because everyone was leaving," said Konieva. "It was very hard, especially at the border. I was just praying that we will be safe until the border because it was very dangerous, and sometimes, you're kind of close to shelling, so we just changed the way."
In early March, Konieva arrived in Poland with her mother.
"For a week I was like, shaking, because I was realizing what is going on," she said.
She spent the next five months living with a host family and adjusting to her new normal. Playing tennis helped, but without any equipment or a place to practice, her host reached out to a tennis club that welcomed her in.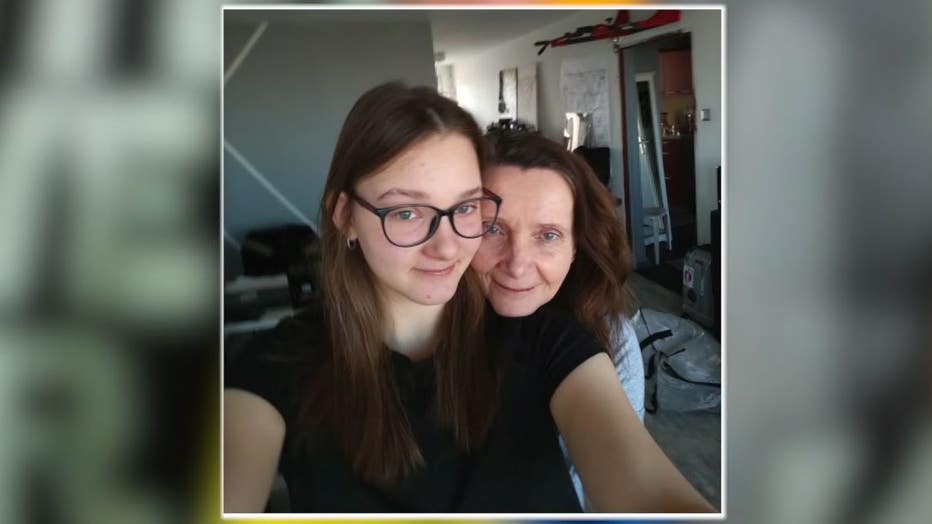 "When I was practicing, I saw the Instagram story from my friend, and she was mentioning an agency USB who helped Ukrainians for free with the recruiting process. I just decided to text them," said Konieva.
That's how Konieva connected with Coach Ryan Kucera at UWM, who was recruiting for the Panthers.
"I just sent them my videos, my grades. Thanks, Ryan," said Konieva. "He decided that I'm a good person for this university, for this program."
While her mother stayed behind in Poland, Konieva fulfilled her goal to study in the United States when she arrived in August 2022.
"She's very proud of me," said Konieva. "My coach she was also very proud of me."
Since then, it's been a year of success in tennis and in school, and while the longing for home is still there, her support system on campus has been a great help.
"I didn't have my family with me, my friends, but I still kind of have family here, so it's very nice for me," said Konieva.
Off the court, Konieva hopes to be a clinical psychologist one day to give back to those who need it most.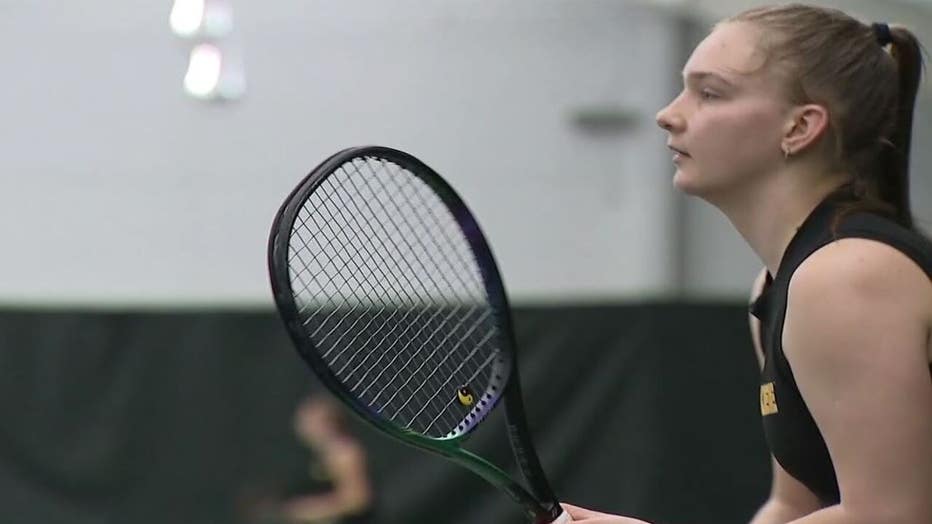 "What is your message for other kids or other teens that have left and have had to find a new life somewhere else because of the war?" asked FOX6's Lily Zhao.
"Stay tough," said Konieva. "Have hopes that the war will finish and just continue, live your life and try to like, and until we have this war, just try to live your normal life as much as you can."
Konieva plans to reunite with her mother in Poland over the summer and also hopes to return to Ukraine to see friends and family. Her ultimate goal is to finish college at UWM and earn her degree in psychology.