Wisconsin Republicans vote not to endorse for governor
MIDDLETON, Wis. - Wisconsin Republicans on Saturday voted against endorsing a candidate in the governor's race. 
Five candidates hoping to oust Democratic Gov. Tony Evers spoke at the Republican Party of Wisconsin's convention in Middleton. 
In recent elections, the Republican convention delegates endorsed candidates for governor. Now, former Gov. Scott Walker pitched his former lieutenant governor of eight years, Rebecca Kleefisch.
SIGN UP TODAY: Get daily headlines, breaking news emails from FOX6 News
"With your help, she's going to win that election come November," he said.
This time, with the delegates voting on who to endorse, or whether to endorse at all, Kleefisch captured the backing of nearly 55% in the second round of voting – shy of the 60% needed. Roughly 43% voted for the option not to endorse. Still, Kleefisch declared victory.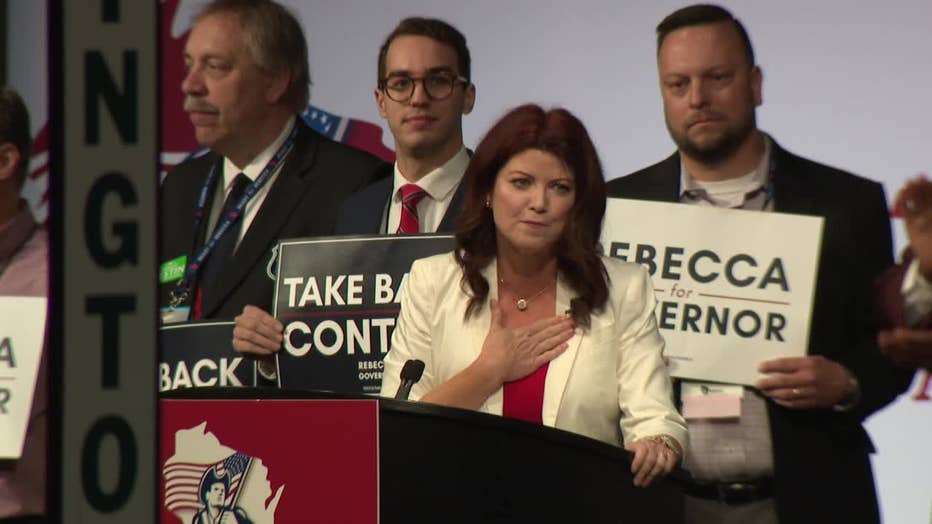 Rebecca Kleefisch speaks at the 2022 Wisconsin Republican Convention
The Republican endorsement has been highly sought after because it unlocks funding from the state party, which can then spend as much as it wants on the winner. Now the top candidates will fight it out without any official backing from the party.
Assembly Speaker Robin Vos, who supports Kleefisch, downplayed the importance of winning the endorsement, likening it to a straw poll and saying it's just one indicator of a candidate's strength.
Scott Walker speaks at the 2022 Wisconsin Republican Convention
Even if the delegates had voted to endorse a candidate, it still comes down to August's Republican Primary vote. The winner of that race will face off against Evers in November.
Democrats will host their state convention in June. Wisconsin's Democratic chairman said the Republican convention shows that the only candidate who has earned Wisconsin's trust is Evers.
Evers has issued more vetoes than any governor in Wisconsin history in blocking the Republican-controlled Legislature's agenda. A Republican governor would give the GOP the power to enact many conservative bills that currently reach the governor's veto pen.
FREE DOWNLOAD: Get breaking news alerts in the FOX6 News app for iOS or Android.
What the candidates had to say
On the race…
Adam Fischer: "I am not a politician. I never wanted to be a politician. I am a former police officer, and a businessman of 20 years. I am one pissed off American just like everybody else."
Tim Michels: "I am in this to win, but I am not here to tear down this convention or any other candidate for governor."
Kevin Nicholson: "I want Republicans to win and we can't do that if our party is fractured. An endorsement today does not put us in a position of strength."
Nicholson: "In order to make Wisconsin better and stronger, we need a new voice as governor. An actual outsider, like Donald Trump and Ron Johnson."
State Rep. Timothy Ramthun: "Election integrity is the No. 1 issue in the state."
On abortion…
Former Lt. Gov. Rebecca Kleefisch: "Now I'm not a biologist, but I am a woman and I will not let a man like Tony Evers tell me how I'm supposed to feel about Roe. I will win this because I can speak with a mother's heart."
Michels: "We have a shared agenda here: pro-family, pro-life, pro-education reform, pro-second amendment. These policies, they only become reality, when we beat Tony Evers. I can, and will, beat Tony Evers."
Ramthun: "Prolife without exemptions. Life begins at conception. It's not the baby's fault of how they were conceived. We need to stop killing babies."
The Associated Press' Scott Bauer contributed to this report.