Vos fires Gableman; election investigation ends after 14 months
MADISON, Wis. - The Wisconsin Assembly Republican leader who hired a former state Supreme Court justice to investigate the 2020 election fired him Friday, after the former justice and former President Donald Trump backed the lawmaker's opponent.
Speaker Robin Vos firing of Michael Gableman ends a 14-month probe that began with Vos voicing full confidence in Gableman's abilities.
Vos had rejected Gableman's determination that lawmakers should consider decertifying the 2020 election, as Trump wants. Vos cited widespread legal opinions that it would be both unconstitutional and impossible to do.
SIGN UP TODAY: Get daily headlines, breaking news emails from FOX6 News
Gableman then backed Vos opponent in Tuesday's primary. After Vos won, he said the former justice was an "embarrassment" to himself and the state.
Gableman, who has repeatedly falsely claimed that the 2020 election was "stolen" from Trump, has said that Vos "never wanted a real investigation."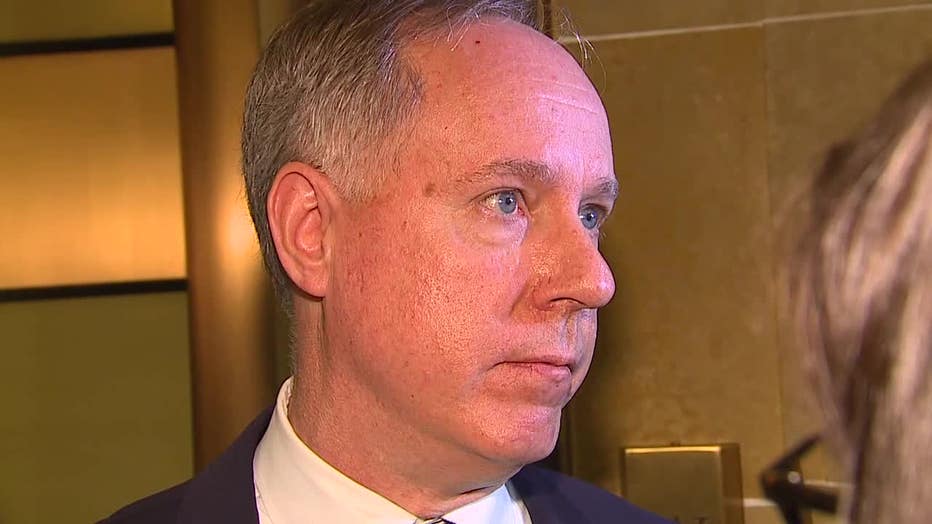 Trump lost Wisconsin by nearly 21,000 votes in 2020 and Vos has urged Republicans to move on.
Vos, in a statement first provided to The Associated Press on Friday, said Gableman's reports "clearly showed concerns and problems with the 2020 election."
FREE DOWNLOAD: Get breaking news alerts in the FOX6 News app for iOS or Android.
Official statements, reaction
Assembly Speaker Robin Vos (R-Rochester)
"When the Office of Special Counsel was created in July of 2021, the goal was to use investigators to determine what happened during the 2020 election. Justice Gableman gave a report in November 2021, and his last report in March 2022. The reports, along with the Legislative Audit Bureau, clearly showed concerns and problems with the 2020 election. That's why the Legislature passed 19 bills and three constitutional amendments focusing on the issues identified by the Audit Bureau and the Special Counsel.
"After having many members of our caucus reach out to me over the past several days, it is beyond clear to me that we only have one choice in this matter, and that's to close the Office of Special Counsel.
"For those like me who remain concerned about ensuring we have election integrity, we have a simple solution; to focus on our efforts to elect a Republican governor in November so we can pass the bills that were vetoed by Governor Evers."
State Sen. Melissa Agard (D-Madison)
"For fourteen months, Michael Gableman has abused over $1.3 million in taxpayer money to investigate Wisconsin's presidential election. We know that the November 2020 presidential election was free, fair, and secure.
"My Democratic colleagues and I have been calling for Michael Gableman and his Office of Special Counsel to be terminated immediately. I am glad that Speaker Vos is finally listening to the people of Wisconsin and putting an end to this senseless waste of taxpayer funds, though long overdue.
"After many other analyses of Wisconsin's 2020 election, there have been no demonstrations of widespread or significant fraud that affected the outcome of our election. Gableman has been grifting on the taxpayers' dime for over a year now. We're going to continue to be paying for these lies both financially and morally. It is far past time that his lies and misinformation have been put to an end."
State Rep. Lisa Subeck (D-Madison)
"While it is too late to repair the damage done by this baseless, expensive, and hyperpartisan charade, the lack of verifiable evidence presented by the Gableman investigation has proven beyond the shadow of a doubt that the 2020 election was secure and conducted fairly.
"Republican leadership should demonstrate the courage to apologize to taxpayers for this expensive farce. They should apologize to our local elections officials for the demonization and harassment they faced as a result of the baseless allegations of fraud. And they should publicly condemn the widespread misinformation that has undermined faith in our democracy."
"Representative Lisa Subeck has represented the 78th Assembly District since 2015, serves on the Assembly Committee on Campaigns and Elections, and serves as Chair of the Assembly Democratic Caucus."
Ben Wikler, Democratic Party of Wisconsin chair:
"The sham Gableman investigation amounted to a $1.3 million, 14-month campaign ad for extreme, ultra-MAGA Republicans, including Tim Michels, paid for by taxpayers. Robin Vos should follow Gableman out the door and resign from office for perpetrating this farce.

"This clown show was enabled by cynical and radical Republican politicians like Tim Michels, who will say or do anything to appease Trump. That's why Tim Michels supported this investigation, it's why Gableman delivered an invocation at the Trump-Michels rally this month, and it's why Michels still won't rule out overturning the results of the 2020 election. 

"There were zero consequences for Gableman's buffoonery, mismanagement of state dollars, brazen violations of open records laws, temper tantrums, and constant lying—until he attacked Robin Vos politically. Robin Vos repeatedly extended Gableman's contract, looked the other way as Gableman billed taxpayers for travel to political events and other extravagences, and provided state-funded private attorneys to defend Gableman's incompetence in court.

"Like Dr. Frankenstein, Robin Vos created a political monstrosity that wound up turning on its creator. The legacy of Robin Vos will forever be tied to Mike Gableman and the poisoning of public faith in our democracy that they accomplished together, all at taxpayer expense."