Washington High School athletic field a $2.5M community triumph
MILWAUKEE - The ribbon is officially cut on Washington High School's athletic field, a $2.5 million project all made possible thanks to community donations, donors and partnerships on Friday, May 26.
Washington High School first opened its doors back in 1916, and for more than a century, the athletic field saw no repairs.
"We couldn't even practice on it, we practiced on it like once, and we didn't do it again because it was too dangerous," said Serenity Carter a student.
That is until Friday when the ribbon was cut on the school's newly renovated field. A $2.5 million project that began with one question seven years ago.
"A colleague and I were on this field about 7 years ago," said Common Ground Board of Director Alexander Hardy. "We asked a group of students who were playing basketball, 'How would you like to have a state-of-the-art athletic field in this neighborhood?'"
"They scuffed and laughed at us and said, 'nobody is going to do that for us', so that triggered us," said Hardy.
Together with the students, $800,000 in donations were collected from Sherman Park neighbors to help MPS break ground on the project.
"The village has come together to make sure that our young people and our community have a place that they can call their own," said MPS Superintendent Keith Polsey. 
Hardy said this milestone is living proof of what can be made possible when we work together.
SIGN UP TODAY: Get daily headlines, breaking news emails from FOX6 News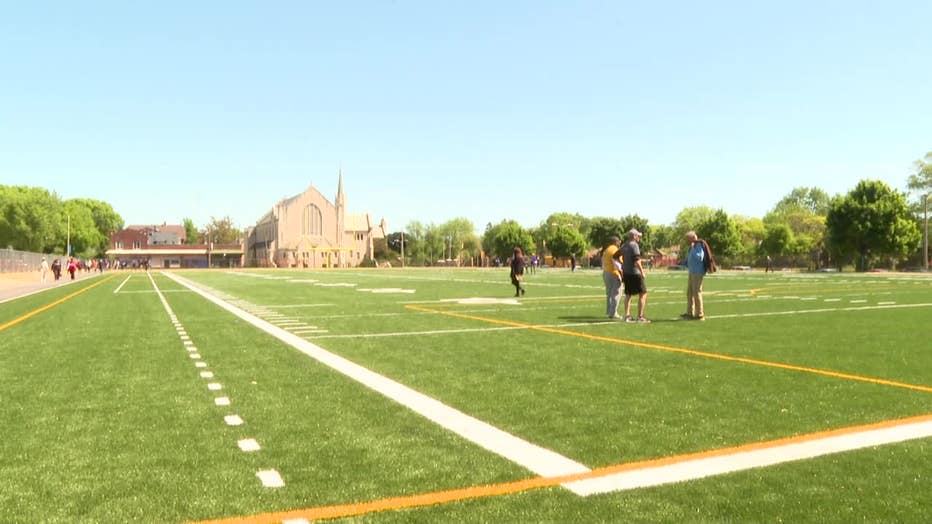 Washington High School new track
"The students had put a fence on the sign that said, 'win, win, win.' Because they saw this as a win and didn't expect it would happen," said Hardy.
The yearlong project includes a new 400-meter track topped with a high-performance rubber surface, an improved practice field for football with artificial turf, a new basketball half-court, and new drinking fountains.
"This is an important contribution to Washington High School and to the community at large," Washington High School Principal Angelena Terry said. "Students will gain from this beautiful new track and field now and for decades to come. Not only that, our Sherman Park neighbors embraced the project, and they will be able to enjoy the fruits of their labor, as well."
According to the news release, the project is the result of a public-private partnership that involved MPS, the MPS Foundation and the nonprofit group Common Ground, plus the contributions of other generous donors. Over the course of seven years, Common Ground raised $830,300 — a third of the total cost of the project — from 144 donors for the new athletic field.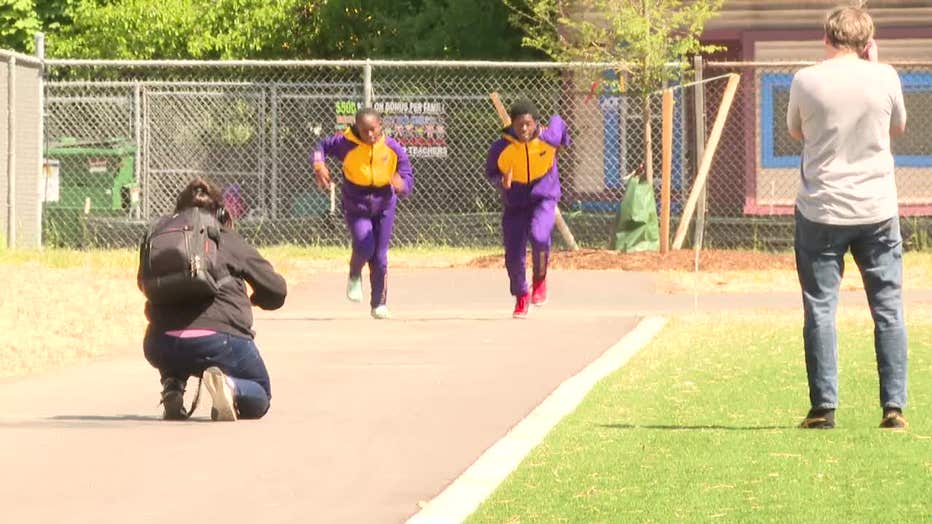 Washington High School new track
"Common Ground was proud to be an instrumental player in Washington High School's new athletic field," said Hardy. "We were pleased to lead the community-level engagement that brought this project to completion. It will benefit the entire neighborhood."
Although the field has always been used for football practice only and not for games, at least five Washington High School graduates went on to careers in professional football from the 1920s to the 1950s: Marlin "Pat" Harder, Chicago Cardinals and Detroit Lions; Wally Cruice, a Green Bay Packers draft pick who didn't sign with them but later became their chief scout; Lavvie Dilweg, Green Bay Packers; Milt Trost, Chicago Bears and Philadelphia Eagles; and Don Kindt, Chicago Bears. 
A Washington High coach, Lisle Blackbourn, went on to coach the Packers in the mid-1950s.