Vice President Kamala Harris' Milwaukee visit Thursday
MILWAUKEE - For the third time in nearly two years, Vice President Kamala Harris headed to Milwaukee on Thursday, Sept. 22.
The second in command of American government visited an American government and politics course at the University of Wisconsin-Milwaukee (UWM). The freshmen students tell FOX6 News it was a surprise – they actually did not know she was coming to see them.
"Meeting any celebrity of politician is weird," said Charlie Moran, first year political science student.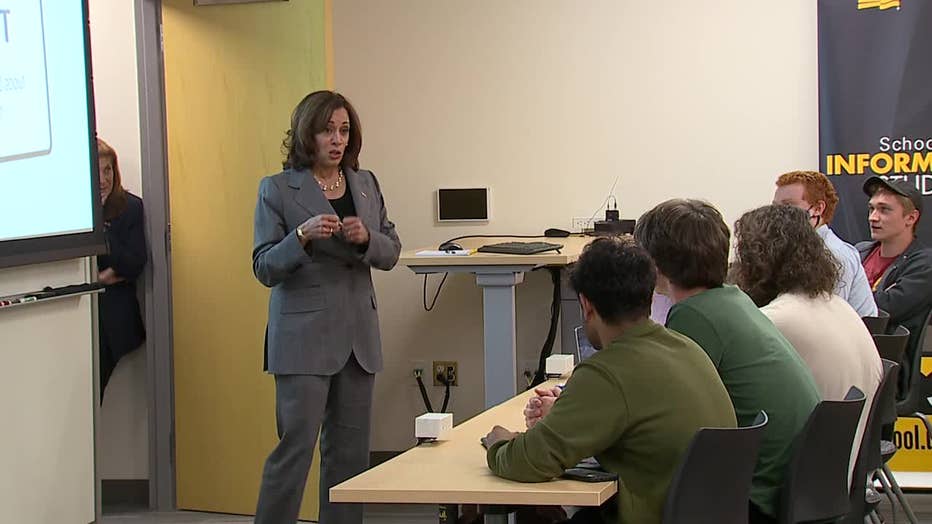 Kamala Harris visit to UW-Milwaukee
The vice president spoke to the students about the importance of climate change. Harris also said they have powerful roles as future leaders in the county.
"I was impressed. I've never had anything like that happen to me," said Chase Lynch, psychology major. "It's inspirational, it give everybody hope, a little bit, of what they can do and the change any single person can make."
Harris also spoke to Hispanic leaders.
"Where things really got emotional is when we started talking about Puerto Rico and the tragedy suffered by U.S. citizens right now," said Darryl Morin, Forward Latino. 
Before going to UWM, the vice president and her motorcade traveled to Milwaukee's historic Pfister Hotel. There, she spoke to Democratic attorneys general from around the country. They are meeting in Milwaukee. Harris herself was once California's attorney general.
SIGN UP TODAY: Get daily headlines, breaking news emails from FOX6 News
"Josh Kaul is working with Gov. Evers to challenge an abortion ban are taking on the abortion ban, with the limited resources every attorney general has, our friend here has to use to fight a ban that dates to 1849," Harris said. 
The vice president's visit comes nearly seven weeks before the November election and just two weeks after President Joe Biden was in Milwaukee to speak at Laborfest.
FREE DOWNLOAD: Get breaking news alerts in the FOX6 News app for iOS or Android.
Reaction
Tim Michels Republican candidate for Wisconsin governor
"Joe Biden and Tony Evers are two peas in a pod and the same can be said about their number twos. The Biden-Evers and Harris-Barnes approach of being soft on crime but hard on small business owners and families has been devastating for Wisconsin and all of America, and voters will hold them accountable in November."
Republican Party of Wisconsin Chair Paul Farrow
"What we're seeing from the administrations both at the national level, with the vice president coming into town to talk to the Democratic attorney generals, and what we see in the state, is a lack of leadership and a lack of understanding of what really is going on in our society."
RNC Spokesperson Rachel Reisner
"If Kamala Harris, Mandela Barnes, Tony Evers, and Josh Kaul spent as much time fixing their policies that brought Wisconsinites rising taxes, historic inflation, and rampant crime as they did talking about their failed agenda, Wisconsin voters might be able to provide for their families and keep them safe."