Trump fires Defense Secretary Mark Esper
WASHINGTON - President Donald Trump fired Defense Secretary Mark Esper Monday, announcing the termination in a tweet.
Esper will be replaced by Christopher Miller, director of the National Counterterrorism Center.
Trump tweeted Monday, "I am pleased to announce that Christopher C. Miller, the highly respected Director of the National Counterterrorism Center (unanimously confirmed by the Senate), will be Acting Secretary of Defense, effective immediately."
"Chris will do a GREAT job!" the president added in another tweet. "Mark Esper has been terminated. I would like to thank him for his service."
U.S. defense officials said Miller arrived at the Pentagon in the early afternoon to take over the job, and that White House chief of staff Mark Meadows informed Esper of the firing before Trump announced the move on Twitter. Other top defense and Pentagon officials, however, were caught by surprise and learned of the decision through the media. The defense officials spoke on condition of anonymity to discuss internal matters.
FOX News reporter Jennifer Griffin posted a copy of a letter sent from Esper to the president hours after he was fired. In it, Esper acknowledged that he accepted the president's decision to replace him.
In a separate letter addressed to all Department of Defense employees, Esper thanked his colleagues "for remaining apolitical, and for honoring your oath to the Constitution."
"While I step aside knowing that there is much more we could accomplish together to advance America's security, there is much achieved in the time we had to improved the readiness, capabilities, and professionalism of the joint force, while fundamentally transforming and preparing it for the future," Esper wrote. 
Esper, who was the official successor to former Marine Gen. James Mattis, routinely emphasized the importance of keeping the military and the Defense Department out of politics. 
Esper's departure appeared inevitable ever since he publicly broke with Trump in June over the president's push to deploy military troops in the streets of the nation's capital in response to civil unrest following the police killing of George Floyd. 
Esper publicly opposed Trump's threats to invoke the two-centuries-old Insurrection Act, which would allow the president to use active-duty troops in a law enforcement role. And Trump was furious when Esper told reporters the Insurrection Act should be invoked "only in the most urgent and dire of situations," and, "We are not in one of those situations now."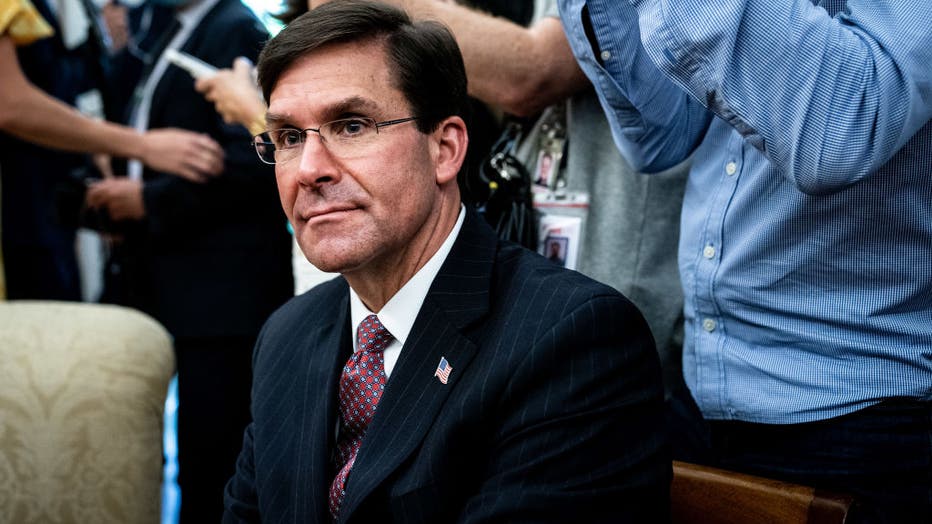 FILE - U.S. Secretary of Defense Mark Esper attends a meeting with Polish President Andrzej Duda and U.S. President Donald Trump in the Oval Office of the White House on June 24, 2020 in Washington, DC. (Photo by Erin Schaff-Pool/Getty Images)
Last week, the Pentagon pushed back against an NBC News report that Esper had "prepared a resignation letter" following the result of the presidential election. 
In a report published Thursday afternoon, NBC cited three unnamed "current defense officials" who alleged that Esper "prepared his letter because he is one of the Cabinet officials long expected to be pushed out after the election."
But Jonathan Hoffman, assistant to the secretary of defense for public affairs, tweeted, "The NBC story is inaccurate and misleading in many ways."
"To be clear, Secretary of Defense Esper has no plans to resign, nor has he been asked to submit a letter of resignation," Hoffman added. 
The Monday decision to replace Esper was quickly condemned by Democratic members of Congress.
"Dismissing politically appointed national security leaders during a transition is a destabilizing move that will only embolden our adversaries and put our country at greater risk," said Rep. Adam Smith, D-Wash., chairman of the House Armed Services Committee. "President Trump's decision to fire Secretary Esper out of spite is not just childish, it's also reckless."
Sen. Tim Kaine, D-Va., a member of the Senate Armed Services and Foreign Relations Committees, said firing Esper "in the last weeks of a lame duck Presidency serves no purpose and only demonstrates an instability harmful to American national defense."
Former military leaders also weighed in. Jim Stavridis, a retired Navy admiral who served as a senior aide to Republican Donald Rumsfeld when Rumsfeld was defense secretary, wrote on Twitter that Esper's firing made no sense.
"Things are already unstable internationally, and this does not help," he wrote. "We need to try and create stability in transition time — hopefully opponents will not try and take advantage."
Biden, meanwhile, has not said who he would appoint as defense chief, but is widely rumored to be considering naming the first woman to the post — Michele Flournoy. Flournoy has served multiple times in the Pentagon, starting in the 1990s and most recently as the undersecretary of defense for policy from 2009 to 2012. She is well known on Capitol Hill as a moderate Democrat and is regarded among U.S. allies and partners as a steady hand who favors strong U.S. military cooperation abroad.
FOX News and the Associated Press contributed to this story.