"This family, this city needs closure:" $35K reward offered for information in Laylah Petersen murder


MILWAUKEE (WITI) -- Milwaukee Police Chief Ed Flynn and other members of the Milwaukee Police Department joined the family of Laylah Petersen on Wednesday, May 6th to mark the six-month anniversary of the child's death. Five-year-old Petersen was shot and killed on November 6, 2014 while inside a house near 58th and Fairmount in Milwaukee. She was sitting on her grandfather's lap when shots were fired into the home.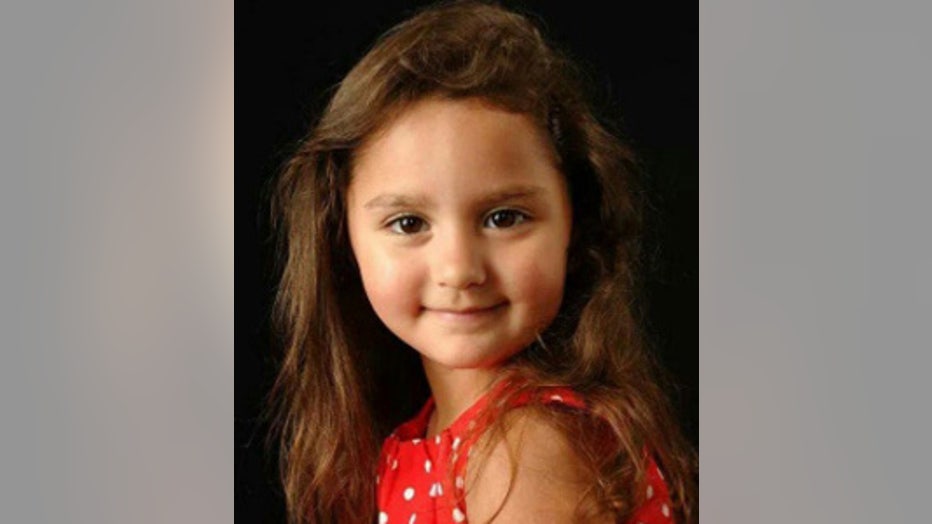 During a news conference held Wednesday afternoon, a $35,000 reward was offered in the case. That reward will be given to the first person to provide information that leads to the arrest and conviction of the person who pulled the trigger and killed Laylah Petersen.

Chief Flynn talked about the Milwaukee Police Department's investigation in this case. Chief Flynn said for six months, MPD has devoted "significant resources" to this investigation -- following up on hundreds of leads, taking part in dozens of personal interviews, pouring over physical evidence, visiting jails and prisons to talk with people who claim to have information in this case, and taking part in telephone interviews.

"Sadly, notwithstanding a $5,000 reward offered by the ATF and $5,000 donated by a group of concerned citizens and business owners (Citizens for Urban Justice), we have not made significant progress. Laylah Petersen's murder remains unsolved," Chief Flynn said.




Chief Flynn said this case has weighed heavily on MPD as a whole, and especially the officers who were at the scene near 58th and Fairmount on November 6th.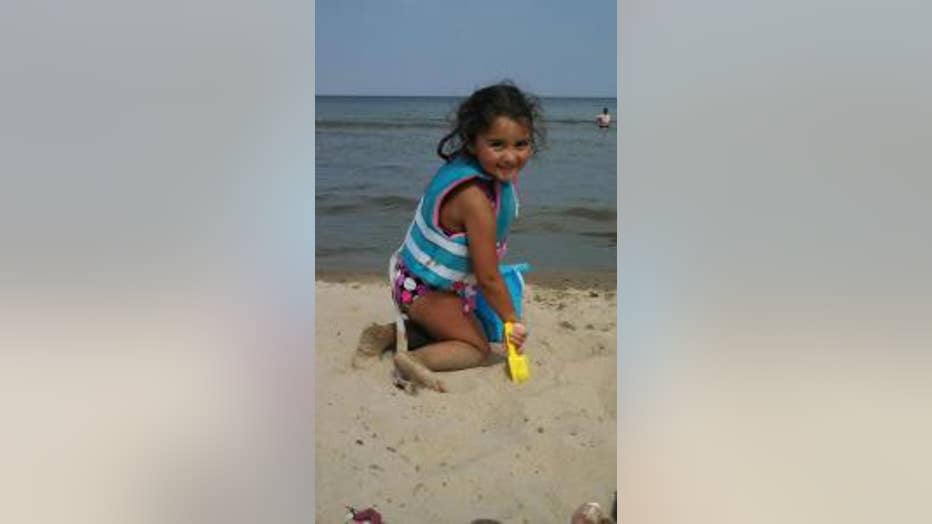 "Those officers here that night -- trying to assist her lifeless body -- it's a memory none of them will ever forget. The family remains scarred -- but hopeful that someday we will be able to secure justice for Laylah. We are hopeful that as a result of this announcement, that people out there that know something will be motivated finally at long last to do the right thing and share precious information that will bring justice to this precious lost life," Chief Flynn said.

Petersen family spokesman Richard Schwoegler announced the reward for information in this case has increased to $35,000. Milwaukee Attorney Michael Hupy offered $25,000 to increase the reward from $10,000 to $35,000. Hupy also announced a billboard campaign that will feature a tip line for those who have information for police.

"I visited with the Petersen family at Christmas. I had hoped the crime would have been solved by now.  Frankly, as an activist, I am not just going to sit back and watch the community in which I have raised my family become more violent and lawless," Hupy said.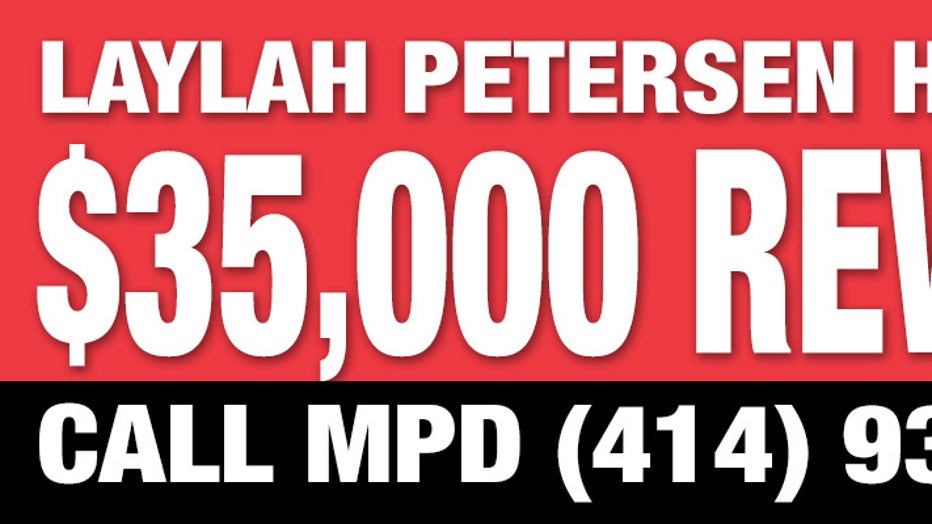 Laylah Petersen reward billboard


Again -- the reward will go to the first person to provide information that leads to an arrest and conviction in this case.

"Even the slightest information could break this case. There needs to be closure. Six months is a long time. There is some grandma and some dad or mom that has information about this. There has to be justice," Schwoegler  said.

Laylah Petersen's mother, Ashley Fogl also spoke during the press conference. She was emotional as she spoke of her young daughter -- taken far too soon.




"Who did this to my beautiful addition to this world -- and took her out of it? Laylah's entire family needs to know why and what happened that night. We have gone through unimaginable pain. How do you see a family grieving so hard? We don't have any answers. How would you feel if this was your family? Someone needs to come forward and stop being afraid. This shouldn't happen to anybody. Why let it continue? You need to be brave -- and you need to speak up for my Laylah," Fogl said.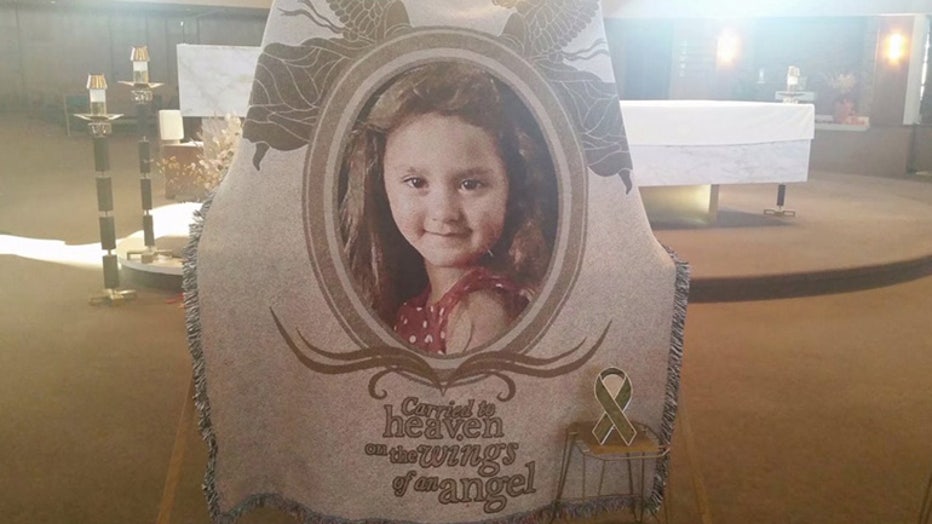 "Laylah isnt just the Petersen family's daughter. She belongs to all of Milwaukee. She stands for good things about Milwaukee -- innocence, a safe place to raise children, a place of opportunity. She also stands for the tragedy of Milwaukee, which is too much violence, too many guns in the hands of children, too much bloodshed, too many lives lost, too many opportunities never realized. I think I speak to all Milwaukeeans today -- but especially those who know something about this dreadful case. When we help solve the Laylah Petersen case, we're not just bringing her family justice. We are putting a down payment on all the other families out there who have lost their Laylahs, and still don't have justice that they deserve, and still don't have the hope that this firearms violence will stop any time soon," Chief Flynn said.

Anyone with information about the case is asked to call Milwaukee Police at 414-935-7360.