Some restrictions relaxed in Milwaukee COVID-19 public health order
MILWAUKEE - The Milwaukee Health Department is lifting significant restrictions on sporting events, bars and restaurants. Taking a big step towards fully reopening.
All the new guidelines still require some form of social distancing and mask-wearing, but health leaders say they remain cautiously optimistic as they lift some of the restrictions in place for several months.
On Friday, the city will enter phase 6, skipping what would have been phase 5.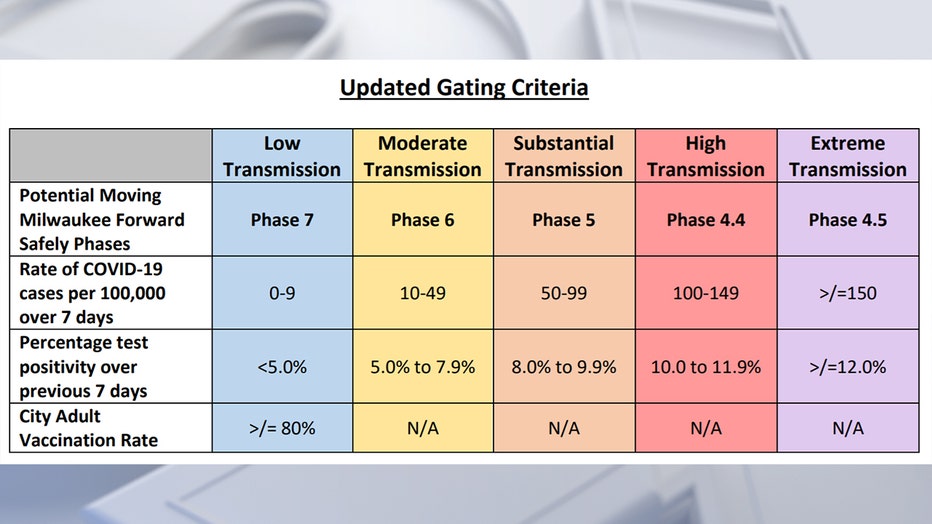 "I am cautiously optimistic that our case numbers will continue to decline while our vaccinations increase," Milwaukee Health Commissioner Kristen Johnson said.
This new health order is based on new criteria that includes vaccination rates. For starters, restaurants and bars will see an increase in possible capacity. Patrons can also move more freely indoors.
"The most significant change is restaurants can open to 50% with no safety plan," she said.
All museums can open with capacity limits and protective measures.
"Retail capacity is limited by being able to physically distance between groups," said Johnson.
Sporting events and recreational activities can have up to six spectators per event participant. There is a limit of 750 fans indoors or 1,000 fans outdoors as long as physical distancing can be accommodated. An approved safety plan by the health department can allow larger crowds.
The order no longer restricts visitors to long-term care facilities.
"All those heartbreaking stories of grandma and grandpa not seeing their grandkids in person…" Mayor Tom Barrett said. "Hopefully we never see another one of those stories in our lives."
On the vaccine rollout, city leaders are encouraging all adults living in the most vulnerable zip codes to get their shot.
"With vaccination, you have done your part in building community immunity," health official Darren Rasusch said.
Health officials say if measures appear to be heading in the wrong direction in the next two weeks, the health department says they would bring the city back a step to phase 5. You can read that below.
Officials say it is important to note that general provisions regarding safe business practices and protective measures remain in place. That includes masking, social distancing, surface cleaning, and policies to restrict employees who have been exposed to the disease or show COVID-19 symptoms.
FREE DOWNLOAD: Get breaking news alerts in the FOX6 News app for iOS or Android