Watch: Soccer fans in Turkey throw toys onto pitch for children affected by earthquakes
INSTANBUL, Turkey - Fans of Istanbul's Besiktas soccer club threw thousands of soft toys onto the pitch during a game Sunday for children affected by the deadly earthquakes that hit parts of Turkey and Syria. 
The donations were made after an appeal by the club asking for donations to those children affected. 
Footage by journalist Ogulcan Coksayar shows fans throwing the toys after play was stopped at the Vodafone Arena.
Anadolu News said Besiktas's match against Antalyaspor was paused with 4 minutes and 17 seconds on the clock, in memory of the first earthquake on Feb. 6, which struck at 4:17 a.m.
"A football match should only stop for such a meaningful event. Many thanks to those who contributed," Antalyaspor said.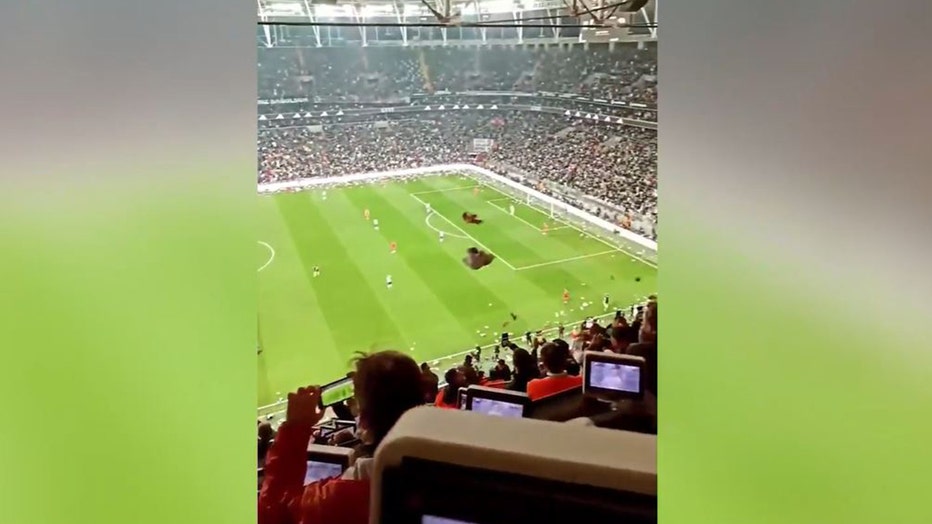 Fans threw thousands of soft toys onto the pitch after the match was paused at a special moment to honor the earthquake victims.
The death toll from the 7.8 magnitude massive earthquake continues to rise as more bodies are retrieved from the rubble of demolished buildings. A magnitude 6.4 earthquake that struck the already battered province of Hatay this week damaged or demolished more buildings, compounding the devastation.
RELATED: Wreckage, rescue and hope in Turkey's earthquake epicenter
The local civil defense in northwestern Syria, known locally as The White Helmets, said Thursday that thousands of children and tens of thousands of families have taken shelter in cars and tents "fearing they would face a repeat of the earthquake."
This story was reported from Los Angeles. The Associated Press contributed.