Packers vs. Rams playoff game at Lambeau Field sold out
GREEN BAY, Wis. - Tickets for the Green Bay Packers' divisional playoff game against the Los Angeles Rams are sold out, the organization announced Tuesday, Jan. 12.
The two teams will meet for a 3:35 p.m. kickoff on Saturday, Jan. 16 -- with a trip to the NFC Championship Game on the line -- a game you'll see only on FOX6!
Season ticket holders who opted-in during the summer for a chance to purchase tickets had the opportunity to do so online via Ticketmaster. Team President and CEO Mark Murphy said the approximately 6,500 tickets sold out 27 minutes after becoming available on Tuesday.
"About 10 minutes before 10 I jumped on, entered the passcode," said Mark Ponga. "It said, OK, you're in queue. There's 2,000 people in front of you. I went, 'argh!'"
For 35 years, Ponga has been on a waiting list for season tickets at Lambeau Field. This season is his first as a Gold Package ticket holder. 
"Then the pandemic struck," said Mark Ponga. "Nobody's been to a game all season, that's how important this is!"
Ponga on Tuesday became one of the select few who scored tickets to Saturday's game; he will be attending with his son, Luke Ponga, among others. 
"We were lucky enough to get 'em," said Luke Ponga. "I love being a Packers fan."
Seats will be arranged in socially-distanced "pods" of two, four and six tickets throughout Lambeau Field.
"There are a lot of guys that have put a lot of thought into this, a lot of work into making this a safe environment for everybody, and we're really excited about opening up to that many fans," said Packers Head Coach Matt LaFleur.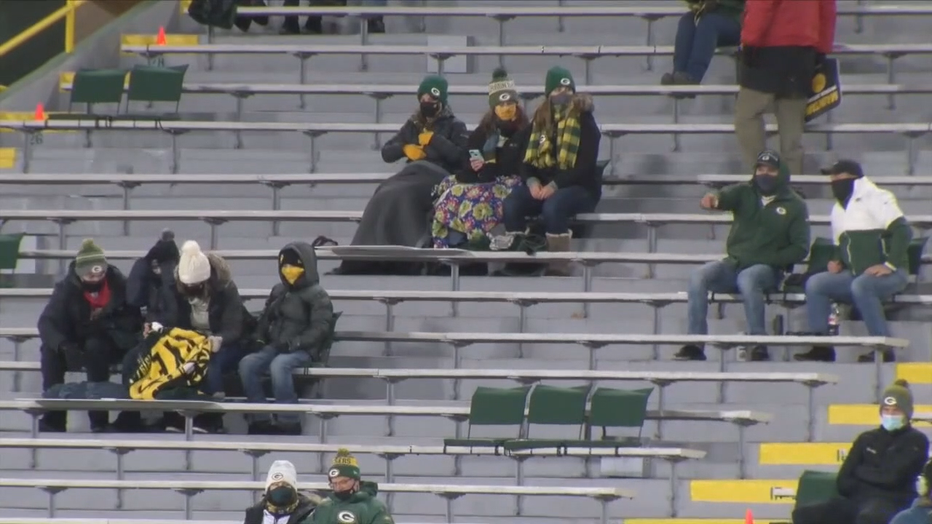 In addition to season ticket holders, the team is continuing its invitation of frontline health care workers and first responders -- as well as a league-mandated allotment for the visiting team.
All in all, there will be upward of 8,000 fans spread out across the stadium.
"We're definitely going to feed off that energy. So if anybody is coming to the game -- make sure you're nice and loud for us, because that does play an important part of it," LaFleur said.
FREE DOWNLOAD: Get breaking news alerts in the FOX6 News app for iOS or Android.
Tickets cannot be resold or transferred and all tickets will be mobile. The season ticket holders who purchased the tickets are responsible for coordinating all attendees within their pod, since entry to the game will be via a mobile ticket scan on the purchaser's mobile device. No exceptions will be made to this policy.
It is expected that season ticket holders will attend the game with members of their household. These steps have been taken to ensure the safety of all people attending the game.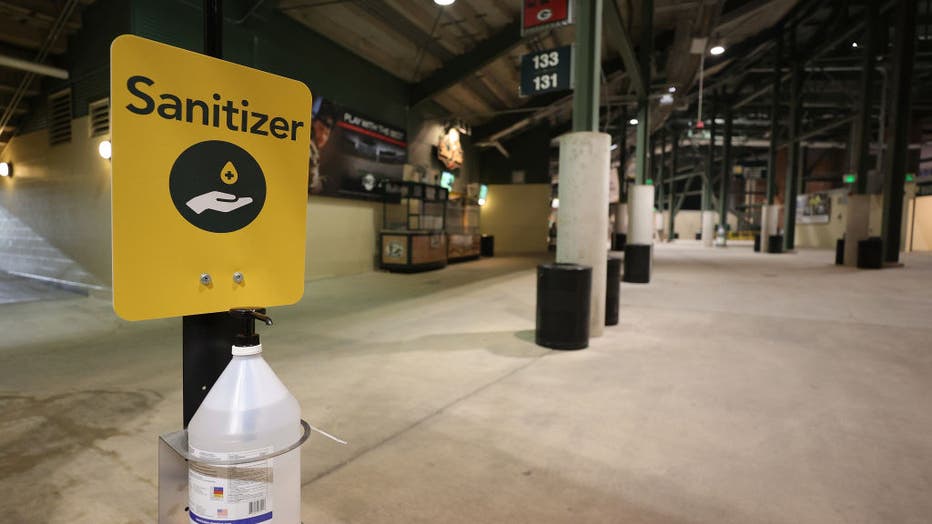 A detailed view of a hand sanitizer station at Lambeau Field during a game between the Green Bay Packers and the Carolina Panthers on December 19, 2020 in Green Bay, Wisconsin. (Photo by Stacy Revere/Getty Images)
The plan for an increased number of attendees builds upon the successful COVID-19 protocols the team used for its final four regular-season home games.
"This will be a test, to see how well we can do that in a smaller crowd, and what the impact will be on our state of disease transmission as a result of it," said Julie Willems Van Dijk, deputy secretary with the Wisconsin Department of Health Services. "Clearly this is not the same as a normal playoff game. The crowds will be much smaller than they have been."
Packers staff said masks are mandatory and movement within the stadium will be restricted. Tailgating is also prohibited.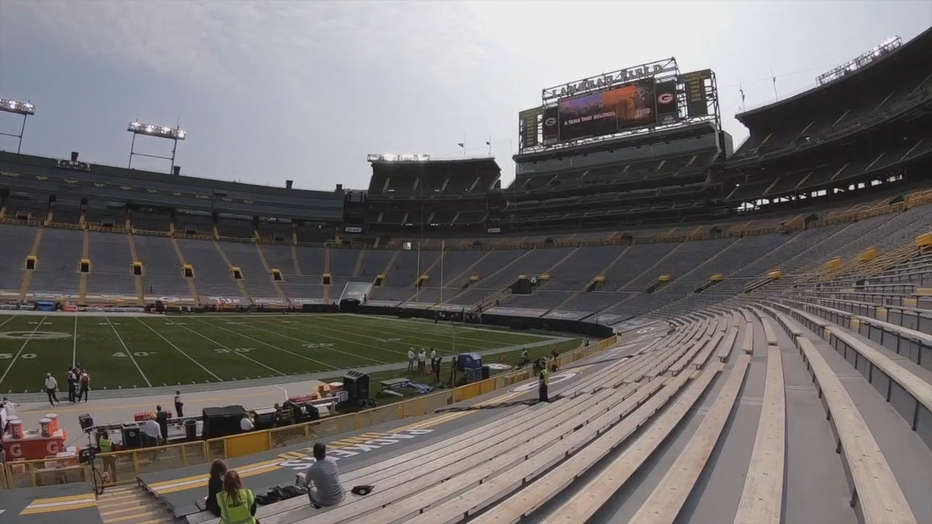 The organization has been guided by health care partner Bellin Health, as well as officials with Brown County Public Health, to implement protocols that have been used across the NFL and have proven to be effective as no local COVID-19 case clusters have been traced to NFL games according to the relevant health departments in NFL cities. Through the regular season, the NFL had a total of 109 games with more than 1 million fans in attendance.
For more information about what to know ahead of Saturday, game attendees can find a frequently asked question and answer page online at packers.com/tickets/playoffs-faq.
RELATED: Check out the new and improved FOX Sports app