Packers celebration, Whitewater band director's gift for AJ Dillon
WHITEWATER, Wis. - From playing football to playing music, it was hard not to smile at one of the Green Bay Packers' touchdown celebrations from Sunday's win over the Minnesota Vikings.
There was air guitar, saxophone and a conductor, the man behind the touchdown himself, AJ Dillon. The running back received a fitting gift from a fan who hopes it will help the team orchestrate its next do-or-die win.
"I absolutely loved it. I thought, this is great," said Glenn Hayes, director of bands at the University of Wisconsin-Whitewater.
SIGN UP TODAY: Get daily headlines, breaking news emails from FOX6 News
It was a magical performance on the field, but the musical celebration stole the show.
"It had everybody kind of doing their part, and Dave was killing the sax; I'll give him that," Aaron Rodgers said on The Pat McAfee show.
You didn't need music to get the message loud and clear: The Packers are jazzed to be back on track. 
"It was awesome to go out there and have some fun with it and see everybody in there. Every time I looked, I see somebody else doing something else. There's Josh Myers playing the triangle. It was awesome," said Dillon.
READ MORE: Packers RB Dillon talks Lions, winning streak, TD celebration
"I know a lot of people have said it's triangle, I thought it might be cowbell, the technique he was using, but who am I to say?" Hayes said.
Hayes is a pretty good person to say; his marching band performed at Lambeau Field in 2017.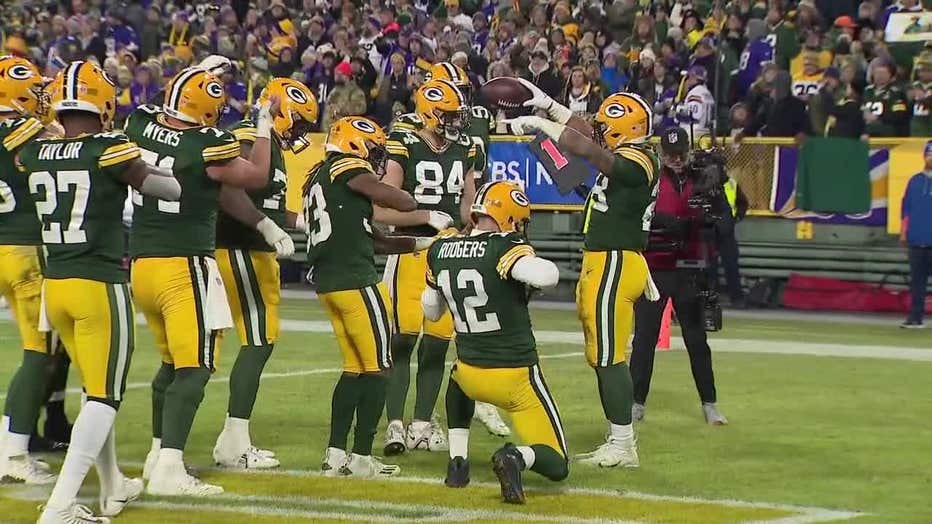 AJ Dillon conducts Packers touchdown celebration against the Vikings on Jan. 1, 2023.
"I have very high respect for running backs, because their vision they have to have on the field, in microsecond timing is really impressive," he said.
Hayes is giving points to Dillon's timing elsewhere, too. 
FREE DOWNLOAD: Get breaking news alerts in the FOX6 News app for iOS or Android.
"My first question would be: 'Does he have any sort of musical background?" said Hayes. "The guy can conduct. He's got good technique."
And to help him keep it up, Hayes sent Dillon a special baton he used at Carnegie Hall. Dillon tweeted his appreciation for the gift.
"I was able to use it in the most famous performance site in the world, and I hope it helps them get to the most famous football game in the world," said Hayes.
With the baton's green and gold, how could it not help the Packers end on a high note?
RELATED: Check out the new and improved FOX Sports app
"Hey, there's magic in that baton, trust me," Hayes said.
Hayes said the next time the UW-Whitewater marching band plays at Lambeau Field, Dillon is invited to conduct a post-game.