New Berlin roof collapse after 3 inches of rain
NEW BERLIN, Wis. - A huge section of the roof came crashing down during storms Tuesday night, July 5 at the OAW Indoor Sports Complex in New Berlin. 
The fire department said as many as 50 people were inside when the roof caved in. They made it out. 
Crews spent the day Wednesday beginning the process of trying to figure out what went wrong.
SIGN UP TODAY: Get daily headlines, breaking news emails from FOX6 News
In the pouring rain, emotional families held each other tight after the roof collapsed at the OAW Indoor Sports Complex in New Berlin. 
"When we arrived, there were people who were exiting the building," said New Berlin Fire Chief Mark Polzin. 
Poplzin said everyone inside made it out alive.
"We were able to verify through the video footage of the building itself that everyone had evacuated the building," said Polzin. 
Daylight revealed debris on the pavement. SKYFOX offered a birds-eye view of the huge hole left behind.
FREE DOWNLOAD: Get breaking news alerts in the FOX6 News app for iOS or Android.
The collapse happened during a heavy rainstorm. The National Weather Service said this area was hit with nearly three inches of rain Tuesday night.
"We believe it's probably the heavy amount of rain we received in a short period of time," said Polzin. 
Crews entered the fenced-off property Wednesday afternoon. Building inspectors and engineers worked to determine exactly what caused the collapse.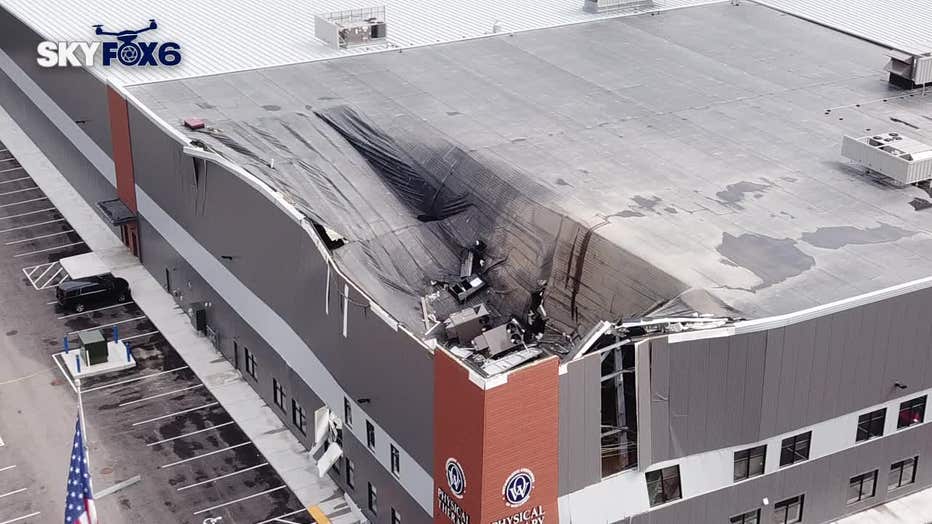 Roof collapse at New Berlin business (SKYFOX)
Officials with the OAW Indoor Sports Complex said they're committed to finding out a cause and making repairs so the facility can reopen and serve the community.
"We were fortunate that, coming off the holiday weekend, and everything else and the weather, we didn't have as many people in the building as normally would be," said Polzin. 
The complex opened in October 2021. It will remain closed until the building is repaired.